When Amazon debuted the Echo in 2014, the world had no idea what was in store. The small, voice-powered speaker, built in with a voice assistant named Alexa, would become commonplace in many homes in a few short years' time. While the device has grown in popularity, though, many still don't know: How does Amazon Echo work?
Here's everything you need to know about how to set up an Echo, how its voice recognition technology works, and what it's capable of.
What is the Amazon Echo?
The Echo, now in its second generation, was Amazon's first Wi-Fi-connected smart speaker. It's a cylindrical device that can play music, set alarms and timers, make calls, answer questions, and control connected home devices—all via voice. Now Amazon offers a range of different Alexa devices in various sizes and styles. Third-party device manufacturers are also incorporating the Echo's virtual assistant, Alexa, into their own products. A smaller version, called Echo Dot, is also available.
What does the Echo do?
You can use an Echo for a variety of different tasks such as playing music from Amazon Music or Spotify; setting a reminder to do something later that day; giving information about the weather; or relaying stats on your favorite sports teams or the news. Amazon also augments Alexa through third-party apps called "skills." With these, you can order a pizza from Domino, order an Uber, or play an audio game of Jeopardy!. Amazon is also constantly adding to Alexa's built-in capabilities, including a variety of clever responses and Easter eggs.
READ MORE:
How does Amazon Echo work?
1) Set-up
Setting up your Amazon Echo only takes a few steps. First, you'll want to download and sign into the Alexa app on your phone. Next, place your Echo in your home and plug it in. The LED ring around the device's top edge will glow blue first, then turn orange. In the app, follow the onscreen instructions to connect the Echo to your Wi-Fi network. (The setup process should automatically begin in the app, but if not, head to Alexa Devices, then select Add Alexa Device.) After that, you can start talking to your Echo with a variety of different voice commands.
2) Daily use
To wake your Echo and start using it, say "Alexa" and then your query. There are a ton of different commands you can give Alexa. As you're getting your day started, you can ask Alexa for your daily news briefing, or for the weather outside. You can set the mood for the day by asking her to play music by genre, artist, song or a specific playlist. You can also ask her Wikipedia-type questions or ask for recipes if you want to cook a particular dish. You can also use an Echo to make calls or send messages to contacts or to purchase or re-order items on Amazon.
And you're not stuck with "Alexa:" If you'd like to change your Echo's wake word to something else, you have a few options. In the app, you can alternatively set it to respond to "Amazon," "Echo," or "Computer."
Amazon also added a capability that lets you use multiple Alexa devices in your home as an intercom system. It gives you the ability to "call" a specific Echo device and let a family member know that it's time for dinner or time to get out of bed. (Within the Alexa apps settings, you can name the different units in your home.) It's a nice alternative to yelling across the house.
For more on how to use Alexa and personalize it, head here.
3) The technology
Amazon uses a seven-microphone array for far-field voice recognition. That is, thanks to the placement and power of these mics, it can understand you saying "Alexa" and your query from across the room, your voice coming from a variety of different directions. For this to work though, the device has to be always on—and always listening, but only for its wake word. It is basically listening for a specific sound wave pattern and ignores everything else until it picks up that signal. Once it hears that, it springs into action, listening to and then interpreting the words it hears next. The device records your query, sends it to Amazon's cloud for analysis, then responds.
The Echo lights up when it is listening, so if you place it in a spot where you can see the LED ring, you can check that it heard its wake word or not. And to see a history of all the things it's heard and the queries you've made, you can head into the Alexa app. (There, you can also delete these queries.)
READ MORE:
Are there any downsides to the Echo?
While Amazon says that Alexa devices are engineered specifically to listen for their wake word, there are times when it mistakenly hears its wake word, and times it doesn't catch it all. With the former, there have been a few instances when it's resulted in creepy or surprising behavior.
In May, for example, a family realized their Echo had managed to record a private conversation and then sent the recording to a random contact, one of the husband's remote employees. The whole thing seems to have been a case of a mistakenly heard wake word and subsequent commands: the Echo unit heard its wake word "Alexa" in the conversation, then what it interpreted as "send message." The device then recorded audio, and then upon asking "To whom?" heard a contact's name and managed to hear a confirmation before sending. The whole thing sounds incredibly unlikely—which is why it isn't something you hear about every day.
In March there was another strange incident. A number of Alexa device owners reported on social media that their speakers were randomly laughing for no apparent reason. The cause seems to have been that the devices mistakenly heard the command "Alexa, laugh." Amazon has since changed that command to "Alexa, can you laugh?" to prevent such creepy false positives from happening in the future.
Amazon's technology isn't always perfect, but false positives can be mitigated as long as you're paying attention. If you notice the device's LED ring has illuminated, it means it's actively listening. And if you have the Echo's volume turned down low (or on mute), you may not hear its questions or responses if it does accidentally mishear an audio request.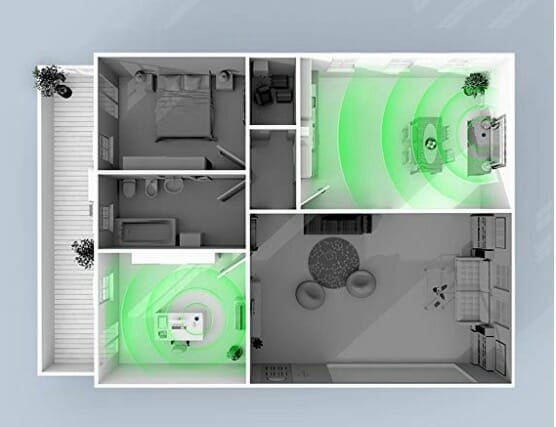 Should you buy an Echo?
The biggest benefit of a device like the Echo in a home is that it replaces the need to look at a computer or smartphone screen for a variety of tasks. Instead of whipping out your phone for the weather, you just ask Alexa. Instead of checking a calendar app, you can ask what's on schedule for that day. And of course, it's got better audio for better music playback, too. It also works with a wide variety of smart home products, so you can switch on an off a light without reaching for the switch.
The biggest negative may be the privacy tradeoffs. It is an always-on device in your home, connected to your Wi-Fi network, which makes it vulnerable to hacking. Researchers have also demonstrated that it's possible for the device to be hacked to listen to everything it hears, not just its wake word.
Before you buy an Echo, you may want to check that other members of your household are also comfortable with the idea of an always-on listening device. This is particularly important if you share your home with roommates.
At $99, it's not incredibly expensive, but if you want something cheaper, you can opt for a $50 Echo Dot or Google Home Mini (currently $34) instead. For other alternatives, there's the $99 Google Home, but if you prefer a larger device with more robust music playback, you can opt for an Echo Plus ($150), Apple HomePod ($349), or Google Home Max ($399).
Looking for more help? Here's what you need to know about Amazon Alexa and how to use Amazon Alexa as an intercom system, Amazon Prime Pantry, Amazon Lockers, Amazon Prime Wardrobe, how to sell on Amazon, Amazon Prime membership and if it's really worth it.
The Daily Dot may receive a payment in connection with purchases of products or services featured in this article. Click here to learn more.