Google has a solution for everyone who is tired of seeing astronomical cell phone bills at the end of each month. Launched in 2015, Project Fi is an alternative wireless carrier to AT&T, Verizon, Sprint, and T-Mobile. It uses three different mobile networks for service in remote areas and asks users to only pay for data they use. Those who own a compatible device can take refuge in low prices and transparency, a breath of fresh air from the convoluted pricing schemes of the U.S.'s more popular carriers. If you're not sure whether it's right for you, here's everything you need to know about how Project Fi works, how much it costs, and what phones you can use with it.
What is Project Fi?
In simple terms, Project Fi is a mobile carrier operated by Google. Unlike Verizon, AT&T, and T-Mobile, Project Fi is a so-called virtual network operator (MVNO), or a wireless network reseller that doesn't own infrastructure. Put another way, it essentially leases cellular coverage and bandwidth from other carriers.
There are several benefits to using a virtual provider over one that owns the network. Namely, MVNOs can offer services that cater to certain groups of customers. Boost Mobile (owned by Sprint) or StraightTalk (owned by Walmart), for example, are popular budget options for folks who don't want to pay Verizon/AT&T/T-Mobile prices.
Project Fi is a compromise between the expensive but reliable "Big Four" carriers and cheaper but less capable budget networks. It offers impressive coverage and data speeds at a reasonable price.
There's got to be a catch, right? Unfortunately, Project Fi is only compatible with a few smartphones (we'll go into more detail below). Also, since MVNOs take up a slice of the finite bandwidth pie, they are typically prioritized lower than the source network. This can result in comparatively lower speeds and worse coverage.
Still, most people will compromise on a negligible dip in cellular speeds for a smaller monthly bill.
How does Project Fi work?
As a virtual network operator, Project Fi borrows from another carrier's network to offer mobile connectivity. Google takes a three-pronged approach to ensure reliable coverage across the United States.
With a special SIM card, Project Fi uses T-Mobile, Sprint, and U.S. Cellular mobile networks. While none of these three networks are as robust as AT&T or Verizon, together they cover a lot of ground with high-speed LTE connectivity. You can get an idea of their coverage area from the maps below.
Project Fi (left) vs. Verizon Wireless (right)

Project Fi (left) vs. AT&T (right)

What network your Project Fi device uses at any given time depends on its signal strength. Compatible phones will intelligently switch between the three networks to ensure the best user experience. Additionally, Project Fi will use Wi-Fi to make calls and send texts to avoid using cellular.
Your phone will likely borrow from T-Mobile since it has the largest network of the three with 4G LTE covering 81 percent of the U.S. in 2016. Sprint coverage is around 70 percent while U.S. Cellular lags behind.
How much does Project Fi cost?
Project Fi can save you tons of money depending on how much data you require. Everyone starts with the same $20 per month base price, which gets you unlimited domestic talk and text, unlimited international texts, Wi-Fi tethering for hotspot sharing, and general cellphone coverage. But you can add five additional members to your plan for $15 per person per month.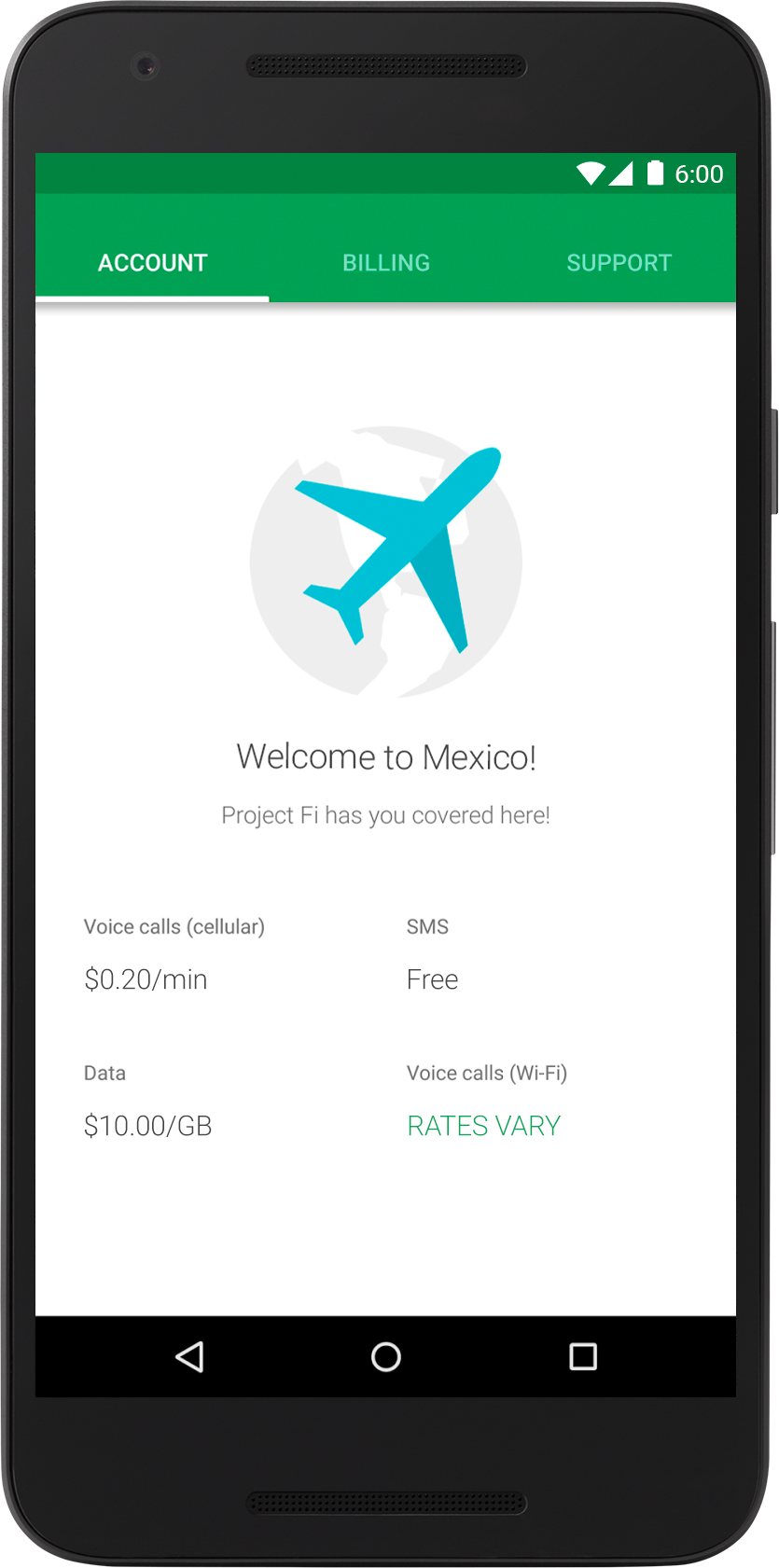 When it comes to data charges, Project Fi shines. Unlike plans from the Big Four carriers, Project Fi's mobile data rates are clear and transparent: Data costs $10 per gigabyte. So, if you think you'll use 5GB of data next month, tack on $50 to your bill.
But what happens when you use less data than you anticipated? Believe it or not, Google will pay you back. That's right, a mobile carrier will refund you for unused data. And it does so for every unused megabyte. Project Fi credits you one cent for every megabyte you stay under your plan. So, if you have a 5GB plan but only used 3.5GB, Google will credit your next bill the full $15 you didn't use.
Customers who don't use much data will benefit from this pricing scheme since costs rely heavily on your data usage. For everyone else—especially those of you who like to stream music, video, and games—Google has a solution called Bill Projection.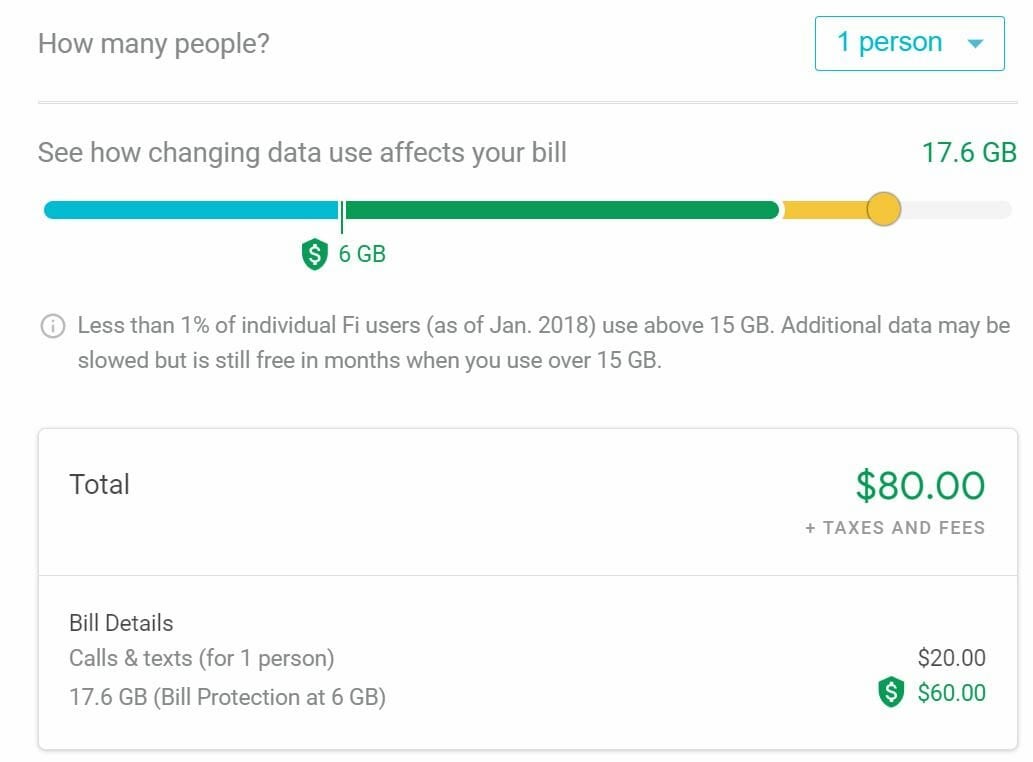 Bill Protection caps your monthly bill at $80 a month for a single line or an additional $60 (6GB) from the $20 base price. You can keep using "free" data after that, though it will be throttled once you hit 15GB. Put another way, Google's unlimited data plan costs $80 a month (but you'll only pay that much if you use 6GB or more). For groups, the data limit and maximum price increases based on the number of lines.  For example, the maximum bill for four lines is $205 with 14GB of data.
You can think of it like a health care plan where you've reached your maximum out-of-pocket amount and the provider is forced to pay any additional charges. You can use this tool to see how much your maximum bill would cost on Project Fi.
Project Fi phones
Only a select group of smartphone owners can take advantage of the service. As you might expect, Project Fi is only available to users of Google's Android operating system. More specifically, only those who own a Google Pixel, Nexus, or select Motorola smartphones (sorry Galaxy diehards).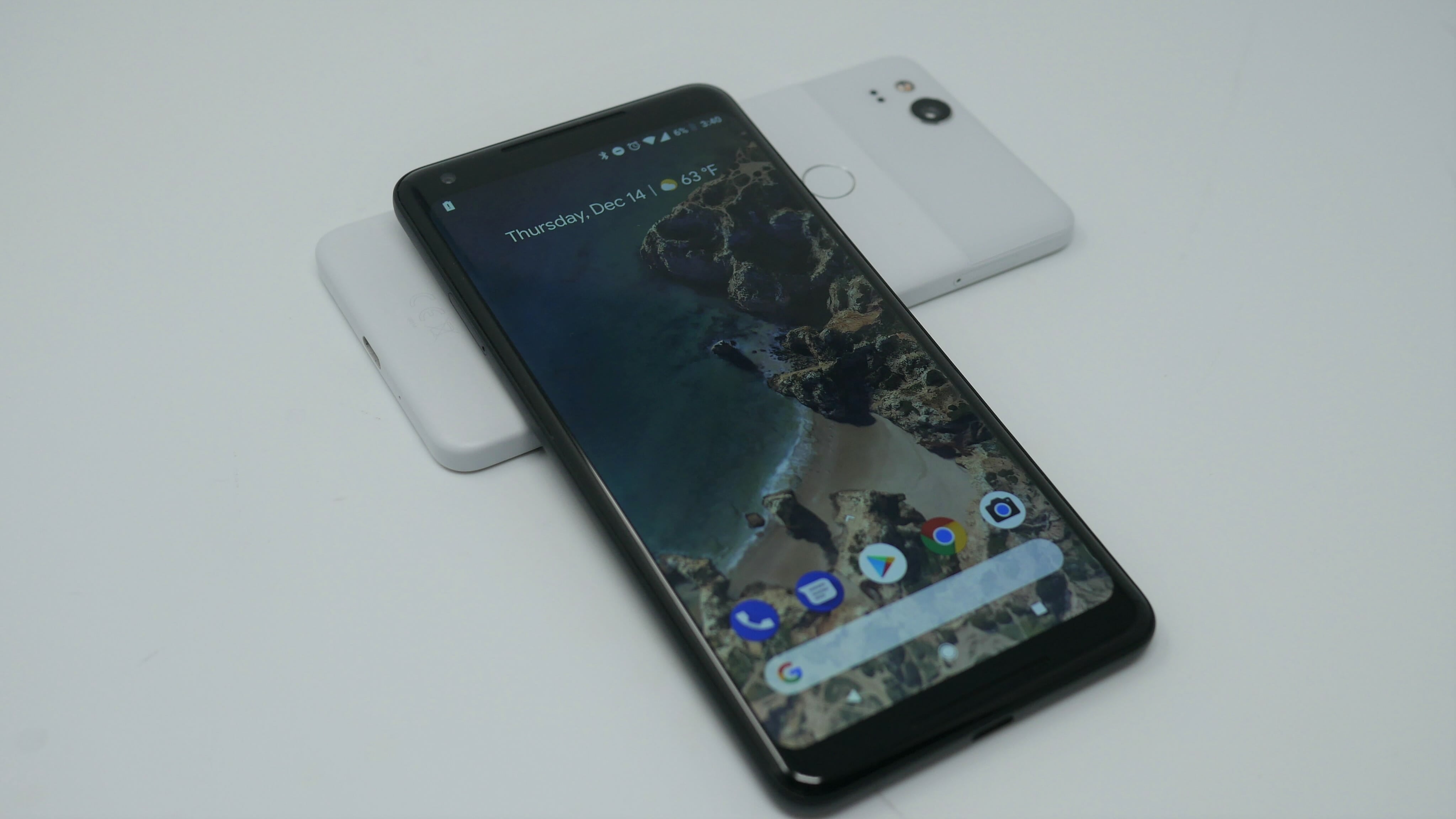 Here is the full list of compatible devices:
Google Pixel
Google Pixel XL
Android One Moto X4
Nexus 6p
Nexus 5X
Nexus 6
If you don't own any of these smartphones, you cannot sign up for Project Fi.
However, Google offers a unique "data-only" SIM card that lets other devices share the same data pool as your Project Fi-activated smartphone. These few mobile devices, which include the iPad Mini 4, iPad Air 2, and Galaxy Tab S, are subject to the same $10 per GB fee.
This lets users harness T-Mobile's network from another device without having to connect to a smartphone hotspot. With a dedicated SIM card, the connection should be stronger and won't drain your phone's battery.
How does Project Fi compare to T-Mobile, AT&T, Sprint, Verizon?
With low prices and networks from three mobile carriers, Project Fi seems like an obvious choice for anyone who owns a supported device. Users agree: After 7,000 reviews, the Project Fi Android app has 4.6 stars. The network has also earned its fair share of praise from other publications. But where does it stand in the saturated mobile carrier market?
Generally, Project Fi costs less than the other major carriers, and with Bill Protection, it essentially offers unlimited data up to 15GB for $80. But should you need unlimited data, you might consider other carriers. Verizon, for example, offers unlimited data for a single line for $75. AT&T and T-Mobile's cheapest unlimited plan costs $70 for one line. Sprint offers an unlimited plan for just $60. Adding additional lines, however, increases those prices exponentially.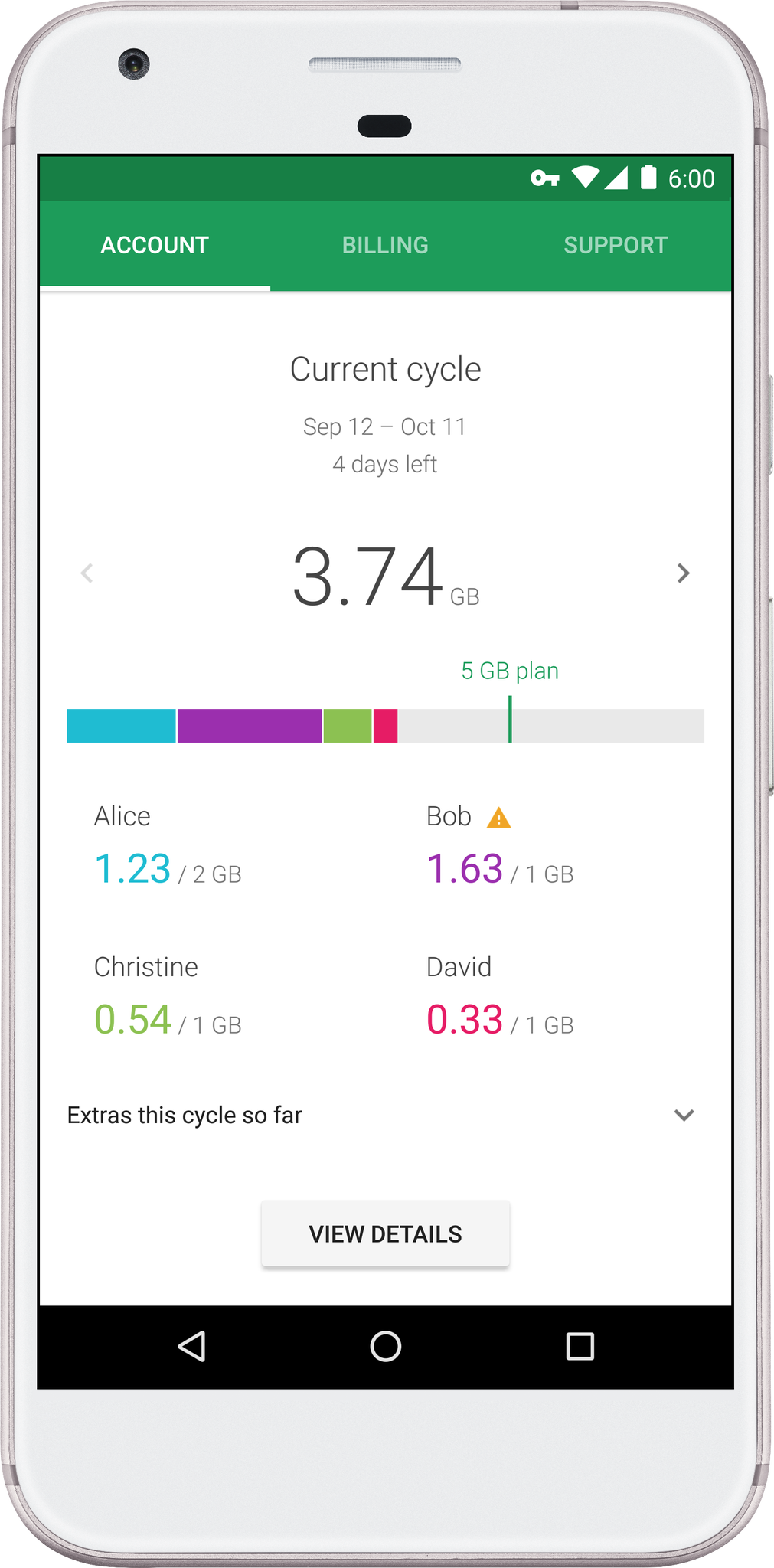 Compared to other MVNOs, Project Fi isn't cheap. Republic Wireless offers talk, text, and 5GB of data for $50 a month, $15 less than Fi's single-line pricing. Cricket Wireless, which operates on AT&T's network, has an unlimited plan that costs $50, though download speeds are capped at a measly 8Mbps. Similarly, T-Mobile's MetroPCS has a $50 unlimited data plan.
In Project Fi's defense, most networks don't offer many of its features, like reinforced network coverage, free hotspots, and credit on unused data.
READ MORE:
Should you use Google's Project Fi?
Project Fi is a very good alternative to Verizon, AT&T, Sprint, and T-Mobile. It generally costs less and comes with some great perks you won't find from any other carrier. Its pay-what-you-need pricing scheme means you won't be charged a dime more than what you use. You'll even earn money back on the months you're at home using Wi-Fi.
Coverage is also solid for an MVNO, borrowing not only from an impressive T-Mobile network but also Sprint and U.S. Cellular. It still won't match that of AT&T and Verizon on coverage or data speeds, but it should suffice for most users.
Those who need unlimited data should probably look elsewhere. For everyone else, Project Fi could be a convenient money saver—that is, if you happen to own or want to invest in a Nexus or Pixel smartphone