Facebook has taken its first actions to win back your trust following the Cambridge Analytica scandal, overhauling its privacy settings to give users control of their data. The company announced today a "top to bottom" redesign that will bring together 20 separate menu pages into a single centralized system.
The changes, which will arrive in the coming weeks, are designed to make it easier for users to access and understand each privacy setting so they can tune them to their liking without much effort. Facebook listed four steps users can take from the new "Privacy Shortcuts" page: make your account more secure, control your personal information, control the ads you see, and manage who sees your posts and profile information.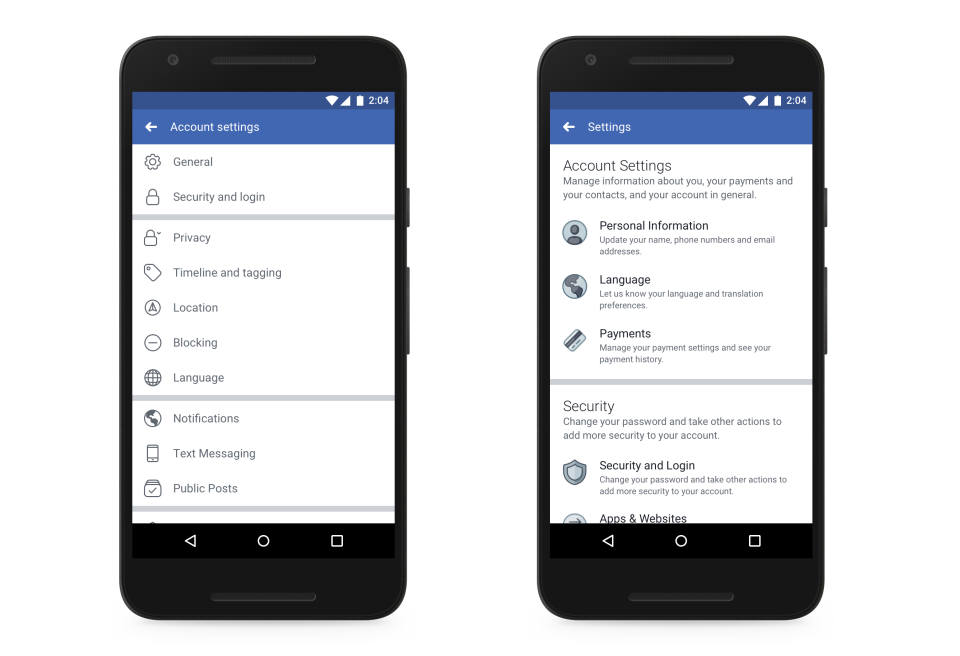 Processes that would normally require navigating confusing settings interfaces should be accessible with a few taps, including setting up two-factor authentication, deleting your personal information, and turning off ad targeting.
Another addition tied directly to the recent privacy scandal, Facebook has unveiled "Access Your Information," a feature that lets you access and manage information from your profile. This will let you delete posts, reactions, comments, things you've searched for, and other content linked to your account.
Facebook will also provide a downloadable copy of the data it collects about you, which includes photos, contacts, posts on your timeline, and any other information you're curious about. While the social network says you can move this information to another service, it didn't specify whether you'll be able to delete it. Other useful privacy settings, like checking which apps are using your information or managing your interests, will carry over to the new privacy hub.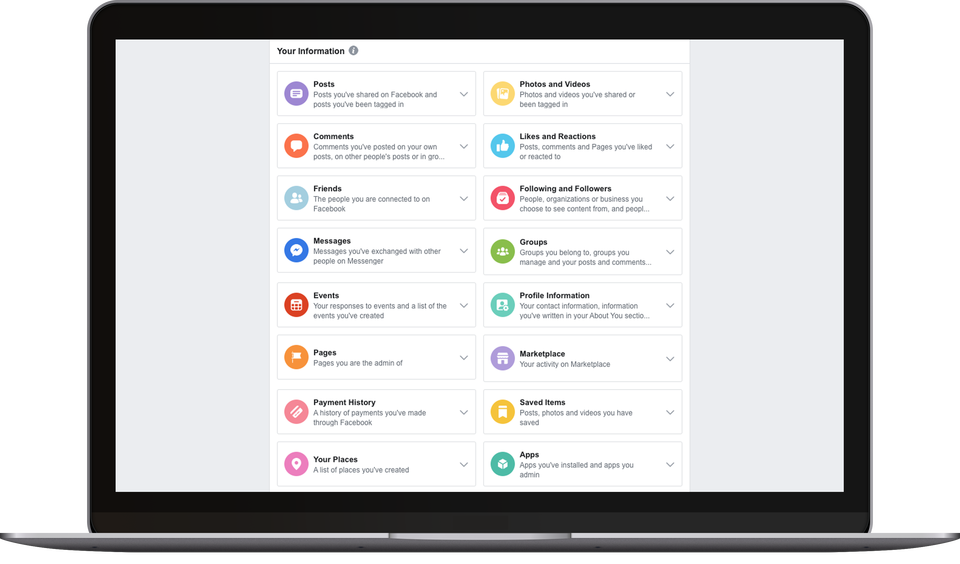 "The last week showed how much more work we need to do to enforce our policies, and to help people understand how Facebook works and the choices they have over their data," Erin Egan, Facebook's chief privacy officer, and Ashlie Beringer, a Facebook deputy general counsel, said in a blog post. "We've heard loud and clear that privacy settings and other important tools are too hard to find, and that we must do more to keep people informed."
Facebook claims the changes have been in the works for years but were expedited following the revelation that political data firm Cambridge Analytica illegally obtained the personal information of 50 million users from a personality test app.
The social network has been working frantically to soften the damage to its reputation. In just two weeks, the company sunk more than $100 billion in value, lost hoards of users via the #deletefacebook campaign, and became the center of federal investigations.
CEO Mark Zuckerberg, who publically apologized for his failures to protect user privacy, will reportedly testify before Congress next month to explain how the privacy breach occurred and what steps are being made to ensure it doesn't happen again.
Per Zuckerberg's statement on the scandal, Facebook will investigate all apps that have access to large amounts of information and ban those that refuse audits or are found misusing data. It will then restrict developers' access to data and create a new feature on the Newsfeed that makes it easy for users to revoke app permissions.
Facebook explained in the blog post that it will update its terms and services and data policies in the coming weeks to "better spell out what data we collect and how we use it."