Thanks to the Internet, we now have a host of new ways to offend, enrage, misinterpret, creep out, or alienate people. In the Tangled Web, we field your questions about how to be a decent human online. Have a question? Ask jess@dailydot.com.
I write a feminist blog, where I recently got a comment from a woman who told me she has been experiencing domestic abuse for years. She asked if I knew of any attorneys who might help her with her case. I've written glancingly about domestic violence but don't have a lot of practical information. I googled her email address to make sure it wasn't just some rando being ghoulish, but it belongs to a woman of about the right age who is married with a child. Should I send her resources in her area?
This is delicate, because it's a big step for this woman to reach out, even to strangers (which makes sense as a first foray—it's easier to talk about this kind of experience to someone who doesn't know you, doesn't know your husband, and as a feminist writer has made clear her position on domestic abuse). Not responding could make her less likely to seek help again, but showing that you know so much about her might scare her off.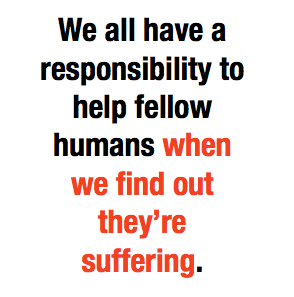 I'd recommend sending her information about national organizations that can help her.  There are many; her first step should be calling the National Domestic Violence Hotline at 1-800-799-SAFE. Their website, thehotline.org, also offers resources, but she should be aware (and the Hotline site will remind her) that abusive spouses may monitor online activity. You can let her know that she can find an attorney by looking at the American Bar Association's list of resources for domestic violence survivors—but only once she and her kid are safe.
Also, if she didn't mention her kid you shouldn't either, for the same reason you shouldn't send her local resources in her area. She reached out to you because, for whatever reason, she felt safe doing so; letting her know how easy it was to find information about her—like her location and the fact that she has a child—might make her feel unsafe again, and thus less likely to take your advice. Since you know she's not alone, it's tempting to use that information to impress on her how serious the situation is. You need to leave that to the hotline workers. They'll ask her the details of her situation, and they'll be better equipped to encourage her to take action, offer practical support, and find local help than you will.
I feel honor-bound to note at this point that you're not responsible for this woman's welfare, in the sense that it's not incumbent on you to save her or to make sure she takes the action you suggest. If she can't get out right away, it's not your fault. You don't know her, and you're not an expert on helping DV survivors. But insofar as we all have a responsibility to help fellow humans when we find out they're suffering, telling her how to find better-equipped help is the least you can do.
Jess Zimmerman has been making social blunders on the Internet since 1994. Most of her current interpersonal drama takes place on Twitter (@j_zimms)
Photo by Eric Schmuttenmaer/Flickr