The Lovebirds, the zippy new romantic-action comedy starring Kumail Nanjiani and Issa Rae, will no doubt be greeted with relief and delight by Netflix subscribers when it debuts on the streaming service today. Initially a Paramount film, its theatrical release was canceled due to the coronavirus shutdown; instead of suspending its release or making it available on demand, Paramount sold distribution rights to Netflix. Over the past three years, Netflix has prioritized original romantic comedies, including The Half of It, which debuted to critical acclaim earlier this month, last year's Always Be My Maybe, and 2018's Set It Up and To All the Boys I've Loved Before. In that time, theatrically released romantic comedies have suffered, with the notable exception of the smash hit Crazy Rich Asians (2018): the last high-profile romantic comedy starring A-list movie stars, Charlize Theron and Seth Rogen's The Long Shot (2019), made only $30 million in the United States.
The Lovebirds

RELEASE DATE:
May 22, 2020
DIRECTOR:
Michael Showalter
STREAMING:
Netflix
Kumail Nanjiani and Issa Rae star as a couple on the run in this charming action-romantic comedy.
Neither Nanjiani, a familiar figure to those who know him from The Big Sick (2017) and HBO's Silicon Valley, or Rae, who has also found success on HBO with her show Insecure, is a major movie star or a household name. Their charisma and star power, however, fuel The Lovebirds, a film designed to catapult them onto the A-list. A successful theatrical release might have done just that—but the people behind the movie couldn't ask for a more captive audience than the millions of Netflix subscribers who are in desperate need of something fresh and new to watch that will take their minds off the global pandemic in which we are all immersed. The film is not perfect, but it will no doubt benefit from comparisons to Netflix's other original romantic comedies, which despite their various charms all lack a certain something. They were never made for theaters; they aren't, in some intangible way, real movies. The Lovebirds, mercifully, is a real film, starring real movie stars.
When we first meet Jibran (Nanjiani), a documentarian, and Leilani (Rae), an ad executive, they are enjoying the blissful, sickly-sweet morning-after of a one-night stand; rapidly, though, the film jumps four years in the future, and finds them preparing to go to a dinner party and arguing over whether or not they would be successful contestants on The Amazing Race. This argument—which, naturally, evolves into a discussion of their fundamental incompatibility as a couple—continues into the car, where they conclude that they should break up. But the break-up doesn't take, because Jibran immediately runs into a man on a bike, and another man (Paul Sparks) who claims to be a cop (he's not a cop) commandeers their car, chases the biker down, and runs him over before fleeing the scene. Two white hipsters find them, their car, and the dead body, and draw the obvious conclusion. Panicked, Jibran and Leilani run.
So begins a series of misadventures, competently directed by Michael Showalter, that take the unhappy couple, terrified of being blamed for the murder they witnessed, deeper and deeper into a criminal conspiracy that they incompetently attempt to solve in order to clear their names. Most people, the film reminds us, just aren't very good at doing crime. Leilani and Jibran are smart people, but they aren't crooks, and they don't know how to navigate the underground world into which they've stumbled, let alone handle the police.
One of the film's best scenes comes directly after they have fled the scene of the murder, and are hiding out in a restaurant, trying to figure out what to do next. Jibran wants to go to the cops; Leilani argues that they are unlikely to believe their thoroughly implausible story. (After putting one hand on her chest in the midst of Jibran's nervous rambling, she explains, "That's me covering up my body cam, so I can beat your ass, you fucking liar.") But it is Leilani who answers a call from the police, panics, and makes up a ludicrous story about their car being stolen. It would be absurd to suggest that The Lovebirds, a movie that features an elaborate sex cult, is a more realistic version of last year's overly serious Queen and Slim, in which a young black couple becomes entangled with a police shooting and goes on the run. But I could not help comparing the two: where the protagonists of Queen and Slim implausibly become stylish, famous outlaws, Leilani and Jibran haplessly run around town wearing disguises that include, respectively, a unicorn hoodie and a baseball cap that reads "Blessed."
Unlike Queen and Slim, The Lovebirds is not overly interested in grand social themes; its goal is simply to entertain. Rae and Nanjiani argue about anything and nothing with speed and effortless wit that recalls romantic comedy's screwball heyday of the 1930s. Nanjiani is enjoyably neurotic, but Rae, in particular, delivers—or improvises—her lines with wickedly confident disdain and verbal dexterity that is a joy to behold. Watching this film, I found myself wondering what she could do if given a script as verbally complex and demanding as His Girl Friday (1940), the ultimate screwball comedy of remarriage starring Cary Grant and Rosalind Russell. The Lovebirds superficially takes cues from the great comedies of remarriage of yore (including The Awful Truth [1937], The Philadelphia Story [1940], and, more recently, Mr. and Mrs. Smith [2005]): unlike traditional romantic comedies, in which the couple meets-cute at the beginning of the film and then falls in love, the couple in comedies of remarriage must learn to fall in love again over the course of the proceedings.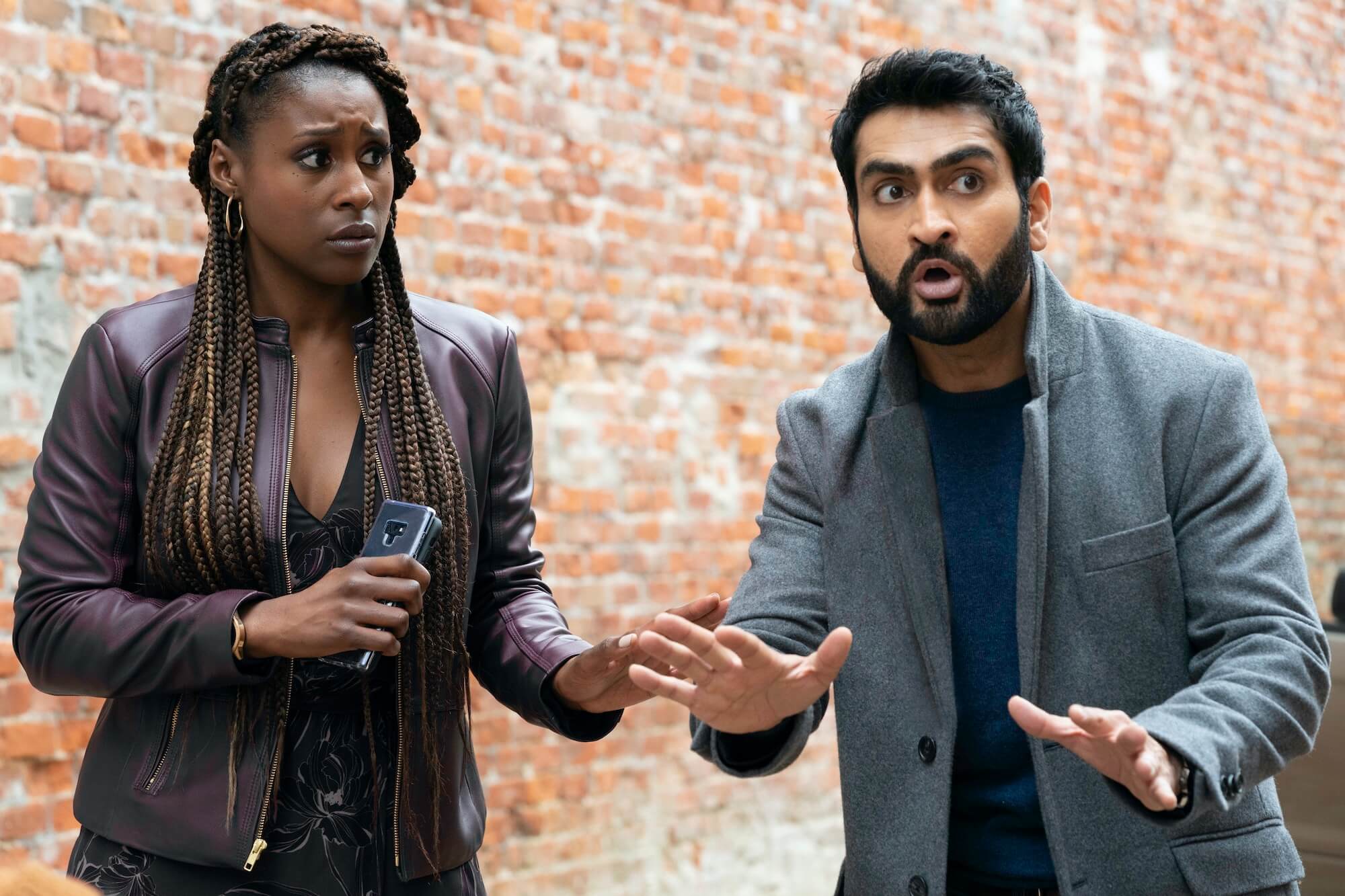 But for all Jibran and Leilani's arguing, they are rarely seriously at odds, and the film is not really structured like a romantic comedy, or even a comedy of remarriage; they might bicker, but they have to keep reminding each other that they've broken up. The film resembles, more than anything else, the action-comedy Game Night (2018). In that film, Jason Bateman and Rachel McAdams play a hypercompetitive married couple who get inadvertently dragged into a mob operation when Bateman's brother is kidnapped. Much of the pleasure of Game Night derives from Bateman and McAdams' chemistry and quick-fire banter, and their relationship is not without conflict—they are struggling to conceive—but the film is not a romantic comedy; they are already married. The joy of The Lovebirds, similarly, is the dynamic between Leilani and Jibran, but the plot revolves around the mystery they are trying to solve, not around their relationship.
As critic Wesley Morris has observed, the romantic comedy revival that we are supposedly experiencing, thanks largely to Netflix, is in fact made up almost exclusively of "substitutions, decoys and mirages." The films that get marketed to us as romantic comedies, he argues, are really examples of other genres—soap operas, teen movies, and more—or fusions of the two. In the 1930s or the 1990s, when the romantic comedy was a big business, The Lovebirds would have focused on Jibran and Leilani's relationship; in 2020, it takes the form of a scavenger hunt through New Orleans as they try to solve a crime. The result is a film that is enjoyable, but feels a little half-baked. The action and mystery elements are entertaining but result in anti-climax while the romance fades into the background. Jibran and Leilani themselves are thinly sketched in Aaron Abrams and Brendan Gall's script: aside from their professions, and Leilani's addiction to her phone (a lazy trope in 2020), we don't know very much about what motivates them except their conflict with each other.
Fortunately, the movie has stars: for all the script's weaknesses, Rae and Nanjiani's magnetic performances keep the film afloat. Though Hollywood remains largely hostile to the romantic comedy, The Lovebirds, for all its faults, is cause for some optimism. In the old Hollywood system of the 1930s and 1940s, the romantic comedy allowed female actors to succeed playing large, complex parts full of snappy dialogue, the likes of which can rarely be found in Hollywood today—but that system would never have allowed either Rae or Nanjiani, both people of color, to work as romantic comedy stars. In this context, Rae's performance as Leilani is especially satisfying. Romantic comedy heroines of recent decades typically pale in comparison to the bold, witty dames of the studio era, but Leilani is brash, quick-witted, and fast-talking, just like so many of the romantic comedy dames of yore. Hopefully, when the dust settles on the pandemic, she'll have five other, better romantic comedies lined up. In the meantime, The Lovebirds is here to entertain us.
Still not sure what to watch tonight? Here are our guides for the absolute best movies on Netflix, must-see Netflix original series, documentaries, docuseries, and movies.
Looking for something more specific? Here are our Netflix guides for the best war movies, documentaries, anime, indie flicks, true crime, food shows, rom-coms, LGBT movies, alien movies, gangster movies, Westerns, film noir, and movies based on true stories streaming right now. There are also sad movies guaranteed to make you cry, weird movies to melt your brain, old movies when you need something classic, and standup specials when you really need to laugh. Or check out Flixable, a search engine for Netflix.