The King is the passion project of director David Michôd and co-writer/actor Joel Edgerton, retelling Shakespeare's trilogy of plays about the 15th-century King Henry V. Despite optimistic comparisons to Game of Thrones, it's hard to see what this new version has to offer.
The King
RELEASE DATE:
10/11/19 (theatrical), 11/1/19 (Netflix)
DIRECTOR:
David Michôd
STREAMING:
Netflix
Timothée Chalamet stars in this shallow and humorless retelling of Henry V's rise to power, inspired by Shakespeare's trilogy of Henry plays.
Edgerton argues that Shakespeare's language makes viewers feel stupid, but adaptations like Baz Luhrmann's Romeo + Juliet prove that isn't the case. While The King may be easier to follow than a 420-year-old play in iambic pentameter, it's considerably less entertaining than The Hollow Crown, the BBC's recent Henry trilogy starring Tom Hiddleston. Even if you didn't follow every bit of wordplay, the BBC's direct adaptation was still funnier, sexier, and more emotionally compelling.
Following a long tradition of mediocre medieval dramas, The King utilizes a grayish color palette leavened by occasional moments of candlelight. For some reason, many filmmakers seem to think bright colors are wrong for a medieval setting; perhaps the aesthetic Dark Ages only end when Elizabeth I's ginger hair arrives in 1533. At any rate, the gray castles and gray battlefields certainly fit The King's downbeat tone, which had me fidgeting long before the 133-minute film was over.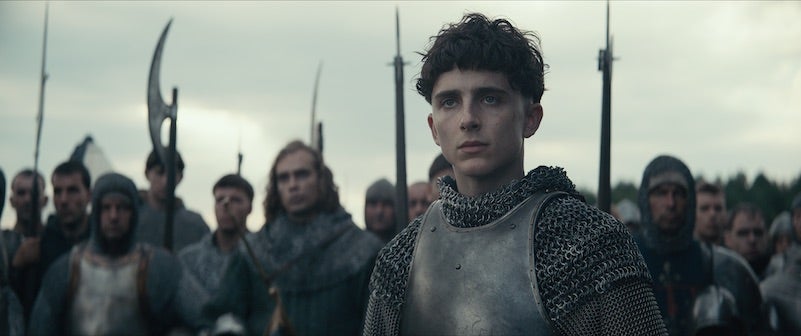 Unless you're really into medieval epics, there are only two serious arguments in favor of The King. The first is mainly relevant if you have a crush on Timothée Chalamet, who stars as a teen dirtbag Henry V (aka Prince Hal). Channeling Draco Malfoy, he starts off as a drunken layabout until his father, Henry IV, dies, leaving him to become a sulky (but surprisingly competent) monarch during a brief gap between English wars. Michôd clearly understands the Chalamet phenomenon, because there are plenty of shots of him looking soulful and troubled, occasionally while shirtless. He even pulls off the bowl cut. Of course, it's a little hard to buy Chalamet as a champion of melee combat, since he has the physique of a malnourished indie rock frontman. But overall, he offers a relatively fresh interpretation of Prince Hal as a young man thrust unwillingly into court intrigue he doesn't fully understand.
Your second reason to watch is Henry's nemesis, the Dauphin, played by Robert Pattinson. Sporting a long wig and speaking in an exaggerated French accent, Pattinson is a brief oasis of scenery-chewing hilarity in an otherwise humorless film. He might as well be playing a vampire again, although this time he's got more of a campy Lestat vibe. Love it. Unfortunately, Pattinson is only in the film for about 10 minutes—about equal to the cumulative screen time for The King's female characters. We get brief cameos for a bartender and two sylphlike princesses (Lily-Rose Depp and Thomasin McKenzie), but otherwise it's a wall-to-wall crowd of pasty Englishmen in chainmail. This casting choice felt especially stale so soon after seeing the brilliant new David Copperfield starring Dev Patel, which told a historical English story with a diverse cast.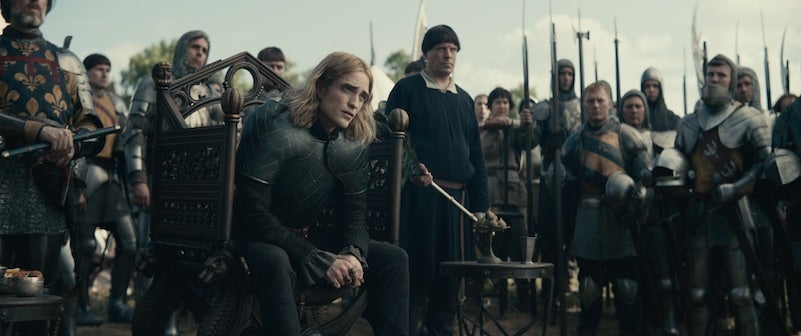 With big-name stars and a respectable budget for castles and the Battle of Agincourt, The King is competently made. But it really doesn't offer a decent argument for existing in the first place—or an explanation of what it's really about, thematically speaking. Sure, it tells the story of Henry V's rise to power, but so what? Along with removing the humor from Shakespeare's plays, Edgerton and Michôd remove most of the psychological interplay as well. Aside from Henry's drunken pal Falstaff (played by Edgerton), most of the supporting characters are nonentities, and the various feuds and betrayals are below the Game of Thrones standard.
The King isn't bad enough to be a black mark on Chalamet's record, but it's disappointingly forgettable. As for the Shakespeare situation, this film will probably be more interesting if you don't know the history already. If you're at all familiar with the source material, you'll find yourself wondering why The King is so slow and thinly characterized by comparison. It also follows a fairly similar plot, meaning that Agincourt is the pivotal scene of the final act. In Henry V, King Henry delivers the famous St Crispin's Day speech on the battlefield: "We few, we happy few, we band of brothers." In The King, Chalamet stands among his men like a chihuahua in a crowd of bulldogs, spraying saliva while yelling something unmemorable about England.
The King is currently screening at the London Film Festival. It comes out on limited release on Oct. 11, and arrives on Netflix on Nov. 1.
Still not sure what to watch tonight? Here are our guides for the absolute best movies on Netflix, must-see Netflix original series, documentaries, docuseries, and movies.
Looking for something more specific? Here are our Netflix guides for the best war movies, documentaries, anime, indie flicks, true crime, food shows, rom-coms, LGBT movies, alien movies, gangster movies, Westerns, film noir, and movies based on true stories streaming right now. There are also sad movies guaranteed to make you cry, weird movies to melt your brain, old movies when you need something classic, and standup specials when you really need to laugh. Or check out Flixable, a search engine for Netflix.