The perfect documentary short leaves you simultaneously wishing for more and appreciating the brevity of what has been placed in front of you. Such is the case with Netflix's Little Miss Sumo.
Little Miss Sumo
RELEASE DATE:
10/28/2019
CREATOR:
Matt Kay
STREAMING:
Netflix
A brief, powerful journey through the life and dreams of one of the world's best female sumo wrestlers.
Hiyori is one of the best sumo wrestlers in the world at age 20. Though women don't reach their physical peak until the age of 25 or 26, she will be forced into retirement next year due to Japan's conservative attitude toward the sport and women. Time is of the essence.
The story of Little Miss Sumo is simple and timeless: Hiyori trains for the world championship. But director Matt Kay brings a meditative beauty to the work that transcends a simple narrative. The breathtaking visuals capture the venerable and moving traditions of sumo while also illustrating the undue limitations placed on Hiyori by society, and by the sport she loves.
The film juxtaposes beautiful, powerful images with tough doses of reality delivered through voice-over: "I think we can overturn the ban on women." "Japanese people don't ask for radical change." "The ideal woman is modest… She's not supposed to be visible."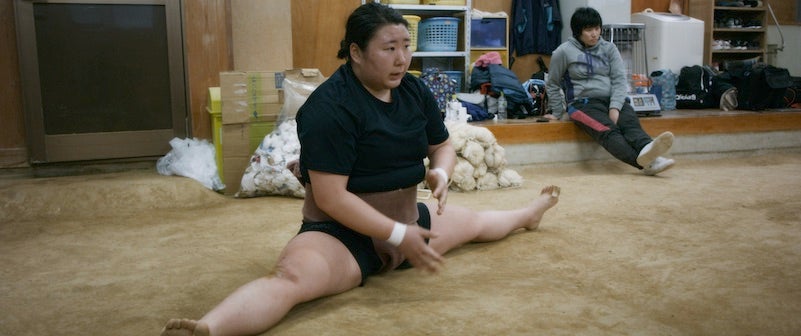 This tension alone is an impressive feat, but Kay pulls off something amazing from there. Little Miss Sumo isn't just about Hiyori's struggle for gender equality. We also see how she finds beauty and purpose in the sport as she negotiates with herself and embraces her imperfect moment of glory.
"A lot of famous professional wrestlers are from Aomori," Hiyori says on a snowy morning in her hometown of Aomori. "Aomori is called the 'the land of sumo' and is the best place for training. I can convince myself that I will be okay and that I will never lose to anyone in sumo because I grew up here."
The most compelling moments of Little Miss Sumo come when Hiyori and the other world-class female wrestlers reach the world championship. Kay captures perfect images of physical pain and emotional beauty in these contests. Every woman looks triumphant, even as her face is bloody or she is being thrown to the ground. Kay's footage is both deeply feminine and reflective of a warrior spirit.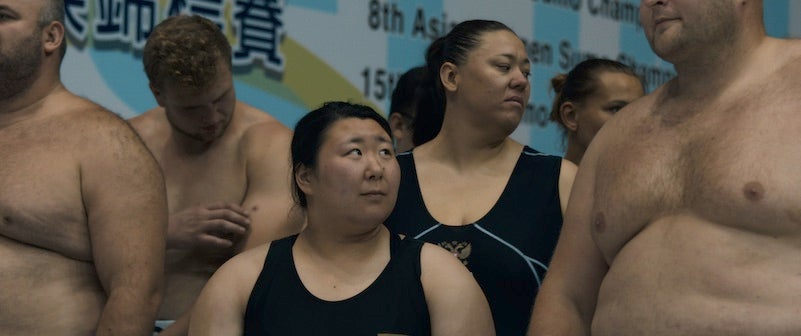 As with almost any short-form documentary, Little Miss Sumo will leave you wishing you knew more. You'll have lingering questions about Hiyori, her family, her dreams, her future. But maybe it's okay to leave a film with curiosity and the longing that comes with a glimpse into a moving story.
Nearly every frame and line of dialogue in this 19-minute documentary is poetic. Little Miss Sumo ends with Hiyori's powerful parting words about the future of her sport and the treatment of Japanese women: "I believe that as a result of my hard work, women's sumo will stop facing discrimination. I will continue to strive for it, with that belief. If we each raise our voice while also spreading sumo across the world, then I believe there will be more people willing to fight gender inequality with us. It's time for women's sumo to take action."
Still not sure what to watch tonight? Here are our guides for the absolute best movies on Netflix, must-see Netflix original series, documentaries, docuseries, and movies.
Looking for something more specific? Here are our Netflix guides for the best war movies, documentaries, anime, indie flicks, true crime, food shows, rom-coms, LGBT movies, alien movies, gangster movies, Westerns, film noir, and movies based on true stories streaming right now. There are also sad movies guaranteed to make you cry, weird movies to melt your brain, old movies when you need something classic, and standup specials when you really need to laugh. Or check out Flixable, a search engine for Netflix.