Breaking Bad creator Vince Gilligan returns with series co-star Aaron Paul to tie up one of the show's significant loose ends in El Camino: A Breaking Bad Movie. For a show as meticulous as Breaking Bad, it's always stood out that Jesse Pinkman's story ended on a note of ambiguity. Breaking Bad's intense focus on the process, the process, the process made fans wonder about what comes next for the artist formerly known as Cap 'n Cook. Jesse's ending was dramatically satisfying, but not entirely true to the series M.O. I don't want to say El Camino is here to right a wrong, because that's definitely not the case. Breaking Bad is Walter White's story. El Camino is Jesse Pinkman's, and it's an excellent send-off for the character.
El Camino: A Breaking Bad Movie
RELEASE DATE:
10/11/19
DIRECTOR:
Vince Gilligan
STREAMING:
Netflix
Finally free from Walter White, Jesse Pinkman is left to pick up the pieces of his life and find a way forward.
For six years, Breaking Bad fans have been left to wonder what became of Jesse Pinkman. When we last saw him, Jesse was driving away from Walt's last stand that left everyone, save Jesse, dead. Bearded, battered, scarred, and with tears streaming down his face as he screamed, Jesse had cheated death again and was finally free. Free from the psychotic Todd (Jesse Plemons), and the group of neo-Nazis who enslaved him after the shootout in the To'hajiilee desert. Most importantly, Jesse was finally free from Walter White (Bryan Cranston). Gilligan gave Jesse the closest thing to a happy ending in Breaking Bad. 
Given what we knew about Jesse's life and the tragedy he suffered (and inflicted), that sense of relief could only be temporary. After all, he was driving head-on into a horde of police cars. The series' last shot of Jesse is a gift to the character and the fans. We could imagine Jesse doing anything. Maybe he made a career as a carpenter. Maybe he made it to Alaska, just like his friends Badger (Matt Jones) and Skinny Pete (Charles Baker) suggested in "Felina." That's the key word: maybe. Jesse tried to break free of Walt numerous times, but he was too weak to make good on it. Still, he could imagine what he would do with his life post-Walt, and so could we.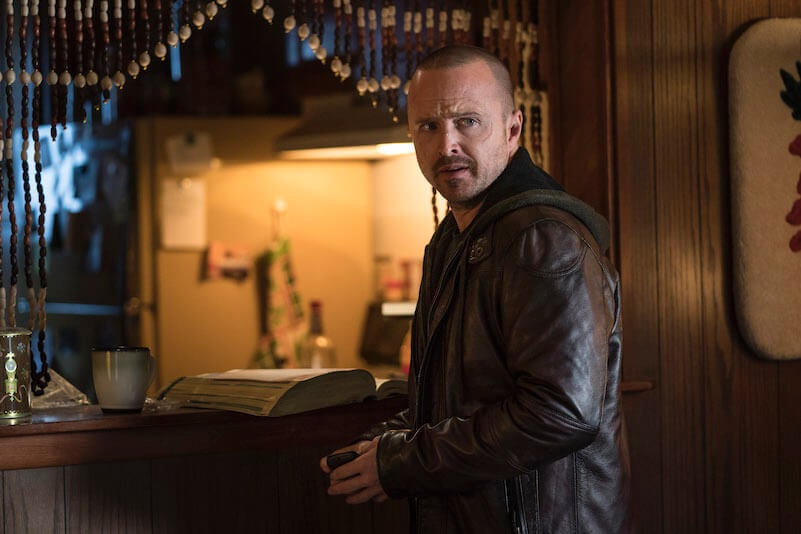 El Camino opens with a peaceful moment between Jesse and Mike Ehrmantraut (Jonathan Banks). Between the lush cinematography by Breaking Bad and Better Call Saul vet Marshall Adams and Dave Porter's familiar, evocative score, the transition back into this world is seamless. They're standing on the bank of a small river or stream, near the spot where Mike will eventually die. For now, the two talk about what they'll do after they finally break free of Walt. Jesse, indecisive as ever, asks Mike what he should do. Mike, always judicious with his words, suggests going to Alaska, but tells Jesse, "Only you can decide what's best for you." With El Camino, Jesse is in control of his fate in a way he hasn't been in a long time. Everyone with influence over him has been stripped away. We pick up right where Breaking Bad left Jesse, in the El Camino as he drives away from Uncle Jack's compound, trying to turn the ambiguous into reality. 
In its plotting, El Camino gives fans the exact same thrill as Breaking Bad and Better Call Saul. Jesse has to find his way out of Albuquerque. He has no money, and he is the subject of a massive police search. We follow him step by step, as we always do in this universe. But Gilligan, who serves as writer and director here, gives the story something more, something that makes El Camino stand on its own. Breaking Bad and Better Call Saul both used flashbacks sparingly (but effectively), but a significant amount of El Camino takes place in flashbacks. Gilligan does this to show more of the time Jesse spent as Todd's captive. This gives us a fuller sense of just how beaten down Jesse was, and what he came back from.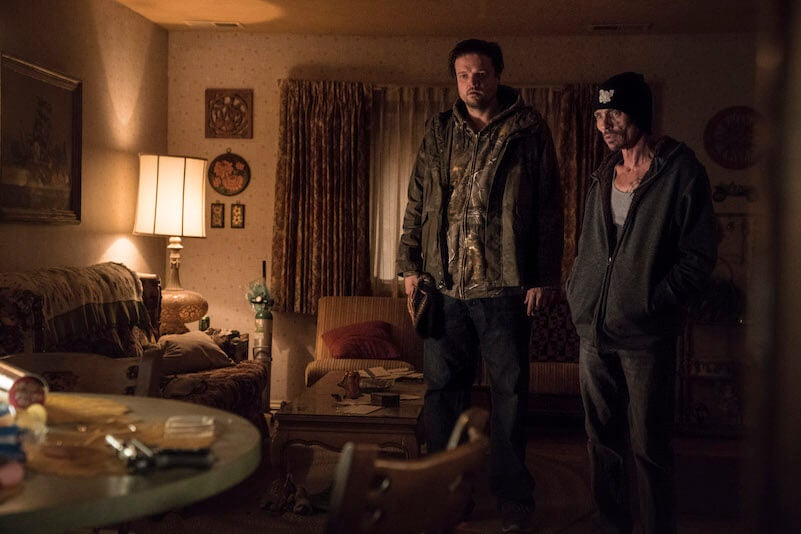 Not that we need more of Jesse and Todd together, but it's delightful to see the two back in action. Paul's performance is all raw nerves, while Plemons' work is more inscrutable. Todd is calculating, but with a touch of aloofness that makes the character's darker moments chilling. 
There's a moment where Todd asks Jesse, "What are you better at: going backwards or forward?" That line has a meta quality to it. I'm sure plenty of people will take the cynic's view of El Camino riding Breaking Bad's coattails. But that's a fool's assumption. Better Call Saul earned similar complaints, but that show has proven to be every bit its predecessor's equal (even surpassing it in some ways). El Camino likewise justifies its existence. The story looks back, necessarily, in order for Jesse to move forward.
El Camino: A Breaking Bad Movie is a worthy companion to the series and leaves Jesse's story in a more concrete place. This feels like the last we'll see of the character, and there's peace in that. But if Gilligan and Paul ever decide to explore the character more, I trust it will be a ride worth taking.
Still not sure what to watch tonight? Here are our guides for the absolute best movies on Netflix, must-see Netflix original series, documentaries, docuseries, and movies.
Looking for something more specific? Here are our Netflix guides for the best war movies, documentaries, anime, indie flicks, true crime, food shows, rom-coms, LGBT movies, alien movies, gangster movies, Westerns, film noir, and movies based on true stories streaming right now. There are also sad movies guaranteed to make you cry, weird movies to melt your brain, old movies when you need something classic, and standup specials when you really need to laugh. Or check out Flixable, a search engine for Netflix.