Originally, Claressa Shields was supposed to face Ivana Habazin for a 154-pound junior middleweight title in August, but Shields suffered a knee injury that postponed the bout. Then, the two were supposed to meet in October, but the day before the event, Habazin's trainer, James Ali Bashir, was physically attacked at the weigh-in. He suffered head injuries, and the fight, once again, was delayed.
On Friday, though, the two will finally settle their differences in the ring in a bout you can stream on Showtime. At least that's what we've been led to believe. It's been impossible so far to actually get them in the ring at the same time.
"This is a very significant fight for both of us," Shields said in a release when the fight was announced in November. "We have both trained really hard twice and great opportunities await the winner, so hopefully three times is the charm."
Here's everything you need to know to watch Claressa Shields vs. Ivana Habazin if you don't have cable.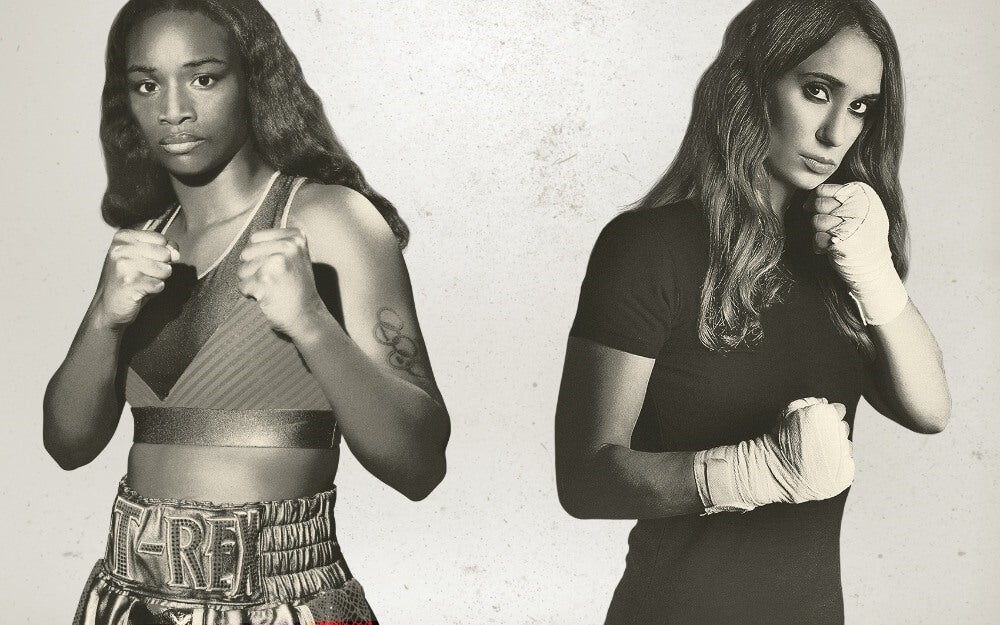 Claressa Shields vs. Ivana Habazin
When: Friday, Jan. 10 at 9pm ET
Where: Ocean Casino Resort in Atlantic City, New Jersey
Streaming: Showtime (free with various streaming service trials)
Claressa Shields vs. Ivana Habazin live stream: How to watch Showtime boxing
There are plenty of ways to live stream Showtime, and that includes  YouTube TV and DirecTV Now. Naturally, it'll cost you a little extra per month to watch the premium cable channel. But the good news is that each service typically offers a one-week free trial. That means if you've never had a Showtime subscription before, you can watch Shields vs. Habazin without paying a dine. We've highlighted some of the best live streaming options below.
Aside from the Shields vs. Habazin main event, Showtime also will show highly touted prospect Jaron Ennis vs. Bakhtiyar Eyubov in the co-feature bout, and the telecast will open with a super middleweight title unification bout between Alicia Napoleon-Espinosa vs. Elin Cederroos.
Unlike most of the streaming services, Showtime, every once in a while, gives you an extended free trial of 30 days instead of the standard seven. Luckily, this is exactly one of those times. For now, you get a free 30-day trial with the app, and after that, it costs $10.99 per month (don't worry, you can cancel any time). If you want to stream Shields vs. Habazin directly through Showtime, this is the way to do it.
---

Cost: $10.99 per month for Showtime (after 7-day free trial) | $5.99-$11.99 for Hulu and $54.95 per month for Hulu with Live TV
Hulu devices: Roku, Apple TV, Google Chromecast, Amazon Fire Stick and Fire TV, Xbox One, Xbox 360, Nintendo Switch, and iOS and Android devices
The best thing about Hulu is that you get the option of watching all the TV shows and movies the service offers while also giving you the ability to stream live TV. It's a solid 1-2 punch for boxing fans (even if the price for Hulu Live recently rose by $10 per month). For Showtime, viewers will have to pay a $10.99 monthly charge after a free seven-day trial. Here's the complete list of Hulu Live TV channels.
---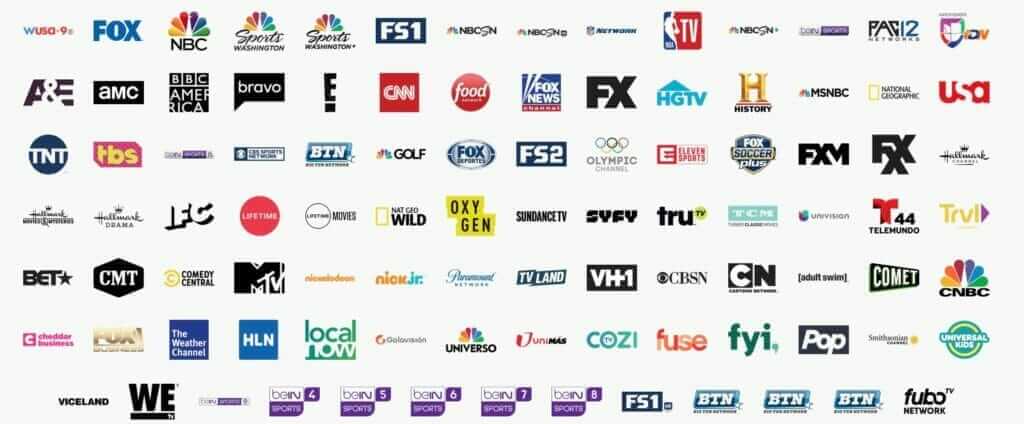 Cost: $15 per month for Showtime | $59.99 per month for Family package; $74.99 for Ultra package that includes Showtime
Devices: Roku, Apple TV, Amazon Fire, Android TV, iOS and Android devices
If you're a big sports fan, particularly of soccer, FuboTV might be the best streaming service option for you. Another plus for FuboTV is that the streaming service also showcases some of the best local TV coverage of any of its competitors. With Showtime on FuboTV, it's also a great place to watch movies. Here are the complete FuboTV channels list and our FuboTV review.
---

If you haven't yet had a Showtime subscription on Sling TV, you'll first start with a seven-day free trial. After that trial ends, it'll cost you an additional $10 per month. One of the best perks offered by this streaming service is that you can select channel packages in an à la carte fashion to pay for the channels you want the most. That means you can pay either $30 or $45 per month depending on how much content you want to watch. If you sign up now, however, you'll actually get $10 off your first month, bringing your first bill down to just $20 or $35. Here's a complete guide to Sling TV channels and our Sling TV review.
---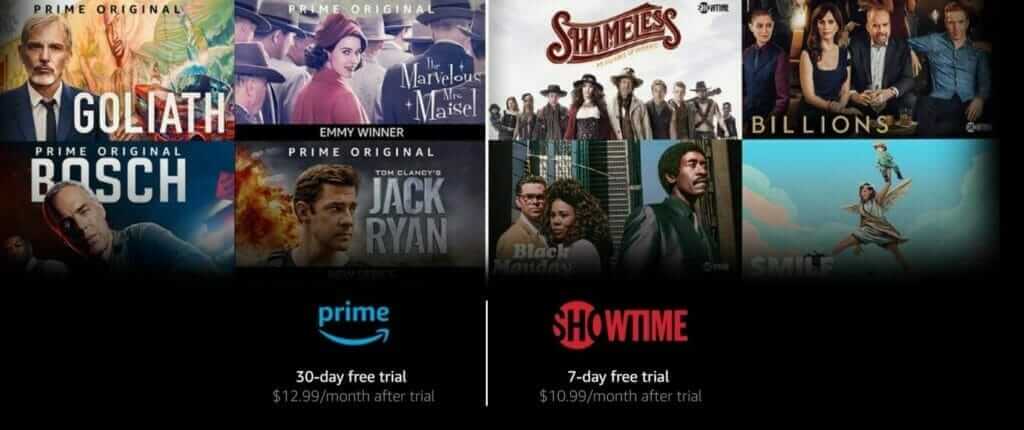 Cost: $10.99 per month for Showtime | $119.99 per year for Prime
Devices: Amazon Fire Stick, Fire TV, Fire tablets, and Fire phone; Roku, Google TV, TiVo, Nvidia Shield, PlayStation 3 and 4, Xbox One, Nintendo Wii
If you'd prefer a one-stop shop for all your streaming needs, Amazon is exactly what you need. Plus, after a seven-day free trial, you can add Showtime for $10.99 per month from one centralized media center. This is about as easy as it gets to live stream Showtime and to watch Shields vs. Habazin.
Claressa Shields vs. Ivana Habazin live stream: Why it matters
Though she's only had nine professional fights, Shields (9-0, 2 knockouts) has already declared herself the greatest women's fighter of all time (aka the GWOAT). She's won titles at super middleweight and middleweight, and now she's moving back down in weight again to junior middleweight. This time, if she beats Habazin, she'd be the fastest boxer (male or female) to earn three titles in three weight divisions.
"Claressa continues to render the impossible possible," her manager, Mark Taffet, said. "It's truly herstory."
But this fight vs. Habazin (20-3, 7 KOs) has become contemptuous.
Less than two days before the two were to tangle in October, somebody brutally attacked Habazin's trainer after Bashir and another person in Shields' camp got into a verbal altercation. Understandably, Habazin declined to fight. In the aftermath, Shields' brother was arrested and charged with assault, and Bashir needed two separate hospital stays due to the injuries.
"I've been thinking about this since October and I have more of an incentive now given what happened," Habazin said. "I feel like I'm fighting for James Ali Bashir, as well as for my own pride and respect."
Shields, though, said she still doesn't have any respect for Habazin.
"The [main] reason why she gets no respect is how she carried herself after the incident," Shields said, via BJPenn.com. "She started playing the victim, trying to call me a thug, like I had anything to do with the incident. She wasn't being a sports-like person, not understanding that we both trained hard to make that fight happen. The incident didn't just affect her, it affected me also.
"She went on this little race rant, I'm a thug, I'm a gangster. I ain't never been to jail. It made me not like her as a person and when I don't like them as a person, I go out to put the beatdown on them worse."
Shields is a significant betting favorite (as of this writing, she's -8000, meaning you'd have to bet $8,000 to win a paltry $100), and that's because she's one of the greatest female fighters in history. She won two Olympic gold medals, triumphed in a super middleweight world title unification match in only her fourth pro bout, and beat Christina Hammer last year to become undisputed middleweight champion.
Meanwhile, Habazin has fought three winless opponents since 2015, and in the biggest fight of her career vs. Cecilia Braekhus in 2014, Habazin didn't win a single round on any of the judges' scorecards. It's not really a question of whether Shields will win. It's whether she can break through with her first knockout win since 2017.
"She's just another opponent," Shields said. "She's not anybody special and she may have worked her way up through the ranks to fight for these belts, but our skills do not compare. I'm going to walk all over her."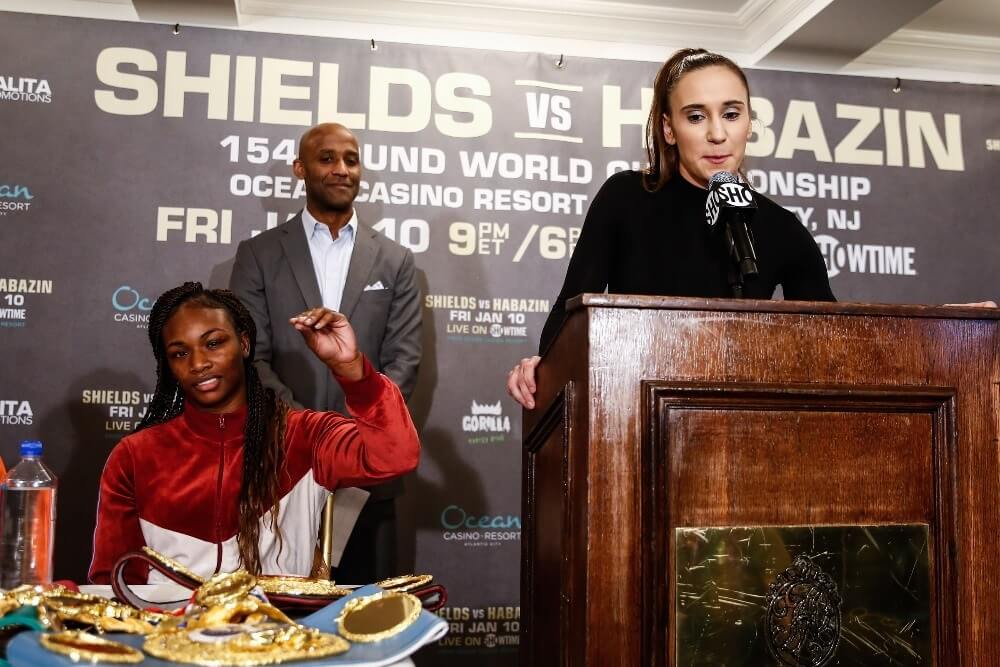 Claressa Shields vs. Ivana Habazin live stream schedule
Claressa Shields vs. Ivana Habazin
Jaron Ennis vs. Bakhtiyar Eyubov
Alicia Napoleon-Espinosa vs. Elin Cederroos
For a year-round sports fix, sign up here and check the "sports" box to receive our weekly boxing newsletter. You'll hear about all the biggest fights and best knockouts from the Daily Dot's streaming sports guru Josh Katzowitz.
The Daily Dot may receive a payment in connection with purchases of products or services featured in this article. Click here to learn more.