As the holiday arms race between Netflix, Hallmark, and various lesser players rages on, you would think that Christmas series would have been tried more often. If American execs take a close look at the acerbic Norwegian delight Home for Christmas, it's only a matter of time until the limited series is the next frontier in American holiday content. 
Home for Christmas
RELEASE DATE:
Dec. 5, 2019
CREATOR:
Per-Olav Sørensen
STREAMING:
Netflix
This edgy, smart Christmas rom-com series from Norway feels like a combination of Girls and National Lampoon's Christmas Vacation and pleases with a punch.
Released on Dec. 5, Netflix's Home for Christmas tells the story of a 30-year-old nurse, Johanne (Ida Elise Broch), who is tired of feeling like she is the only person without someone special to spend the holidays with. This might sound like traditional Christmas fodder, but don't think Hallmark movie. Instead, think a mash-up of Girls and National Lampoon's Christmas Vacation with the existential edge you would expect from a Norwegian production, stretched across six 3o-minute episodes.
Home for Christmas establishes itself as smarter, funnier, and darker than your typical Christmas fare immediately. In the opening scene, we find dry, smart, jaded Johanne has been relegated to the children's side of the dinner table until she lands a longterm boyfriend and joins proper adult society. As the camera slowly dollies along the table, Johanne's vacant stare remains fixed in the center of the frame as we are introduced to the other members of her festive family. All is as normal as the feast can be until she announces, "I have a boyfriend." 
The pronouncement takes her family by surprise, but it also surprises Johanne. Now she has less than a month to find a date to bring to the big Christmas celebration. The pressure is compounded when she heads to the hospital to find out that she will be working Christmas Eve, as she is the only nurse without a good answer to the question "How many of you plan to celebrate with your partners and or children?"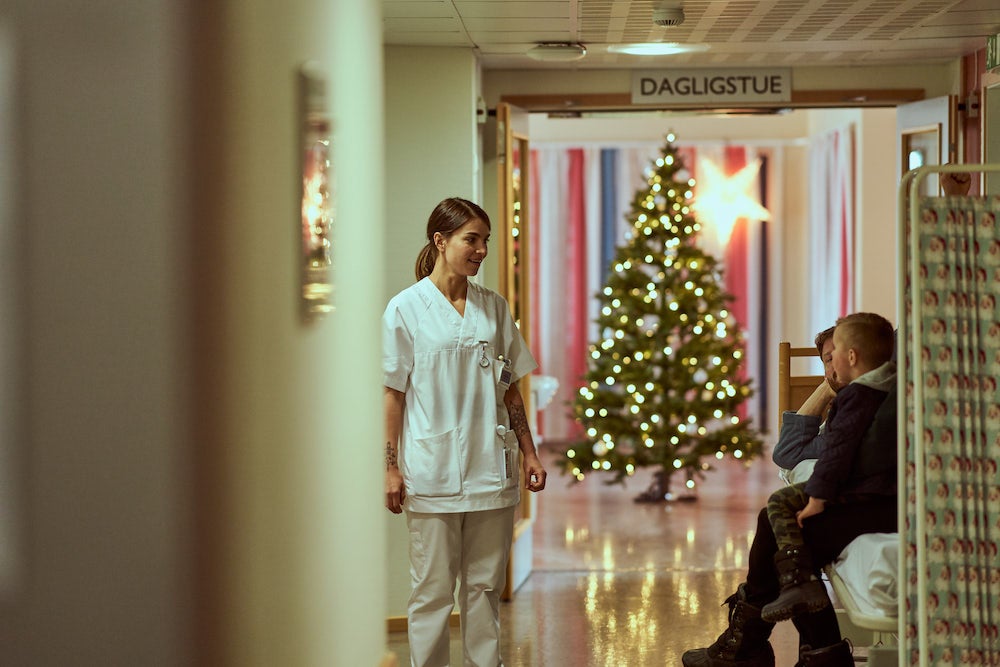 The real charm of Home for Christmas isn't surprising for a holiday series from the land of Henrik Ibsen: This Christmas series is delightfully dark. After Johanne begrudgingly agrees to work Christmas Eve, the head nurse tells her, "It is the fate of the single and childless to step up while everyone else is stuffing their face with sauerkraut and opening Christmas presents."
And it only gets darker from there. Later, Johanne tries speed dating: One man is obsessed with hanging around graveyards and nursing liquor while another is clearly a mob hitman. After that endeavor fails, she goes on an escape room date accompanied by a plumber with a violent streak and then goes out with a young man over 10 years her junior culminating in marathon sexcapades.
No, we're not on the Hallmark Channel anymore.
That isn't to say there aren't moments of sweetness amid Johanne's sour dating adventures. Charming minor characters like a bawdy octogenarian lung cancer patient, a charming hospital clown with a melancholy sweetness, and Johanne's goofy but well-intentioned roommate bring the right dashes of joy among the hardship. 
Home for Christmas wears its cynicism lightly, often poking fun at its own pessimism. Long bits are dedicated to mocking Johanne's favorite Christmas rom-com, Love, Actually. As the characters take sarcastic shots at the blind optimism of Hugh Grant and Colin Firth, the writing also ribs the dour attitude these characters take toward romance. Life is serious to this series, but that doesn't mean it has to take itself too seriously.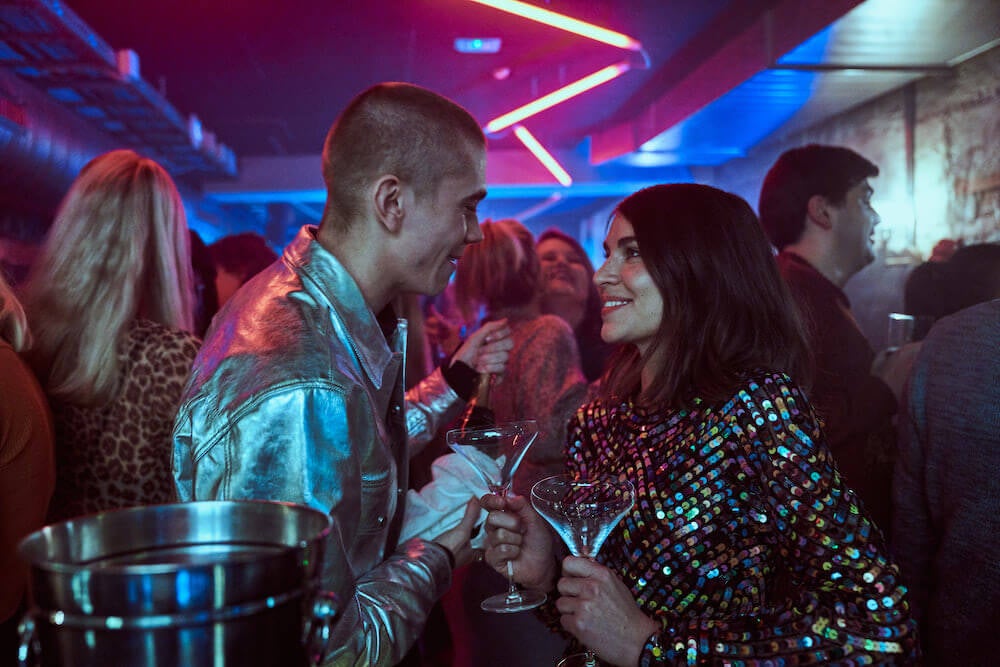 Ultimately, Home for Christmas is kinder than it would readily admit. No Christmas content would be complete without a redemptive moment of kindness, and without spoiling anything, Home for Christmas pulls that off without compromising the sardonic tone of the series or Johanne's clearly high standards. But, there are still sweet notes that need to be sounded, and this series hits them with charming ease.
Rare for a Christmas project, Home for Christmas even finds time to extol the virtues of ending up alone. While we are sure that Johanne won't spend her Christmas in solitude, the show asserts there wouldn't be anything wrong with that. Of dying alone, one of her patients remarks, "One of the best things in life is being able to sneeze without having to cover your mouth." In moments like these, the series hits its stride: Beneath the edgy detachment, there is something more genuine and more human than what you would find in a thousand feel-good mistletoe kisses.
Home for Christmas is the kind of foreign title that begs for an American adaptation of the format. If some producer thinks that they have found the next Jenny Slate, they should rush to grab the rights from creator Per-Olav Sørensen and roll out a U.S. version in time for next Christmas. The series is dark without being depressing, sweet without being saccharine, and smart without being pretentious. 
In short, Home for Christmas is everything you could want from a Christmas-themed limited series, even if you never knew such a thing existed.
Still not sure what to watch tonight? Here are our guides for the absolute best movies on Netflix, must-see Netflix original series, documentaries, docuseries, and movies. 
Looking for something more specific? Here are our Netflix guides for the best war movies, documentaries, anime, indie flicks, true crime, food shows, rom-coms, LGBT movies, alien movies, gangster movies, Westerns, film noir, and movies based on true stories streaming right now. There are also sad movies guaranteed to make you cry, weird movies to melt your brain, old movies when you need something classic, and standup specials when you really need to laugh. Or check out Flixable, a search engine for Netflix.