Hollywood may be furious at the idea of Netflix debuting major films from directors like Martin Scorsese, but for small directors, it's a godsend. Particularly on the world stage, Netflix's focus on putting out massive amounts of content has opened doors for new filmmakers. Dead Kids, for example, is the first Netflix original to come out of the Philippines. Directed by Mikhail Red, whose Eerie and Birdshot found success on the streaming service, Netflix is the perfect home for a movie of this size. Rather than get lost in a small theatrical run, it's been unleashed on an audience of millions. 
Dead Kids
RELEASE DATE:
12/1/2019
DIRECTOR/CREATOR:
Mikhail Red
STREAMING:
Netflix
Dead Kids is a masterfully paced, outside-the-box thriller that subverts your expectations in surprising ways.
Based on Netflix's description, you probably think you've seen this movie before. "A socially awkward teen bonds with a group of misfits who plot to abduct the school's arrogant rich kid—until their kidnapping scheme turns deadly": That could easily describe hundreds of movies. What the description doesn't get across is how deeply Philippine culture ties into the film and the motives of its characters.  
Dead Kids, taken from a slang term for losers, is centered around Mark Sta. Maria (Kelvin Miranda). Sta. Maria is a poor student struggling to pay his bills while living in the margins of his student body. His nemesis is Chuck Santos (Markus Paterson), a cocky rich kid who bullies Mark and anyone economically or socially below him. After Chuck pushes his peers too far, a group of students—Blanco (Vance Larena), Go (Jan Silverio), and Paolo (Khalil Ramos)—approach Mark with a plan to kidnap Chuck. Sorrow, comedy, and death follow.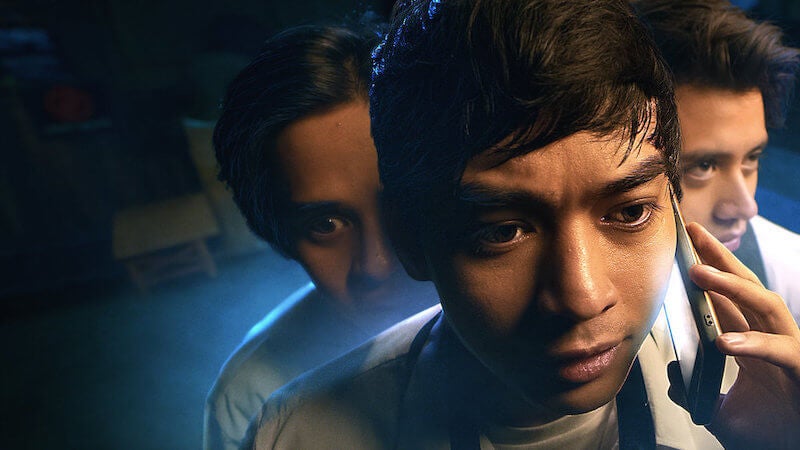 You've probably seen movies like Dead Kids before, but you probably haven't seen a movie quite like Dead Kids before. While the basic notes are familiar, the way the film uses the intersection of social media and social class is wholly unique. You truly grasp the different ways everything from economic to social class affects these students' lives. Social media makes it impossible to escape from your social status, while your economic status makes it impossible to keep up with social media. Poverty means your data runs out, and in a world where your online life is everything, that means you might as well be dead.
These students have no real adults in their lives. Parents and extended family serve as voices of judgment and stress, reinforcing failings instead of building these kids up. The Dead Kids are alone, both hopeless and free in equal measure. Truly, the only thing that haunts them and the root of their ultimate downfall is social media. Even the best-laid plans can't be hidden from a friend with a quick Instagram finger. 
Given how dark things get, it was surprising to see just how funny Dead Kids is. Young men acting like criminal geniuses are always an easy setup for laughs. Where Dead Kids shines is in how it disarms viewers early on for the more intense ending of the film. The ending comes a little too quickly, with not enough space given to one particular tragedy. Yet Dead Kids remains a success, legitimately intense and compelling even while tackling familiar subject matter. 
Shot like if Bong Joon Ho got a chance at a serious high school drama, Dead Kids brilliantly mashes up hardboiled crime and teen angst. Each character is given room to grow outside their set archetypes. The nerd isn't actually that smart; the heroic loner ends up being just a loner; the player is hopelessly unable to stand up to his girlfriend. It's refreshing to see these characters discovering new sides of themselves and adds to the overall suspense. 
Visually, the film is stunning—lit like a noir comic book, yet never verging on hyperreal. More often than not, the lighting adds a layer of grime to scenes, letting you know how nice or rundown a space is through the color temperature. This is obviously a low-budget production, but through clever use of lighting and staging, it never feels limited. 
Director Mikhail Red is a director to watch, capable of taking microbudgets and creating art. Dead Kids manages to subvert your expectations every step of the way, and it brilliantly integrates class issues into a thriller setup. It's far sweeter than you'd anticipate and much less violent. Yet when it explodes, its viciousness is undeniable. Rather than painting kids as merely popular and unpopular, Dead Kids shows us the multifaceted fractures in their armor. When things fall apart, these character-building moments create undeniable fuel for the fire. 
Still not sure what to watch tonight? Here are our guides for the absolute best movies on Netflix, must-see Netflix original series, documentaries, docuseries, and movies. 
Looking for something more specific? Here are our Netflix guides for the best war movies, documentaries, anime, indie flicks, true crime, food shows, rom-coms, LGBT movies, alien movies, gangster movies, Westerns, film noir, and movies based on true stories streaming right now. There are also sad movies guaranteed to make you cry, weird movies to melt your brain, old movies when you need something classic, and standup specials when you really need to laugh. Or check out Flixable, a search engine for Netflix.