This review contains minor spoilers for season 3 of The Handmaid's Tale.
The Handmaid's Tale is a hard TV show to watch. Based on Margaret Atwood's 1985 novel, the Hulu show is set in a dystopian version of America where women are not allowed to read, work, or lead an independent life in any way. Declining fertility rates have led to the rulers of Gilead, as the country is now called, to mandate the remaining fertile women to work as Handmaids to powerful men. Handmaids are raped by their assigned male master with the goal of producing children. This is a world where women are not treated as human beings; the story is intended to be a warning. But the line between this futuristic drama series and our current reality is becoming increasingly blurred. The third season of The Handmaid's Tale, which began streaming on Hulu Wednesday, arrives at a time when governors in several states have signed restrictive anti-abortion laws. Gilead doesn't feel that far off—it never did.
The Handmaid's Tale
RELEASE DATE:
6/5/2019, new episodes every Wednesday
CREATOR: Bruce Miller
STREAMING:
Hulu
In the third season of the dystopian TV series, Elisabeth Moss' June seeks to fight the patriarchal system.
When the series premiered two years ago, Donald Trump was recently elected as president and many people were sad and angry. It felt cathartic, in a way, to watch a heavy drama where the story's protagonist, June (Elisabeth Moss), sought to break out of a deeply abusive and misogynistic system. We were right there beside her, pissed off at this government that told women how to dress and behave—women who were treated as property to the elite class. But after season 1 ended, which followed the arc of the novel, many wondered how the show would carry on the plot. Would we see these women suffer for multiple seasons, or would we see them effectively overthrow this regime? This season feels like it is building toward the latter. There are still Handmaids, and they still dress in all red with white bonnets, but change is afoot.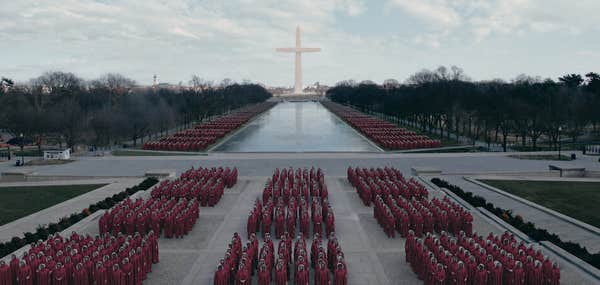 Season 3 of The Handmaid's Tale picks up right where season 2 left off, with June giving her baby to Emily (Alexis Bledel)—who is escaping to Canada. June chooses not to get on the vehicle and seek asylum because her other daughter, Hannah, is still in Gilead and living with another family. June wants to get her daughter before leaving the country. She's also trying to spark change from inside the system. June wants to persuade Serena Joy Waterford (Yvonne Strahovski), the wife of Commander Fred Waterford (Joseph Fiennes), to use her position to make Gilead a better place for women. "They hate us, Serena," June tells her. "They are not on our side." June also tries to obtain information from Joseph Lawrence (Bradley Whitford), who helped Emily escape, and forms alliances with other Handmaids and Marthas.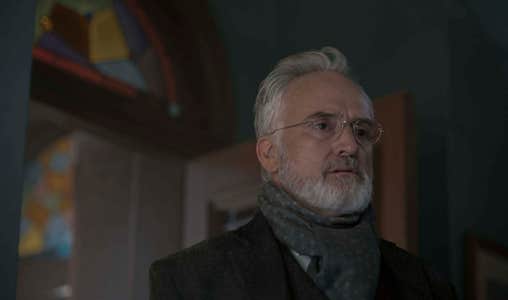 But the revolution is slow to begin. Or perhaps it feels like that because the third season is stretched out over 13 episodes—Hulu released three of those episodes on Wednesday, with subsequent new episodes arriving every week on the streaming service. Episode 2, "Mary and Martha," is painful and grueling, but it's also an episode that foreshadows a bubbling resistance. In the episode, June dresses in green and follows a couple of Marthas on a secret mission. Meanwhile, in Canada, Emily attempts to set up her new life. But while some scenes in the new season suggest that women are coming together to rebel against Gilead, there are no light moments. It's a lot to take in. It's also difficult to see June, and all the other women, still suffering under this society. The show is frustrating; you'll wonder why Gilead hasn't broken apart yet. There's also a considerable amount of focus on Serena, but it's impossible to sympathize with someone who selfishly only cares about her own wants and needs, and not the wants and needs of the women living in subjugation.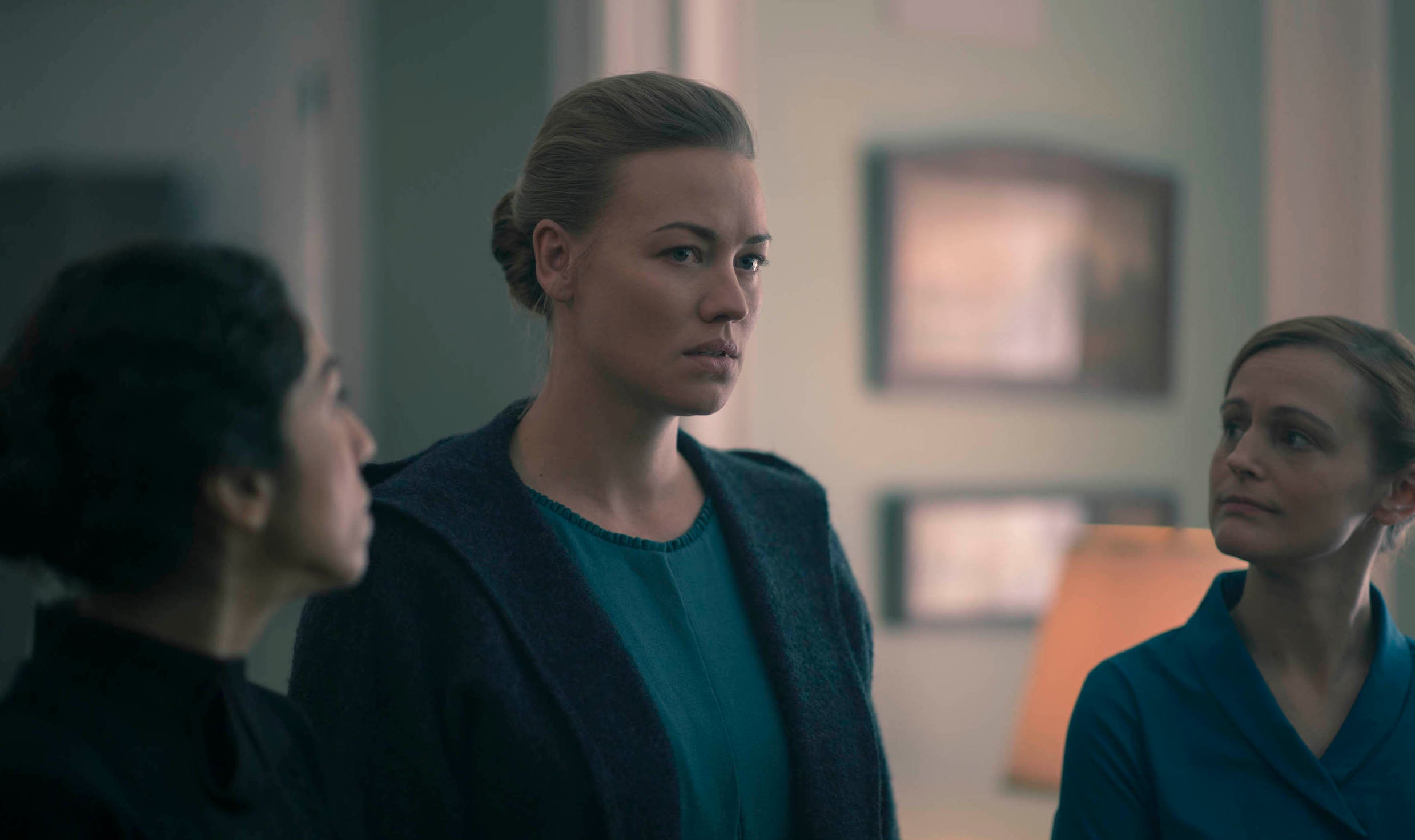 I know several women who stopped watching The Handmaid's Tale after one season, or who gave up on it in the middle of season 2. The problem is not in the production quality; it's a well-made series with striking shots and incredible acting (particularly from Moss). But it's excruciating to watch women get tortured, raped, killed, and wrestle with the loss of the people they once were, especially after reading daily headlines about people in power who want to take away the rights of women and minority groups. I also had trouble getting through The Handmaid's Tale last season. A major issue with the show is that the people who really need to see it are likely not interested in watching it. And even if, say, someone like a lawmaker in Alabama sat down to watch it, would they realize the plot's connection to our current politics? Women now dress up as Handmaids to protest laws that restrict their rights, and the costumes don't appear to have any effect on Republicans.
Watching The Handmaid's Tale in 2019 isn't fun, and it doesn't feel like entertainment. But it's one of the strongest original drama series available on a streaming service. If you're invested in the original story, it's worth watching to find out how it unfolds this season. I'll continue watching it because, like a lot of other people, I want to see the characters live in a better future.
Still not sure what to watch on Hulu? Here are the best movies on Hulu, what's new, the best shows on Hulu, the sexiest movies you can stream on the service, Hulu documentaries, anime, and the must-see Hulu originals.
Looking for something more specific? Here are the best thrillers, serial killer movies, and action movies to get your heart racing, classic movies when you want a blast from the past, sad movies when you need a good cry, adult cartoons, and funny movies on Hulu when you need a good laugh.