This review includes no major spoilers for The Chilling Adventures of Sabrina.
Remember all those conservative parents who accused Harry Potter of promoting witchcraft? You have to wonder what they'll make of the new Sabrina, which involves literal devil worship with a delicate hint of cannibalism. Packed with occult imagery but maintaining a distinctly Riverdale-esque tone, The Chilling Adventures of Sabrina introduces a cloven-hoofed Satan within the first few episodes, vying for attention among teen subplots about boyfriends and book clubs.

Adapted from the Chilling Adventures of Sabrina horror comics, this show bears little resemblance to the 1990s sitcom, though I'd hesitate to call it a dark reboot. It's more spooky than outright scary, and above all it's campy, like a stylish cross between The Craft and a Disney Channel Halloween special. Every location looks like a sumptuously designed ghost tour, and the witch characters boast extensive wardrobes of vintage goth finery. The creators were supposedly inspired by The Exorcist and Rosemary's Baby, but Sabrina falls closer to Hocus Pocus. (This is not a criticism.)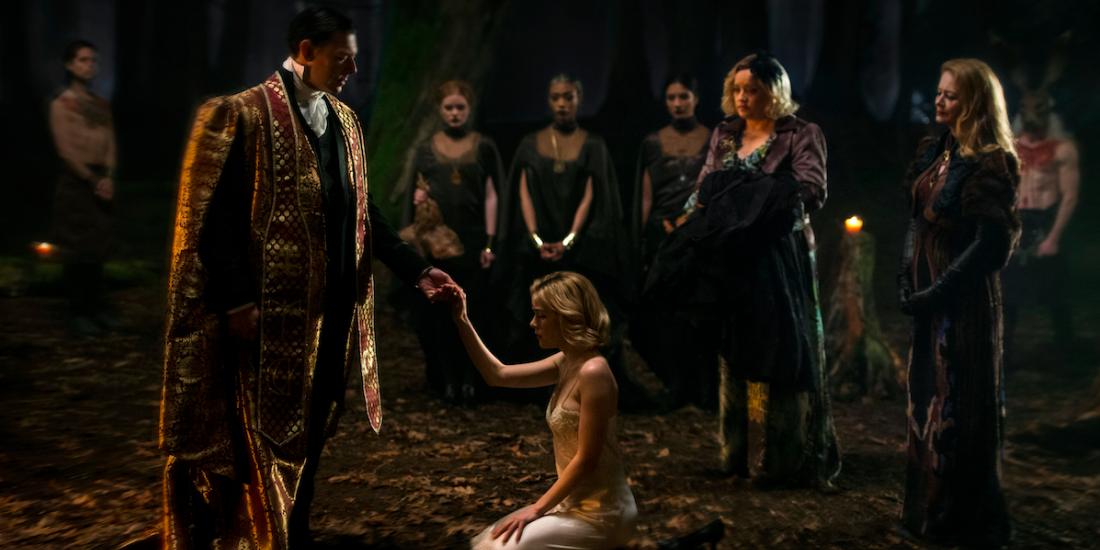 Raised by her witch aunts, Sabrina (Kiernan Shipka) is about to turn 16. That means it's time for her Dark Baptism, where witches pledge their soul to Satan in exchange for magical powers and immortality. But as the half-mortal child of a warlock and a human woman, Sabrina isn't sure if she wants to sign up. She must choose whether to abandon her mortal life (including her friends and boyfriend) or her magical heritage, which the show frames as a young woman's choice between power and personal freedom. The story includes surprisingly authentic historical details from classic British-American witch mythology, including characters having witches' marks and signing their names in the Devil's Book.
Sabrina herself is brave and self-assured, with the confidence of a slightly spoiled only child. Her aunts Hilda (Lucy Davis) and Zelda (Miranda Otto) taught her to stand by her convictions, which turns out to be a misfire if you want your 16-year-old to sell her soul without questioning the fine print. It's a relatable tale of a teenager struggling with familial expectations, with a dose of Addams Family irony: She may be a rebellious teen, but she's rebelling against a pair of devil-worshipping undertakers who occasionally snack on human flesh.
Hilda is maternal and goofy, while Zelda is a glamorous bitch with no patience for mortal problems. Since they're both loyal to the Dark Lord, Sabrina has only one true ally. Her cousin Ambrose (Chance Perdomo) acts as a roguish mentor figure, conveniently available because he's stuck on house arrest.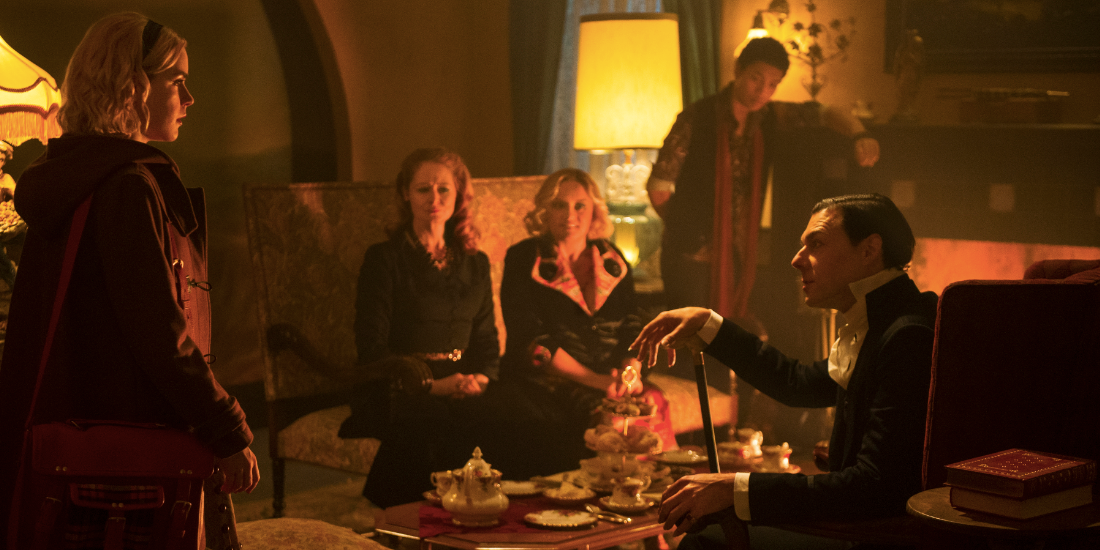 The magical characters tend to overshadow Sabrina's mortal friends, with various evil warlocks and mean teen witches trying to sabotage her. The hilariously malevolent Miss Wardwell (Doctor Who's Michelle Gomez) is worth the price of admission alone. A Satanic minion posing as a mortal teacher, she has zero interest in subtlety. Why have a normal conversation when you can pout seductively and inject every line with a comically ominous pause? Why simply walk into a scene when you can loom from the shadows as if you might dissolve into a flock of bats at any moment? Miss Wardwell inadvertently presents the single most compelling argument to just sign the Devil's Book. She's clearly enjoying herself tremendously.
Riverdale and Sabrina share the same creator (Archie Comics chief creative officer Roberto Aguirre-Sacasa), so they naturally warrant comparisons. Sabrina's high-concept premise gives it more direction than Riverdale's meandering soap opera antics, but the writing displays a similar enthusiasm for wild subplots. For instance, Sabrina's idiot boyfriend Harvey (Ross Lynch) wants to be an artist, but his father wants him to work down in the mines. It's 2018, and a two-dimensional abusive dad wants his untrained teenage son to prove his manhood by digging rocks in what looks like a 19th century mineshaft. Everyone behaves as if this is perfectly normal, in the same way they accept that Sabrina's aunts operate a mortuary out of their own basement. (Incidentally, Satan likes to hang out in the mines. Of course.)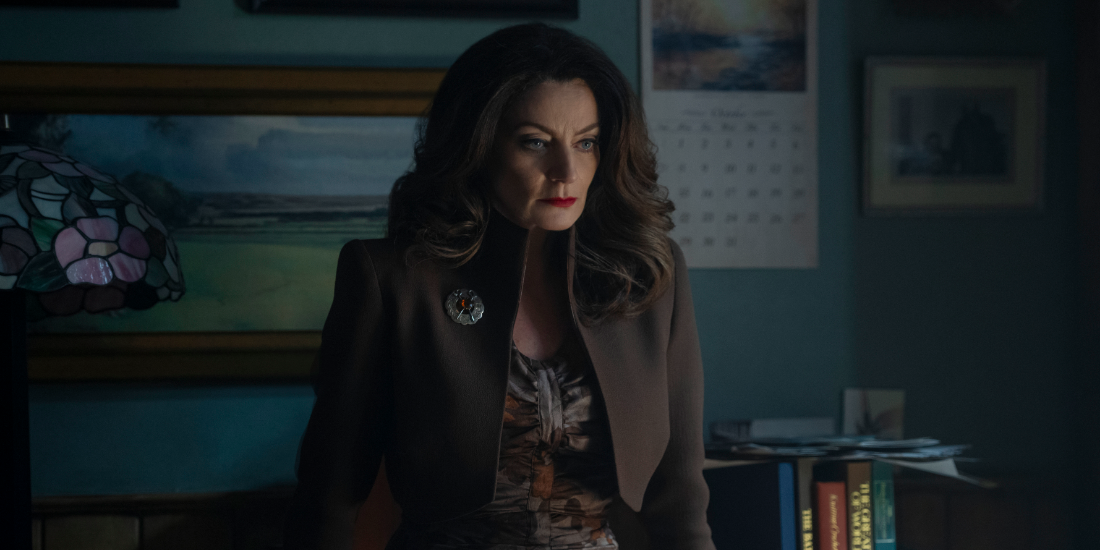 Similarly serious-yet-silly conflicts unfold for Sabrina's other friends, aiming for Teen Vogue wokeness with occasional undertones of "How do you do, fellow kids?" Witchcraft stories go hand-in-hand with feminist themes, resulting in things like Sabrina starting a women's activist group at school (acronym: WICCA) and debating the political subtext of horror movies. Sabrina also protects a friend from homophobic bullying… by threatening to falsely out the bullies as gay. The irony (and homophobia) of this move was apparently lost on the show's writers.
By magically tricking the bullies into a PG-13 orgy, Sabrina uses gay sex as a humiliating threat and arguably commits sexual assault. It's an ill-advised riff on the way some cartoonists mock Trump by depicting him and Putin as lovers, a joke that relies on the idea of gayness as a punchline. This would be an issue anywhere, but it's especially awkward in a show that wants to seem progressive and inclusive. No one needs Sabrina to be a bastion of gritty authenticity, but if it wants to be political, it should at least be consistent. (Fortunately, this storyline is a temporary blip, and the show features at least one queer character among the central cast.)
The Chilling Adventures of Sabrina is destined to be a Halloween hit, delivering an entertaining blend of stylish menace and high school nonsense. My only caveat to longtime Sabrina fans is that Salem doesn't talk—a tragic oversight for a show so obviously suited to including a talking cat. Otherwise, with straightforward teen drama and gleefully overblown witchcraft, this reboot is a gift to self-aware goths both young and old.
Still not sure what to watch tonight? Here are our guides for the absolute best movies on Netflix, must-see Netflix original series, documentaries, docuseries, and movies.
Need more ideas? Here are our Netflix guides for the best war movies, documentaries, anime, indie flicks, true crime, food shows, gangster movies, Westerns, and movies based on true stories streaming right now. There are also sad movies guaranteed to make you cry, weird movies to melt your brain, and standup specials when you really need to laugh. Or check out Flixable, a search engine for Netflix.