We crawl the web so you don't have to.
Sign up for the Daily Dot newsletter to get the best and worst of the internet in your inbox every day.
Hello fellow citizens of the internet! Andrew here. Welcome to today's edition of web_crawlr.

Our top stories today are about: A DoorDash customer filming a delivery driver who cursed her out over a tip, how the "Barbenheimer" memes are only getting weirder, Airbnb guests going viral for claiming they found a camera in a light fixture, and why people are talking about the Spill app on your timeline recently.
After that, our Politics Reporter Claire has a "Dirty Delete" column for you.
See you tomorrow!

— A.W.
---
⚡ Today's top stories
A DoorDash customer recently posted a viral video of a driver cursing her out after she gave him a $5 tip for a $20 pizza.
Barbenheimer is well on its way to taking over the internet this month, but cinema's hottest doubleheader isn't just out to save the movies: It's also a perfect split-screen meme template.
In a video, which was viewed nearly 12 million times, one woman claimed that she and her fellow Airbnb guest spotted what they believe is a camera in a light fixture in their Florida rental.
Spill was created by two former Twitter employees.
---
We crawl the web so you don't have to. Sign up to receive web_crawlr, a daily newsletter from the Daily Dot, in your inbox each day.
---
🗳️ Dirty Delete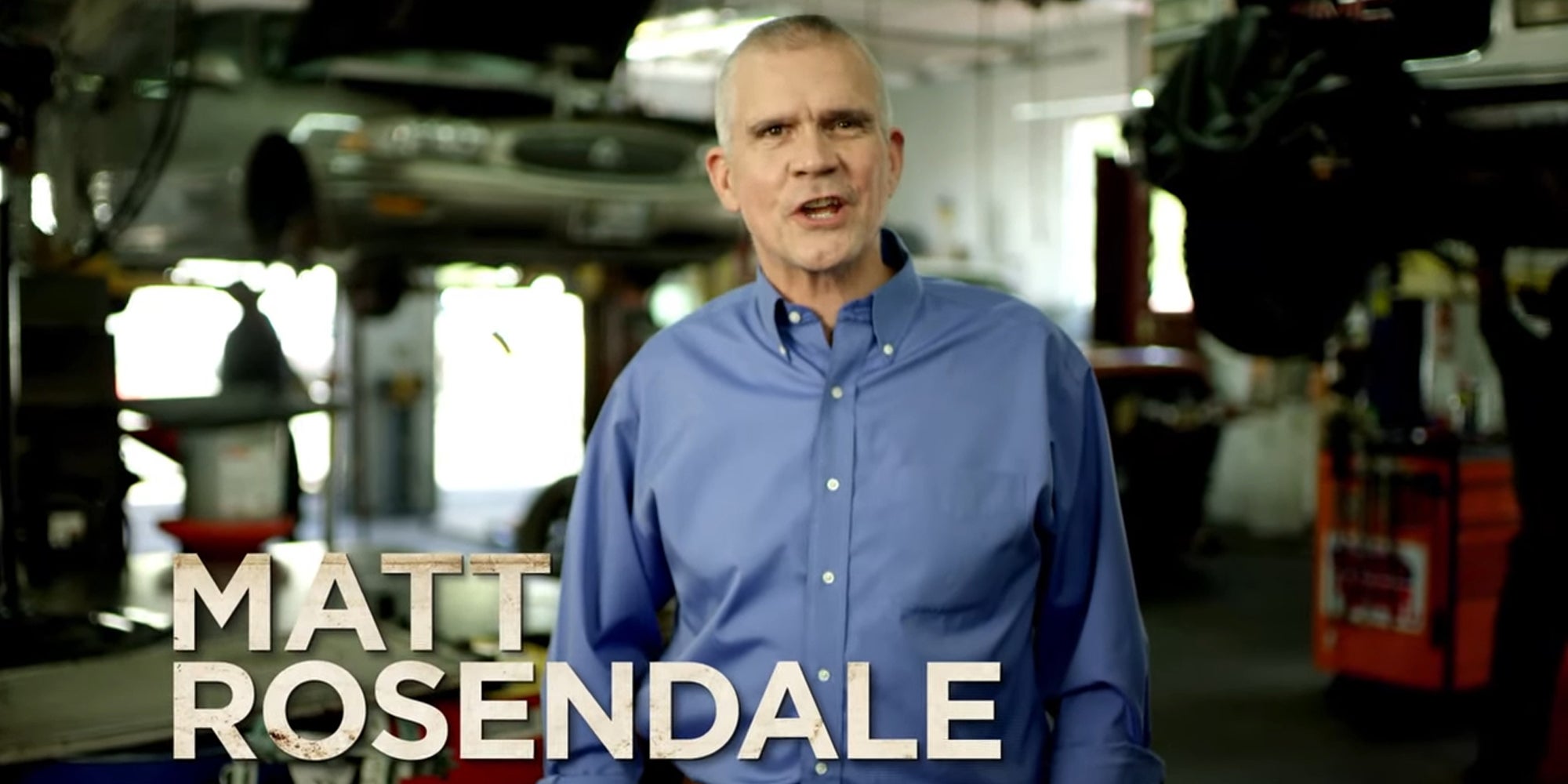 Montana Republican loves posing with dead animals
In each edition of web_crawlr we have exclusive original content. On Thursdays our Politics Reporter Claire Goforth goes deep on the social media history of politicians, political groups, and politically-adjacent figures in her "Dirty Delete" column. If you want to read columns like this before everyone else, subscribe to web_crawlr to get your daily scoop of internet culture delivered straight to you inbox.
---
🕸️ Crawling the web
Here is what else is happening across the 'net.
🍞 One Panera worker says her experience working for the company was so awful that she had to quit.
🚙 An Uber passenger is trying to get to the bottom of a wait time fee that she describes as a "sneaky charge."
🥪 Though the $5 Footlong promotion at Subway may be over, that doesn't mean people have forgotten about it—especially now that food prices have exploded in recent years.
💄 A young woman who says she has used makeup testers at Sephora on at least one occasion to get herself ready for the day has viewers questioning her choices.
☕ Get coffeehouse-quality coffee without putting on pants with these home espresso machines that are worth the investment.*
🥩 Every worker has more than their share of pet peeves on the job. One former Texas Roadhouse server recently went viral by listing her biggest issues with customers at the chain steakhouse.
💼 Many job seekers have been sharing just how difficult it is for them to land a job, like this one TikToker who said that they applied to 300 positions and got only five responses.
🏈 From the Daily Dot archive: From sponsorships to merch, college athletes can now use their personal brands to monetize the internet.
🍟 In a viral TikTok, a McDonald's worker revealed his reaction when he forgets an order from a parked car after waiting for over 20 minutes.
*The Daily Dot may receive a commission in connection with purchases of products or services featured here.
---
👋 Before you go
A person claiming to have quit a job at a fast-food outlet after just four shifts now sees fast-food workers in a different light.
TikTok creator @armonicita revealed her shift in perspective in a recent video. As of July 2, it's gathered close to 325,000 views and nearly 69,000 likes.
Accompanied by a short musical clip, the creator expressed her view in an on-screen caption reading, "Me being extra nice to fast food workers because I quit my fast food job after four shifts."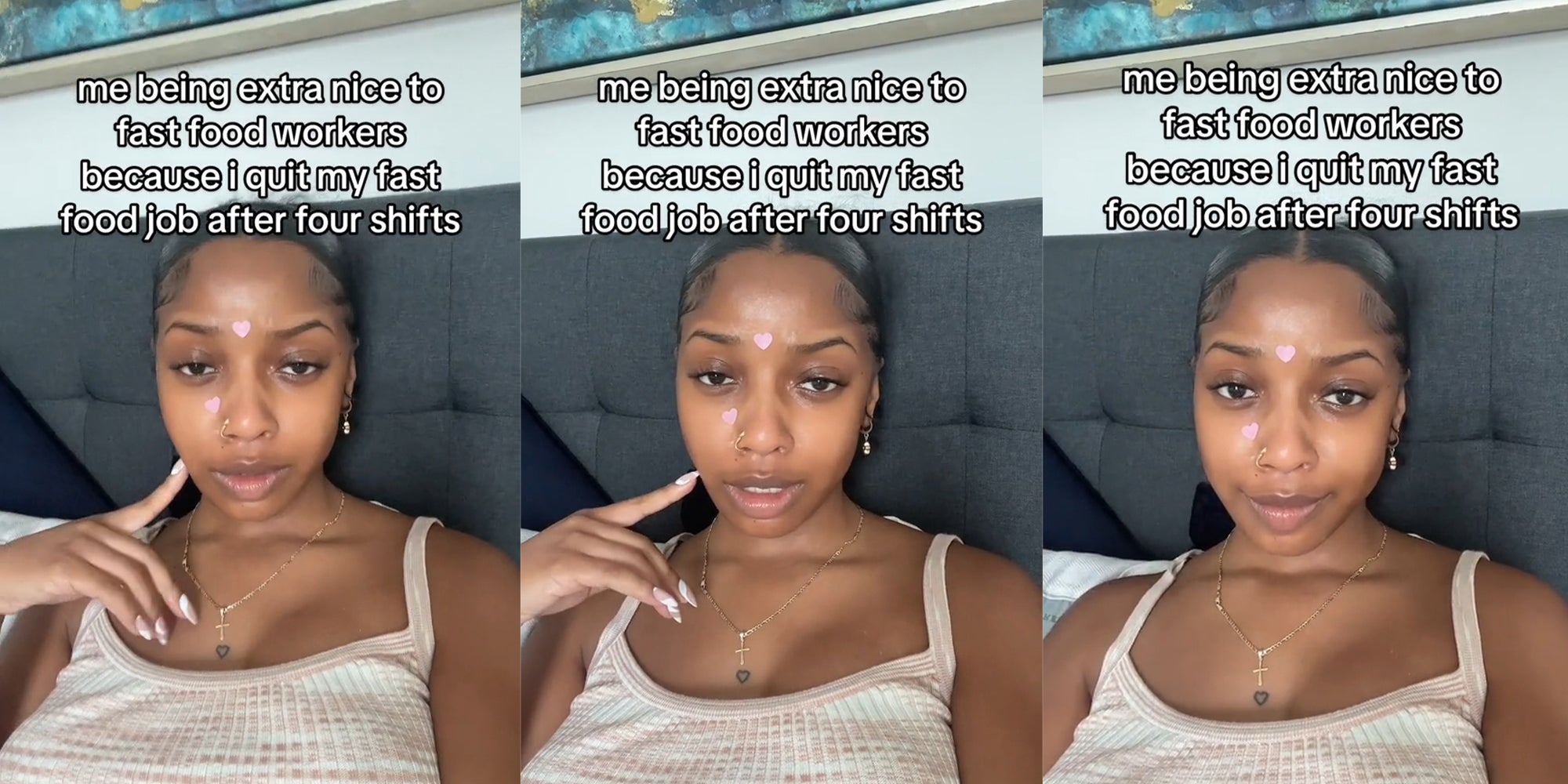 ---
🎶 Now Playing: "Big Yellow Taxi" by Joni Mitchell 🎶