Since its debut in 2014, Rick and Morty has struck a schwifty chord with the internet. Its popularity quickly blossomed due to the promotion of users on Twitter and Reddit. Soon, Rick and Morty memes were ranking alongside the world's mightiest meme fiends. Over the years its inspired everything from minor riots to a fruitful meme scene. We've used our portal gun to collect the multiverse's best Rick and Morty memes. Whether you're a long time fan or just started watching Rick and Morty this year, we'll make sure you won't need a Meeseeks to find them yourself.
The best Rick and Morty memes
1) Twenty Minute Adventures
Born from the Rick and Morty season 3 episode "Rest and Ricklaxation," Twenty Minute Adventures proved to be a versatile meme format for mocking people who assume complex tasks will prove simple. In the episode, a supposedly quick adventure leads Rick and Morty through a mostly offscreen trauma that leads to the death of thousands.
Within a week of the episode's airing, the first 20 Minute Adventure meme debuted on Reddit. It earned 29,150 upvotes for its brutal take on the Iraq War. If you'd like to see more examples we've collected the best 20 Minute Adventures memes for your reading enjoyment.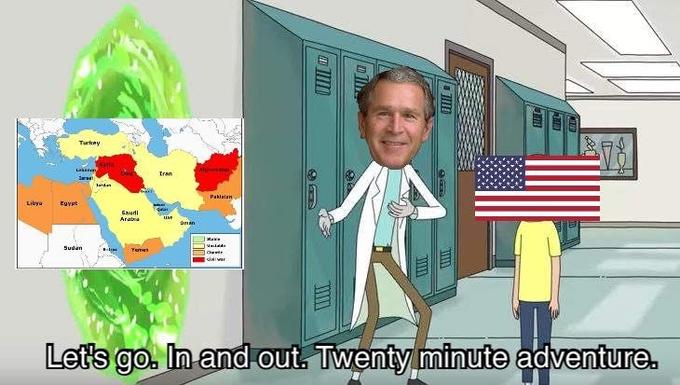 READ MORE:
From the moment Pickle Rick first appeared in a San Diego Comic-Con promo for the third season of Rick and Morty, fans have been buzzing about the dill hero. The first Pickle Rick meme was posted days before the Pickle Rick episode even premiered. What sets apart Pickle Rick from other Rick and Morty memes is its chaos. It has been used for everything from absurdist art to blasphemous jokes, with only the tart cucumber serving as connective tissue.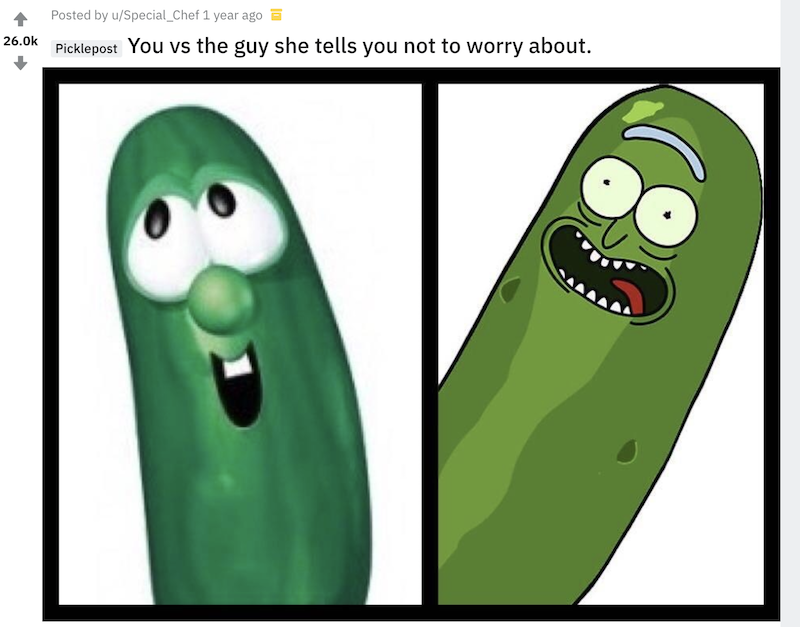 ---
16 'Rick and Morty' Quotes That Will Blow Your Mind and Crush Your Soul
---
3) "To be fair you have to have a very high IQ to understand Rick and Morty"
If 2016 was the year of Rick and Morty, 2017 was when its rabid fanbase began to spark a backlash. In July of that year, a post on Reddit gave birth to one its largest, and most vicious, memes. User Niekisch wrote:
To be fair, you have to have a very high IQ to understand Rick and Morty. The humor is extremely subtle, and without a solid grasp of theoretical physics most of the jokes will go over a typical viewer's head. There's also Rick's nihilistic outlook, which is deftly woven into his characterisation- his personal philosophy draws heavily from Narodnaya Volya literature, for instance. The fans understand this stuff; they have the intellectual capacity to truly appreciate the depths of these jokes, to realise that they're not just funny- they say something deep about LIFE. As a consequence people who dislike Rick & Morty truly ARE idiots- of course they wouldn't appreciate, for instance, the humour in Rick's existential catchphrase "Wubba Lubba Dub Dub," which itself is a cryptic reference to Turgenev's Russian epic Fathers and Sons. I'm smirking right now just imagining one of those addlepated simpletons scratching their heads in confusion as Dan Harmon's genius wit unfolds itself on their television screens. What fools.. how I pity them. 😂

And yes, by the way, i DO have a Rick & Morty tattoo. And no, you cannot see it. It's for the ladies' eyes only- and even then they have to demonstrate that they're within 5 IQ points of my own (preferably lower) beforehand. Nothin personnel kid 😎
The next day, a redditor submitted the post to r/Copypasta. Soon a user on Instagram posted the earliest known use of "To be fair…" via a comment on an h3h3productions photo. While a handful of photo "To be fair" memes exist, this Rick and Morty meme mostly lives on in the form of copypasta reposts, usually in response to a Rick and Morty argument online, or just plain mocking anyone pompously speaking as an authority on any pop culture subject.
4) Screaming Sun
During the finale of season 2, "The Wedding Squancher" Rick and Morty fans were introduced to the Scream Sun. While trying to find a planet to hide on Rick and his family come upon a planet that seems perfect, until the sun rises and screams bloody murder. Days after the episode aired the clip was uploaded to YouTube, where it quickly became a favorite target of remixers. 
5) Szechuan Sauce
No moment in Rick and Morty history has made a bigger mark than the Szechuan Sauce meme. What began as a minor plot device in the first episode of season 3, quickly spiraled into a rabidly shared movement. Fans bombarded McDonald's with requests to start selling Szechuan Sauce, a novelty nugget dipping sauce tie-in from the '90s Disney film Mulan.
When McDonald's eventually re-released the sauce in absurdly limited numbers, fans stormed stores, and the most low-key "riots" in history followed. But so did an ocean of hysterical responses from internet users who had grown weary of the worst elements of the fanbase. We've collected the best Szechuan Sauce memes here.  
https://twitter.com/CaseyExplosion/status/917407091710676993
6) "What is my purpose?"
One of the earliest Rick and Morty memes to develop, "What is my purpose?" references the butter robot from the season 1 episode "Something Ricked This Way Comes." Upon realizing that his only purpose in life is to pass the butter, the poor Butter Robot has an existential crisis, looking at its claws and moaning "Oh my god."
The Rick and Morty meme has become a catch-all for anything that realizes far too late that its purpose in life is insignificant. It has been used to particularly brutal effect to mock Microsoft Internet Explorer.
7) "For the damaged coda"
The band Blonde Redhead inadvertently joined the Rick and Morty meme-verse when their song "For the Damaged Coda" was used as the theme for Evil Morty. Originally played during Evil Morty's appearance in the season 1 episode "Close Rick-counters of the Rick Kind," the song inspired a handful of YouTube covers, but little else.
However, when the song returned during the final montage of season 3's "Tales from the Citadel," it exploded within the Rick and Morty meme community. Fans uploaded trap remixes, orchestral versions, classical guitar covers, and even 8-bit video copies. Still, the best "For the damaged coda" meme is when fans used it to add haunting sorrow to Homer Simpson's life.
8) Simple Rick's Fondest Memory
Simple Rick made his first appearance in the season 3 episode "The Ricklantas Mixup," as a Rick whose very joy is siphoned away to provide the secret ingredient to a brand of cookies. Reddit immediately latched onto the character, making him into an avatar for happy moments and absurd ideas.
The original Simple Rick meme was a tribute to the beloved Vindicators' janitor Noob-Noob, inspiring over 7,000 upvotes from fans. As the meme spread on Reddit other meme sites, like 9gag, started to receive its own submissions mocking Simple Rick. While Simple Rick's popularity seems to have wained, wherever there's a joy to cynically milk, the meme will live on.
READ MORE:
9) Rich and Morto
Most of the Rick and Morty memes have been born from the show itself, but Rick and Morto are an original creation of the fanbase. In the fall of 2016, a fan posted an image on Reddit of a someone bragging, "wow rich and morto is my fave show lol wooba looba dick duck." For some reason, the post got just shy of 18,000 upvotes. Within the day Rich and Morto fan art made its way onto Reddit.
As the absurdist meme mocking fake fans began to spread, it received the recognition a Rick and Morty meme could obtain: a co-sign from the show. Just one day after it was posted on Reddit for the first time, the official Twitter for Rick and Morty posted following Tweet. Every meme should be so lucky as to know the kiss of legitimacy from its inspiration.  
WOOBALOOBA DICK DUCK!!!!!!!

TWO HUNDRED YEARS RICH AND MORTO, RICH AND MORTO RICH AND MORTO RICH AND MORT DOT GOV TWO HUNDRED HEARS RICH AN

— Rick and Morty (@RickandMorty) November 16, 2016
Editor's note: This article is regularly updated for relevance