2017 was arguably the year of Rick and Morty memes. It just finished its third season and the Adult Swim television series has only grown in popularity since its debut back in 2013. With its growth has come numerous memes dedicated to the show, from the popular reenactment of the State of Georgia V. Denver Fenton Allen court case to "Get Schwifty" and its many, many, mashups.
And the memes have only continued to come as the show's popularity rises, with fans borrowing from previous seasons, as well as this latest season, to create new memes. An example of the former came about in June of this year when a YouTube user by the name of Freezy Tuesday uploaded a mashup of a Rick and Morty scene with Yung Gleesh's "Walk." Taken from season one's "Ricksy Business," the 26-second video syncs the memorable and wildly entertaining "Rick Dance" with "Walk."
The pairing fits so well that if you weren't already familiar with the episode you might think the scene is real, as Rick basically pulls off the dance associated with the track.
Although Tuesday's upload never went viral on YouTube it did on social media. These two tweets both received a large number of likes and retweets, as well as people commenting and asking about the name of the song.
https://twitter.com/dmvmusicplug/status/909822731256033280?lang=en
The unlikely pairing resonated strongly with those already familiar with the animated TV show and Gleesh's popular song, with Twitter user Tomie Miami writing "I've been laughing at the Gleesh walk clip of Rick & Morty everyday, cause BirdMan & Tammy on beat gets me every time lol."
Sure, season one served as the inspiration for that meme but two very notable Rick and Morty memes that were popular this year came from the show's third season. Pickle Rick had already gained Internet fandom even before its self-titled episode aired. First teased in a short video at the San Diego Comic-Con in 2016, Rick is shown as a pickled-shaped being as he kills and takes the brain of a rat. Fast forward to April 2017 and before the surprise premiere of Rick and Morty's third season, two trailers for the series aired, with one showing Morty as he turns over a pickle that is revealed to be none other than Rick. The latter then declares himself "Pickle Rick."
From there, fans of the show took to Reddit to upload pictures of Pickle Rick, as well as to discuss the character and the forthcoming new season. Then in August, two days before the premiere of the Pickle Rick episode, Redditor Special_Chef posted a side-by-side picture of Pickle Rick and Larry the Cucumber from VeggieTales in a thread titled "You vs the guy she tells you not to worry about."
You vs the guy she tells you not to worry about. from rickandmorty
Then came ILikeToDickDastardly, another Redditor who posted a photo with several Pickle Rick's with the following caption: "I want to pickill myself." The photo was put into the thread "When you hate pickle rick memes but need to be relevant somehow."
When you hate pickle rick memes but need to be relevant somehow from rickandmorty
There was also this image of a dabbing Pickle Rick, courtesy of an anonymous 4chan user, which went viral both before and after the episode's premiere, with the photo earning over 390 comments in three days.
However, Pickle Rick reached peak meme status once its episode premiered on Aug. 6, with fans of the show making the moment into a trending topic on Twitter. Soon after that, other Pickle Rick related memes popped up, primarily this one that found the reincarnated Rick replacing Kevin C. Cucumber, a character from Spongebob Squarepants.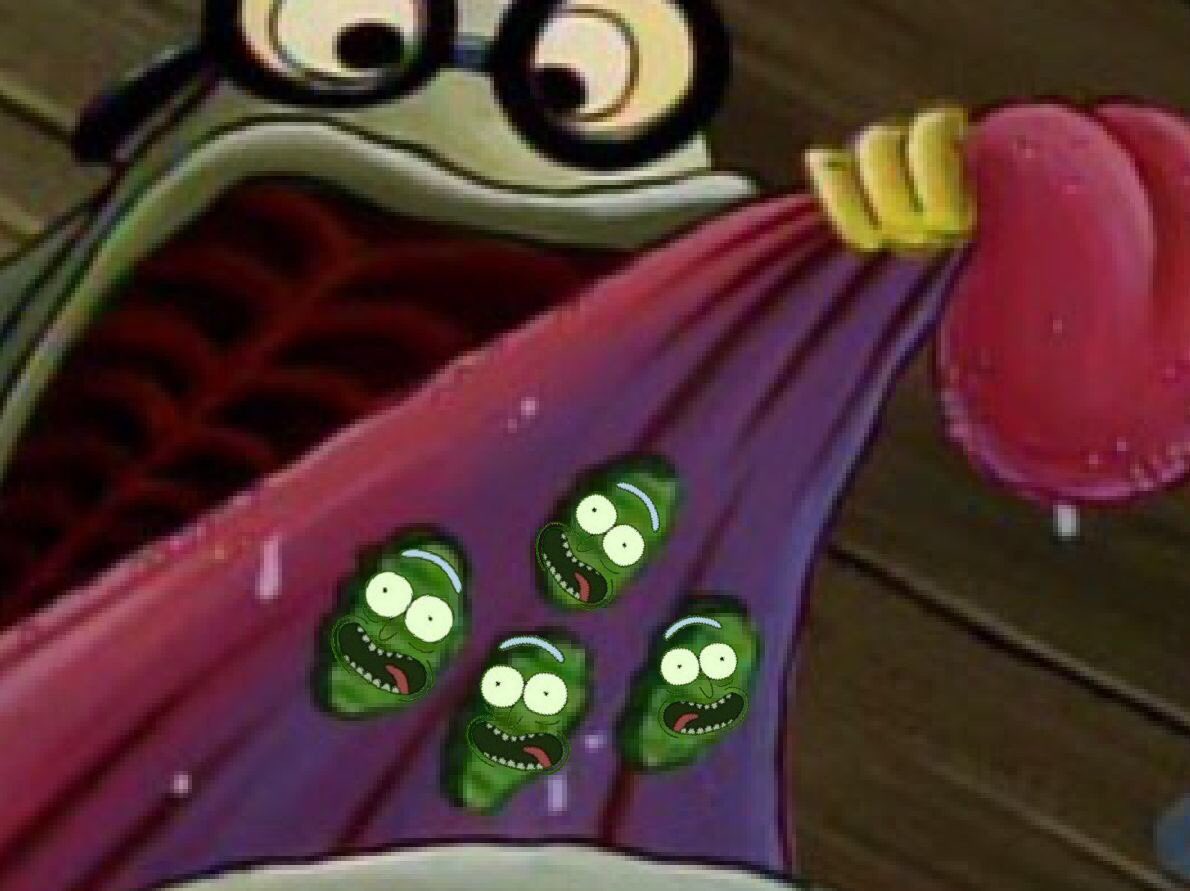 https://twitter.com/McDonalds/status/848573499874709506
I'll see what I can do

— Chef Mike Haracz BOO! (@Mike_Haracz) April 3, 2017
Then, in early October, McDonald's brought back the sauce for a limited release, with only a certain amount of the fast food restaurants offering the sauce across the country. Well, turns out the participating McDonald's ran out of Szechuan sauce in record-breaking time, which left the most devoted of Rick and Morty fans angry. But the insanity didn't stop there. Hoping to capitalize on the moment, eBay sellers offered everything from framed photos of the limited edition sauce packet for $9.99 to actual packets of the sauce for more than $1,000. Ultimately, show creators co-creators Dan Harmon and Justin Roiland distanced themselves from the controversy, saying that they had "nothing to do" with the return of the Szechuan sauce.
This meme indirectly showed a flaw in Rick and Morty fandom, with fans losing their minds over a packet of sauce. However, this meme, which popped up around the same time as the return of McDonald's Szechuan sauce, directly called out the pretentiousness of the show's fanbase.
"A new meme lampoons the people who seem to think appreciating Rick and Morty makes them part of an exclusive intelligentsia," Daily Dot's Jay Hathaway previously wrote. "To be fair," it sarcastically points out, "you have to have a pretty high IQ to understand Rick and Morty."
The meme is hilarious, with examples such as this one and this one providing a lol-worthy commentary on fans over-intellectualizing the animated series.
https://twitter.com/IHATEDOOGAL2/status/913790358319960066
Along with this meme, Rick and Morty fans had to endure yet another one making fun of them and their beloved show. What started out as a cheesy Twitter thread basically asking "What's a Rick and Morty" quickly turned into a meme where contributors humorously described the show as anything but.
"isnt rick and morty that thing you get when you die and your body gets all stiff," Common Sad Girl, who started off the thread, wrote.
"You're thinking of rigor mortis. Rick and morty is when you get trolled into watching 'never gonna give you up,'" another user replied.
From there, the jokes only gets better and better. Because in 2017, everything was a Rick and Morty joke.