Rick and Morty delivered a thought-provoking and consistently hilarious third season last year, but it often got overshadowed by a gag in the first episode, one that crossed into the real world and achieved a cringe-worthy level of capitalistic chaos.
Nearly 11 months after fans learned about Szechuan sauce (or were reminded of its existence), U.S. fans can now finally get their hands on packets at their local McDonald's. With 20 million packets now available for the promotion, it's important to remember the journey here included entitlement and riots, a national PR nightmare, and an animated character's series arc. There's a lot riding on the launch: It's almost like trying to anticipate tasting a real-life Krabby Patty, even though Szechuan sauce existed long before Rick and Morty drizzled it onto the pop-culture collective.
And the verdict? The sauce is just OK, which ends up feeling like a disappointment after everything that happened for it to arrive in our dimension.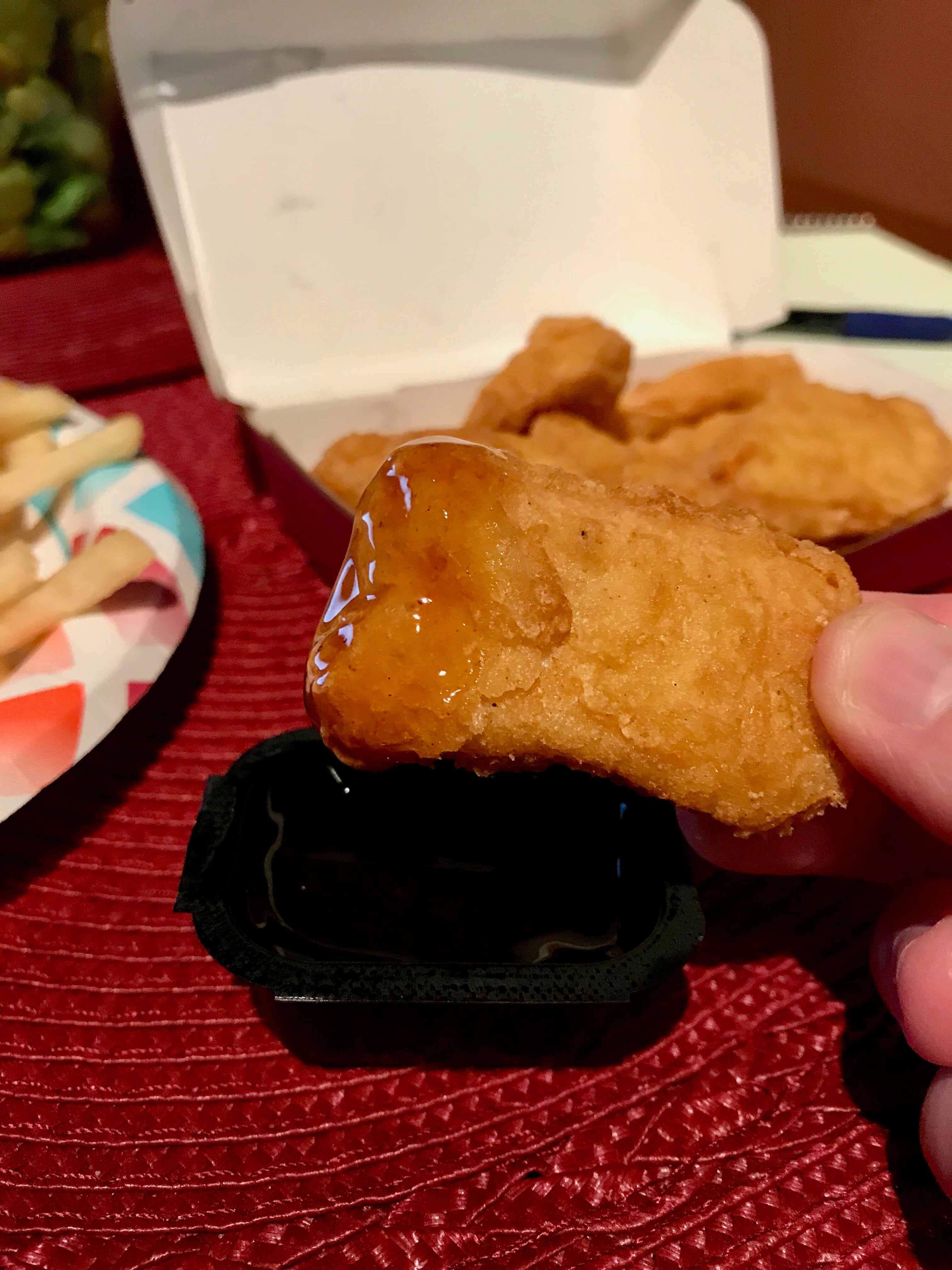 Let's back up a bit.
On April 1, 2017, Adult Swim unveiled the ultimate anti-April Fools' joke by casually dropping the Rick and Morty season 3 premiere online—no tricks or gimmicks, just the episode, which streamed on repeat for several hours. It answered several questions and led to even more, but it also introduced us to Szechuan sauce. As Rick explained to a Gromflomite named Cornvelious Daniel, Szechuan sauce was a promotional McDonald's dipping sauce released for Disney's Mulan in 1998. Rick loved the sauce so much he traveled to the back of his mind to have it again even as his brain melted.
Szechuan sauce is used to break the tension after Rick watched the deaths of his wife and daughter Beth, and Cornvelious Daniel admits that the sauce is "fucking amazing." And it showed up at the very end of the episode (in name only) as Rick told a very confused Morty that his series arc was driven by finding that "Mulan McNugget sauce"—even if it took him nine seasons to get it.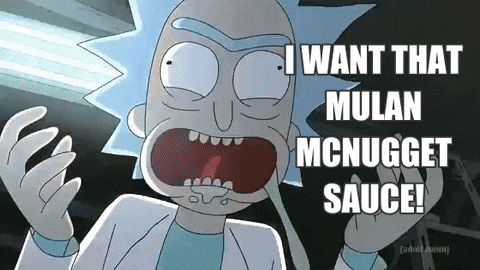 https://twitter.com/McDonalds/status/968138636611981312
Szechuan sauce was always a joke; there was never an overarching point to it, at least in season 3. According to co-creator Dan Harmon, Justin Roiland (who voices both Rick and Morty on top of being a co-creator) had apparently arrived at work at one point and started talking about Szechuan sauce, which he really did love.
"My memory of it is that it was the fucking most delicious thing I've ever had in my life, and I probably ate more McNuggets that year than I probably have in my entire life combined," Roiland said last year. "Because of that fucking disgusting sauce."
It didn't matter the impetus. Rick wanted the sauce, and fans went wild for the idea. There was a collective urging as they begged McDonald's to bring it back. Before we knew what havoc the sauce could wreak, it seemed easy enough to suggest that McDonald's follow through and give fans the sauce.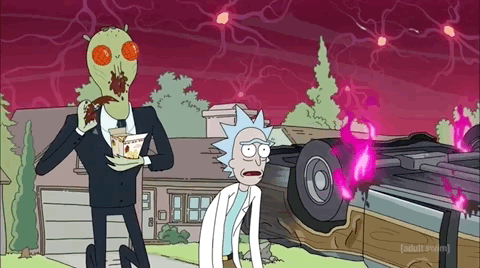 As McDonald's explained in its three-part, Serial-inspired podcast series The Sauce, chef Mike Haracz wasn't secretly planning on releasing the sauce when he replied to a fan who asked about it on Twitter; he didn't even know where the recipe was when he sent that tweet. But the craze sparked memes, fan-created recipes, and an eBay frenzy that saw an original tub sold for more than $14,000.
And yeah, a lot of it was amusing at first. McDonald's pulled off the PR-friendly move to send Roiland his own half-gallon tub, which he and his colleagues tried on-camera. (While Roiland was a fan, some of his coworkers weren't as enthralled.) Music artist Deadmau5 spent about $15,000 to purchase a half-gallon tub from one of three fans who received it from McDonald's, which he later gave out at one of his own concerts. 
During this time, the rest of Rick and Morty's third season debuted on Adult Swim, and, unfortunately, Rick and Morty fandom revealed a seedy underbelly. As it became more apparent, Harmon blasted fans who harassed the show's female writers and a growing backlash took exception to the obnoxiousness and presumed intellectual superiority of some of its fans.
In October, it all collided as McDonald's launched a very limited re-release of Szechuan sauce as part of a promotion for new chicken tenders. Fans could view it as a victory for getting a billion-dollar corporation to bring back a nearly 20-year-old sauce. McDonald's saw it as a PR win, proof that it was giving customers what they wanted. What neither of them realized is the chaos that would follow: McDonald's failed to understand just how much sauce it would have to deliver to satisfy those who wanted it. Add in a side of fan entitlement, and you've got some riots on your hands and an apologetic McDonald's that now wants to make things right.
And so here we are. Nearly 11 months since Roiland's Rick first sought to get his hands on Szechuan sauce, it's finally in mine—portals be damned. It was a painless process, albeit one riddled with some embarrassment, considering the saga that came before it. (My local McDonald's limited customers to two packets, which was more than sufficient for a 10-piece McNuggets meal.)
I wanna try the szechuan sauce but i don't want to ever verbally ask or say it to any McDonald's employee ever

— dyl #BlackLivesMatter (@CyclonX_) February 26, 2018
I never really thought much about what it would be like or how it would measure up to how strongly Roiland—and Rick Sanchez—feel about it. I couldn't help but think "That was it?" after the first bite. That was what people have been clamoring for for so long? This is what led people to riot and harass staffers? This is what Deadmau5 spent $15,000 on?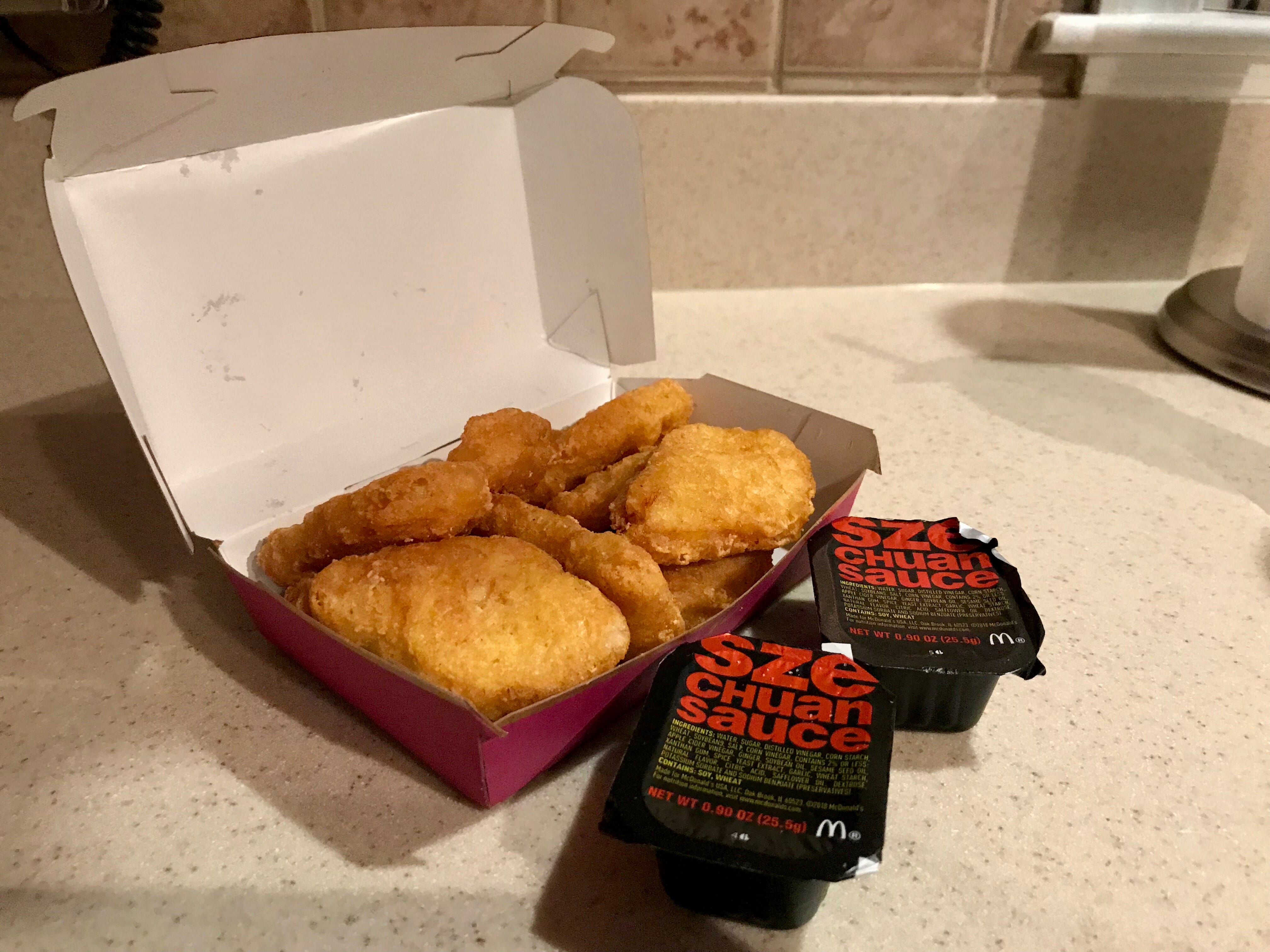 Szechuan sauce is both sweet and sour, and the taste reminds me a bit of teriyaki sauce. It leaves a bit of an aftertaste, one you can wash away with a drink. It grows on you after awhile. The sourness comes through even more if you taste the sauce by itself, but it works surprisingly well with fries. While I could see myself having it again, I probably wouldn't go out of my way for it—and I most definitely wouldn't spend thousands of dollars on it.
At the end of the day, it's still a packet of McDonald's dipping sauce. It was never going to be as good as people hoped for. Even the humor of the throwaway joke becoming a reality was soured by its checkered path to fruition. It was placed on a pedestal in both Rick's mind and ours, one too high to reach or surpass (although it likely did for some fans). It was always going to be a letdown.
Rick's Szechuan sauce can't fail him because it tastes the exact same way he remembers it the fateful day he tried it, a perfect memory he can revisit even as his brain melts. We don't have that luxury, and all we're left with is our disappointing present.
This article has been edited for clarity.