We're only a few days out until we finally get new episodes of Rick and Morty, but if you haven't managed to see the season 3 premiere first released on April Fools' Day, you don't have to wait to watch the show's newest opening sequence, which is full of nuggets and possible hints about the season ahead.
The video matches the opening sequence for "The Rickshank Rickdemption," which is available to watch on Adult Swim's website as of press time. With the exception of the very last shot, every single clip is new.
https://www.youtube.com/watch?v=LfXxXsyPS8w
Not every single clip from Rick and Morty's opening sequence has appeared on the show. Only half of the clips in season 1's sequence appeared in season 1 and just one-third of the clips showed up in season 2. (The Lovecraftian chase scene, despite appearing in three seasons' openings, has yet to appear in an episode.) It also played a role after Mr. Poopybutthole was added into the opening sequence in a season 2 episode where alien parasites plant false memories into Rick and the Smith family's minds; Mr. Poopybutthole, unlike the many other new characters who appeared, was real.
From what little we know of season 3, it looks like two of the clips—Rick and Morty trapped on a piano surrounded by crushed Ricks and Summer teaming up with C-137 Summer—have already appeared in the season 3 trailer so it's likely that they might air in full. But some good news is packed in there: plumbuses are on sale!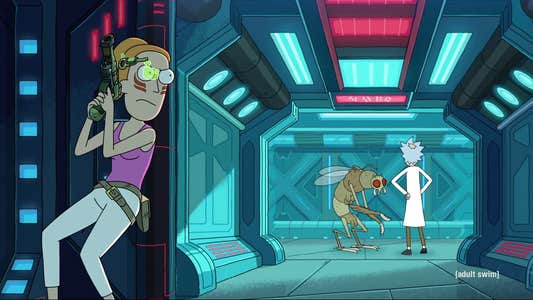 Rick and Morty returns July 30.