Video games. Basketball. Even South Park. The fault-lines between the West and China are increasingly visible. But one area few expected to become a geopolitical sore spot is Notepad++, a popular text editor used by developers.
Text editors are fundamentally utilitarian. Developers use them to write code. Any app or website you've ever used started life within one. There's nothing especially political about them, just like there isn't anything inherently political about a pencil.
Except, when there is. Yesterday, the Notepad++ project, which is headquartered in France, released a new version called "Free Uighur." This was a political statement about China's treatment of the predominantly-Muslim ethnic minority, and it provoked a furious response from Chinese netizens, who angrily flooded the project's GitHub issues page.
Notepad++ new release "Free Uyghur" edition (v7.8.1)https://t.co/26csP9b0f1#FreeUyghur #HumanRightsViolation #China

— Notepad++ (@Notepad_plus) October 29, 2019
GitHub is a website used by developers to collaborate on software development projects. Each project has an issues tracker, where developers and members of the wider public can flag bugs. It works a bit like a forum, serving as a central point of contact, where coders and non-coders alike can forge the direction of an application.
Right now, the Notepad++ issues tracker is buried under a deluge of angry posts. A great many come from Chinese users who are infuriated by the latest version's name. One comment, translated from the original Mandarin via Google Translate, says: "When did GitHub become a political tool? If you spray China, will you split the US Texas first? dog bitch."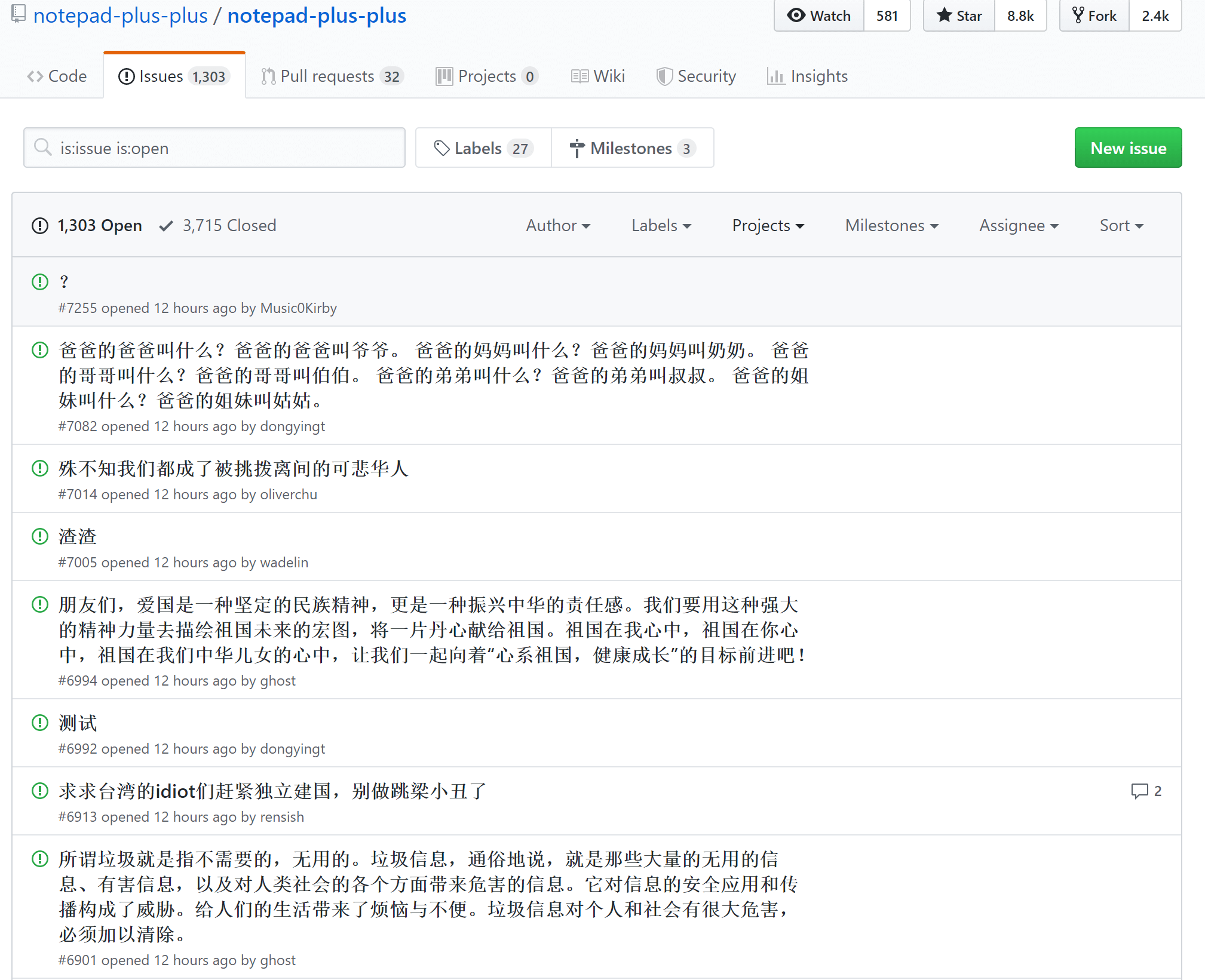 As you might expect, there are comments from Western users who are either commending Notepad++ on its outspoken political stance or simply mocking the outraged posts. One user suggested the project change its logo to Winnie the Pooh, the protagonist of the beloved A.A. Milne children's stories who was censored after Chinese netizens compared him to President Xi Jingping.
This episode is the latest in a series of cultural and societal fault lines between the West and China. Earlier this year, the NBA faced a boycott within Mainland China after Houston Rockets general manager Daryl Morey tweeted in support of Hong Kong's pro-democracy protestors.
Even video games aren't free of controversy. After professional Hearthstone player Ng "Blitzchung" Wai-Chang expressed support for Hong Kong's protesters during an interview, game developer Blizzard banned him from any official tournaments for a year and announced it would withhold $10,000 of prize money. After a public backlash that caused its share price to slump, Blizzard reduced the suspension to just six months and announced it would pay him his money.
Of course, Notepad++ isn't a gaming company. In fact, it's not a commercial entity. It's a non-commercial product that scrapes by on developer goodwill, who contribute their time for free. As a result, it's fairly immune to any commercial pressures that would force it to change.
That said, it wouldn't come as a surprise to see the project face some kind of official retribution from Chinese authorities, who could ban it, or force Linux distribution developers to cease bundling it for their users. In any case, it appears the China Wars are now being fought on developers' trenches as well.