Blake Jamieson, a digital marketer for a pool supply company and a self-described "glass half full kind of guy," didn't go on Tinder looking for love or even sex, as most of us do. Rather, he used Photoshop and his digital marketing skills to make it look as if Tinder had endorsed his profile, thereby increasing his matches and "exploiting the platform."
According to a post on Jamieson's Medium page, Jamieson began his "Tinderventure" by updating his profile picture to make it look as if Tinder had selected him as a "match of the day." He used Photoshop to make a duplicate of the Tinder logo, as well as a font that matched up with the one used on the app.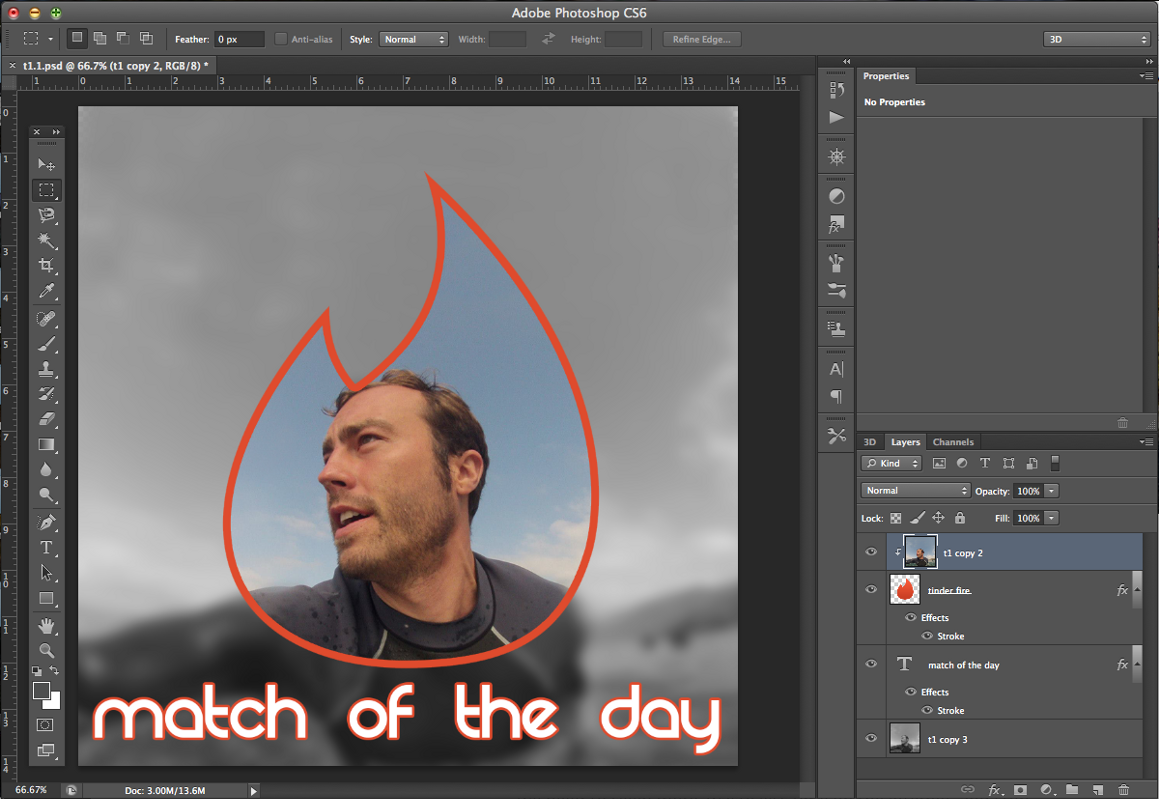 Photo via Medium
By making it look as if Tinder was endorsing his profile, Jamieson "hoped it would add more trust and credibility, which would result in more matches," he wrote in his post. It worked.
Jamieson then increased the number of his matches by swiping right on every user Tinder suggested. Every user. Hundreds of users. He decided to take advantage of the increased traffic to his profile by essentially using his Tinder bio to promote his Medium page. Thousands of people looking for love online are also thousands of potential pageviews for your article about how much you love surfing.
Jamieson's Tinderventure worked. Though the percentage of messages he received from women essentially stayed the same (a meager 8 percent of women initiated contact with him first), his number of Tinder matches increased exponentially, which in turn meant more messages. Many of them mentioned contacting him as a result of his fake Tinder "endorsement," proving Jamieson's theory about trust and credibility correct.
Gaming online dating platforms is nothing new. Men have been using the swipe-right-on-all-Tinder-profiles method to up their matches since the dawn of the app, and mathematician Chris McKinley famously built his own OkCupid algorithm to increase his chances of finding his dream woman, which led to him meeting his fiancee. The difference between McKinley's experiment and Jamieson's, however, seems to be intent: while McKinley genuinely wanted to find a partner on OkCupid, Jamieson seems to have approached his Tinderventure from a clinical marketing perspective.
In his quest to game Tinder to learn more about "dating psychology, gender roles, and native content marketing," Jamieson seems not to have had much concern for the women he might have misled along the way. And it's unclear whether he informed them of the purpose of his Tinderventure. (Full disclosure: I should note that I'm particularly sensitive to the ethical implications of online dating experiments, having conducted a similar experiment for an article on OkCupid last year without revealing my intent, which I very much regretted afterward).
In his blog post, Jamieson preemptively addresses these criticisms, noting that he doesn't feel he so much gamed other Tinder users as he did Tinder itself: "Did I lead people on? No, not really. I've had a handful of great conversations with people I might have otherwise never met," he writes in a disclaimer. "Did I exploit the platform? Hell yes I did."
H/T Medium | Photo via Blake Jamieson/Facebook