Google's first self-branded smartphone aced the two most important components of any phone—the camera and software—on its first go-around. With the Pixel 2 and Pixel 2 XL, Google only needed to make a few upgrades to stay competitive.
But things got off to a rocky start after the smartphones' initial release in mid-October. Numerous reports of display problems cast doubt on whether the Pixel would retain its title as the best Android phone line on the market.
Just how bad are the Pixel 2 and Pixel 2 XL's issues, and do their excellent cameras and software compensate enough to compete with other top-rate devices like the Samsung Galaxy Note 8 and LG V30? More importantly, how do Google's flagship smartphones compare to the iPhone X? Let's find out.
Google Pixel 2 and Pixel 2 XL design
While every other smartphone maker chose to maximize display real estate, Google decided to put huge half-inch bezels on the top and bottom of the Pixel 2. There's probably enough room to throw a joystick on one side and some controls on the other, but Google took a more conservative route, adding front-facing speakers.
Because of this, the phone feels bigger than it needs to. In fact, the Pixel 2 is 5.7-inches tall, almost the exact height of the iPhone X, but with a display that is a half-inch smaller.
Just look how dated the Pixel 2 appears next to the iPhone X.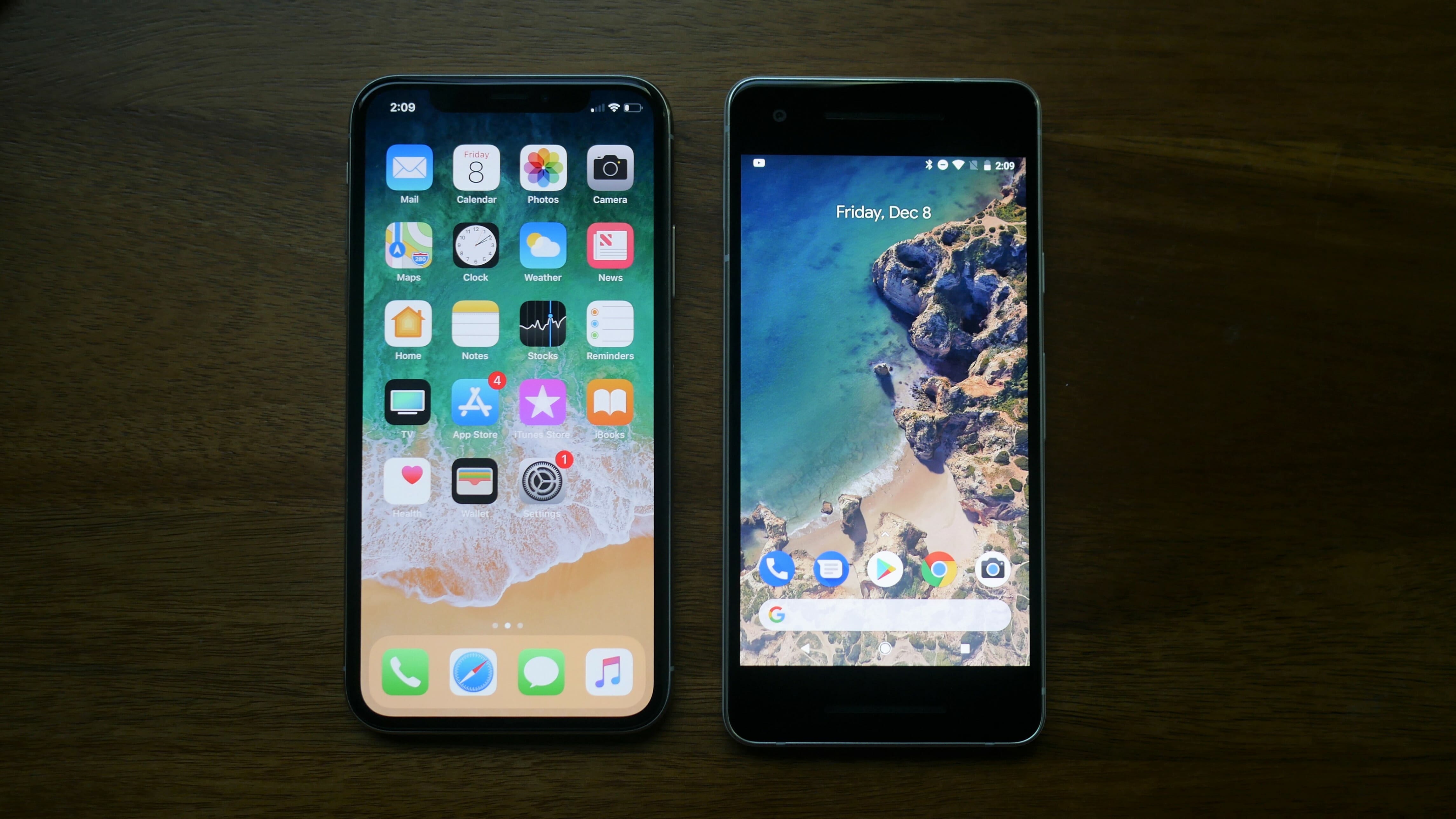 Fortunately, once you flip the phone around, things get much better. The aluminum/glass materials Google carried over from the original Pixel remain, giving the phone a sophisticated look that fits nicely with Google's budding hardware design language. The subtle texture of the aluminum back and smooth glass create a pleasant white/white contrast, while chrome finishes around the fingerprint reader, camera, flash, and display, add a premium touch.
My only gripe with the design is that little dirt particles get lodged in the gap between the glass and aluminum, and there's no good way to clean it out. That may sound like a frivolous complaint but it's bothered me more than it should.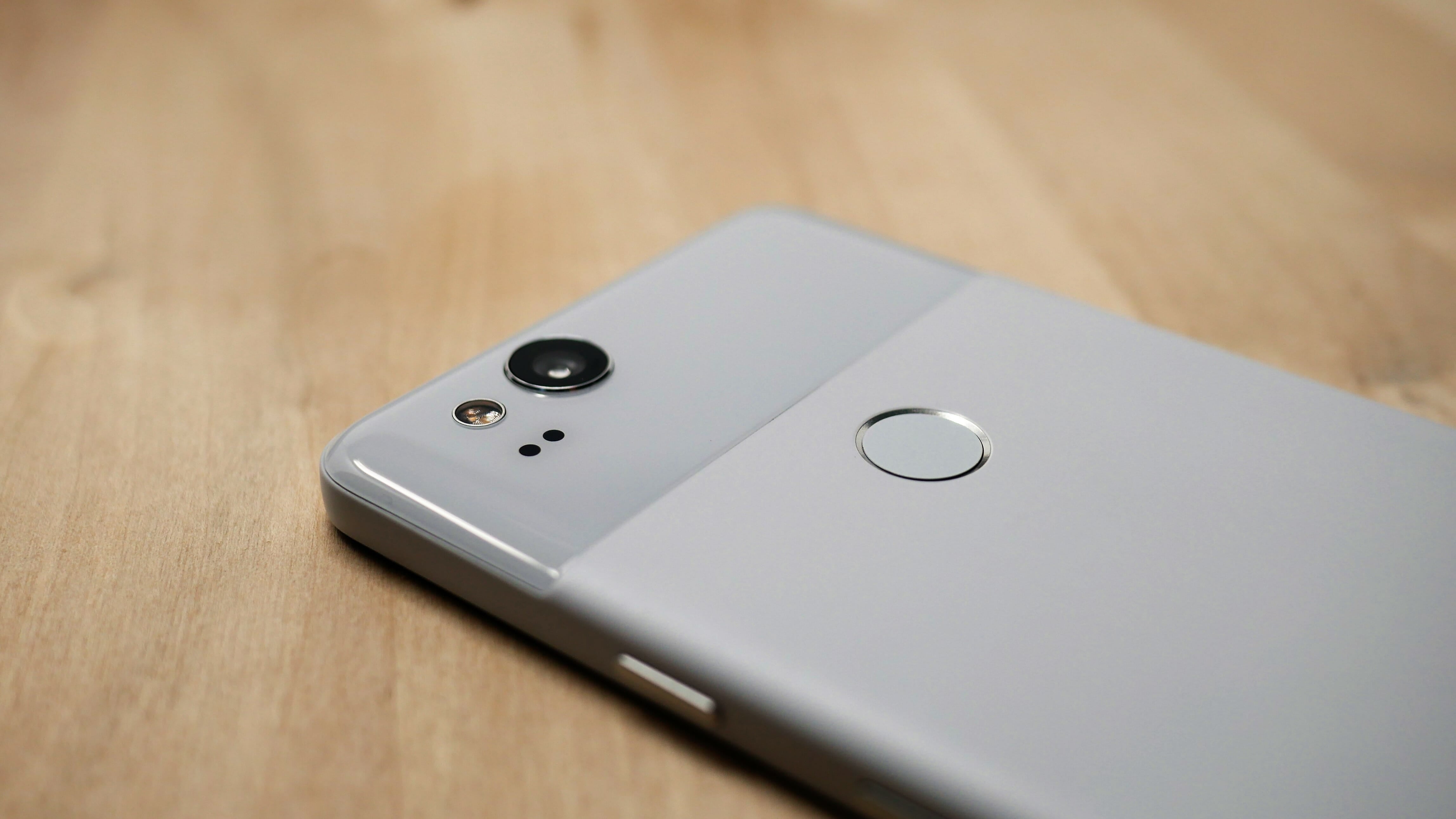 The Pixel 2 doesn't just look great. It's also very comfortable to hold, especially for people with small hands. And because it isn't coated in glass like its rivals, it weighs just 5 ounces.
The Pixel 2 XL keeps the best parts of the Pixel 2's design and adds an almost edge-to-edge display. I say "almost" because it doesn't quite reach the edges like the iPhone X or even Galaxy S8. It does, however, keep the Pixel 2's front-facing speakers.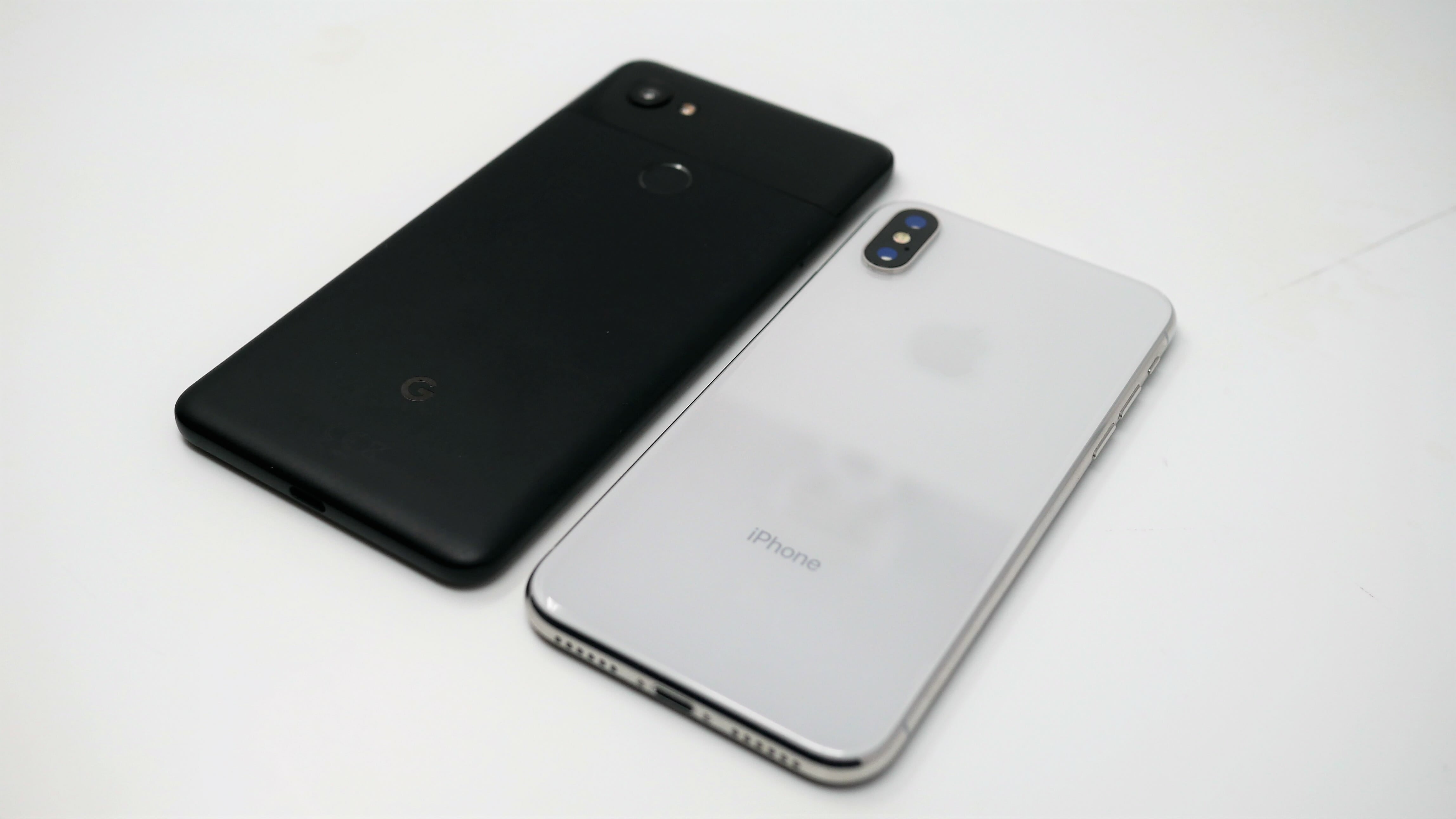 Yes, the Pixel 2 XL is a good deal taller than the Pixel 2 at 6.2 inches and much wider at 3 inches, but its lightweight frame and textured body make it more manageable to hold than the Galaxy S8 Plus or Note 8. That said, it's not quite as comfortable to handle when compared to the iPhone X, LG V30, or Galaxy S8. Oh, and both the Pixel 2 and Pixel 2 XL are IP67 waterproof, so don't worry about using them in the rain.
You're probably wondering how the design compares to Apple's latest and greatest, the iPhone X. There's no doubt the iPhone X and Pixel 2 XL are some of the most beautiful phones ever released, but I give a slight design nod to Google's entry. I prefer the Pixel 2 XL's clean two-tone materials to the iPhone's extremely reflective glass finish. And even though they weigh about the same, the Pixel 2 XL disperses that weight better, making it feel a good deal lighter than the X.
Google Pixel 2 and Pixel 2 XL display
Here's where things go downhill.
The Pixel 2 XL's 6-inch OLED display just wasn't very good when it was first release. After launch, several people complained about what Google calls "natural" mode, the XL's default color calibration. With natural mode selected, the display looked bland and simply nowhere near as good as its rivals. Instead of owning up to its errors, Google claimed it opted for a "more natural and accurate" rendition of colors.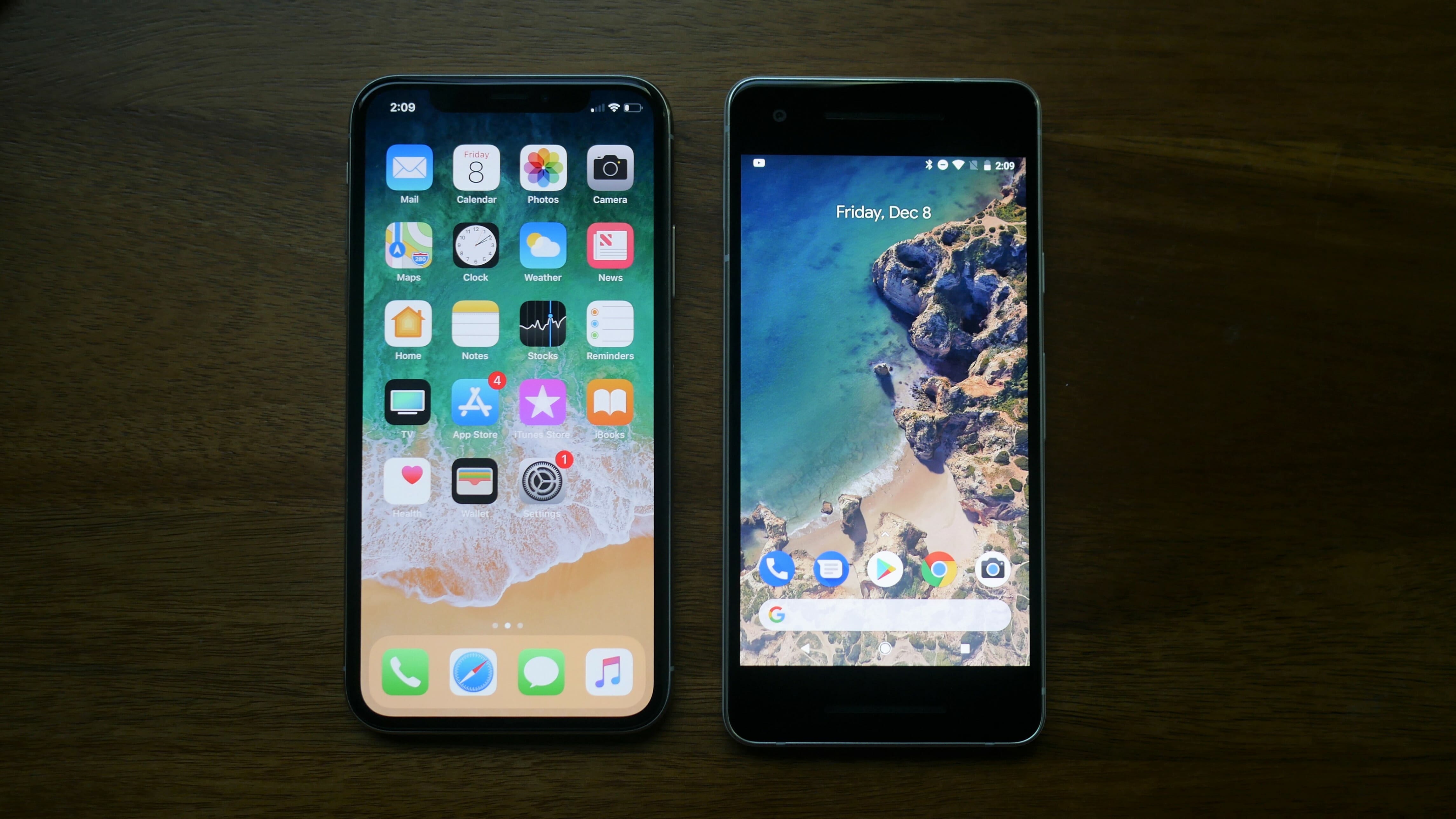 If that's true, it failed miserably. Photos taken and viewed on the Pixel 2 XL looked undersaturated and lifeless. It was so bad, I had to send the photos I took on its camera to my laptop or another smartphone before I could assess how accurate their colors were.
Thankfully, the company released a "fix" via a software update that added a "colors" setting with a "saturated" option. The new color calibration significantly boosts color vibrancy. Now images pop off the screen with deep, rich saturation while white balance remains excellent. For those who do want a more realistic look (the "saturated" option is nowhere near accurate), there is also a "boosted" setting that sits between "natural" and "saturated."
Here's a photo showing the difference in saturation between saturated and natural mode. It's tough to get on camera, but trust me, the difference is huge.

In "boosted" mode, the Pixel 2 XL's display is great, holding its own against the iPhone X and LG V30. It may still be a tad undersaturated, but it's a big improvement to the pale cast of natural mode and the excessively rich saturated setting.
The software update didn't fix all the Pixel 2 XL's display problems. There's still a bit of color shifting—where whites turn blue when viewed at an angle.
It's the same problem we saw on the LG V30. It's not a deal-breaker, but you would expect better. More concerning are reports of screen burn-in (yes, like what happened to your old plasma TV). Our test unit didn't show any signs of burn-in, but complaints were enough for Google to extend the phone's warranty from one to two years.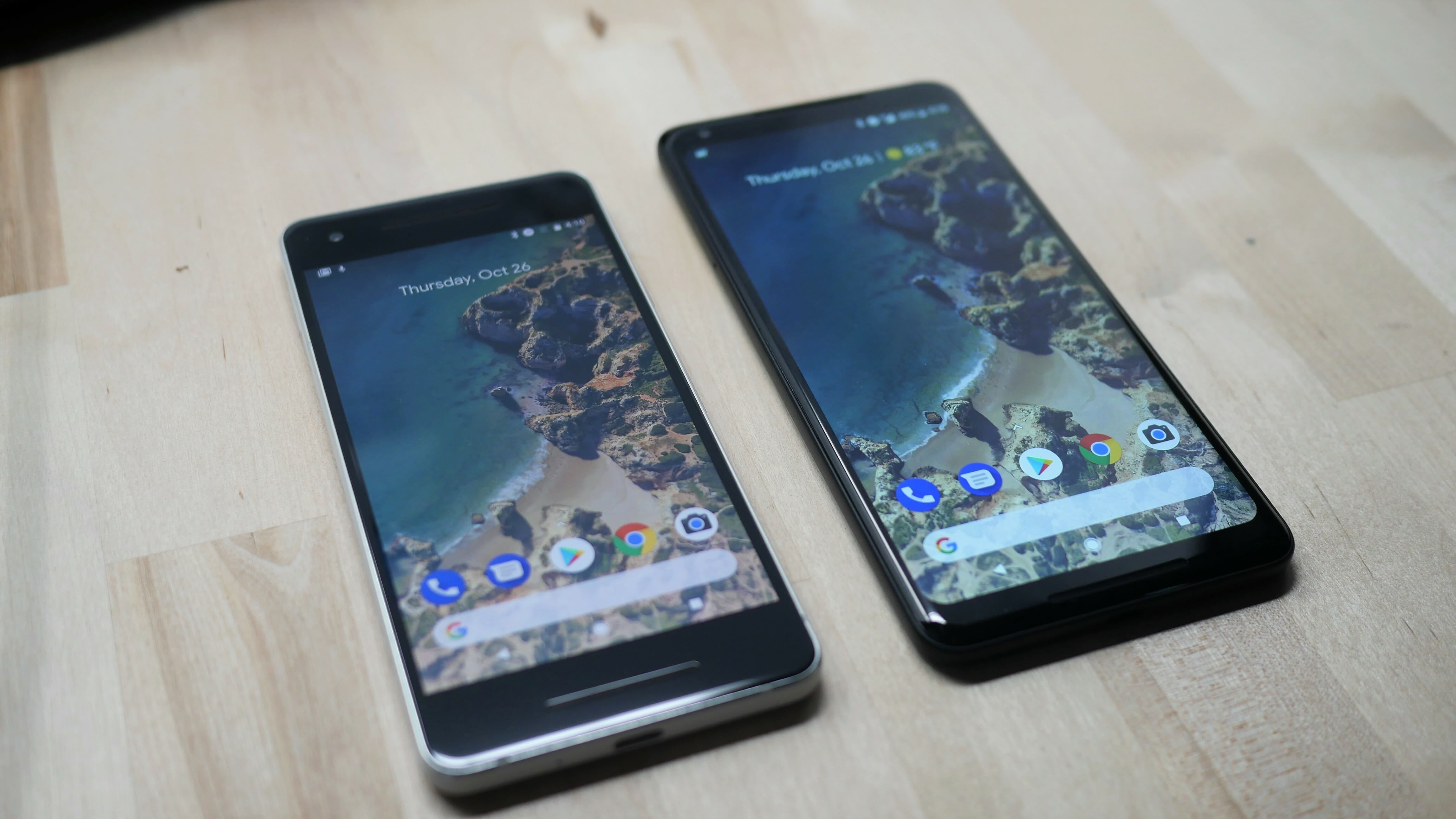 The Pixel 2 doesn't have any of the problems described above. That's because its 5-inch screen uses AMOLED, the same technology in many high-end phones up until this year. Until the color update, the Pixel 2's display was undeniably better than the Pixel 2 XL's. Colors are rich, viewing angles are good, and unlike the Pixel 2 XL, the color saturation doesn't need to be tweaked.
I do wish Google boosted the max brightness on both of these devices. Visibility in bright sunlight is OK but not as good as the Note 8 or V30.
Google Pixel 2 and Pixel 2 XL software
No surprise here, Pixel's phones run on the latest version of Android, making them some of the only devices with the newest software out of the box. Oreo is a solid upgrade to Nougat. Everything feels snappier and simplified. A few of its best new features include picture-in-picture, which lets you see two apps at once, and notification dots, which gives you notification previews from apps before you open them. Google's already excellent assistant is also much improved, and Google recently launched Lens, a new augmented reality app that combines its virtual assistant with some neat camera tricks.
There are also a few visual improvements. Google's search bar has been dropped to the bottom of the display so you don't have to reach up every time you want to look something up, and the settings menu is easier to navigate.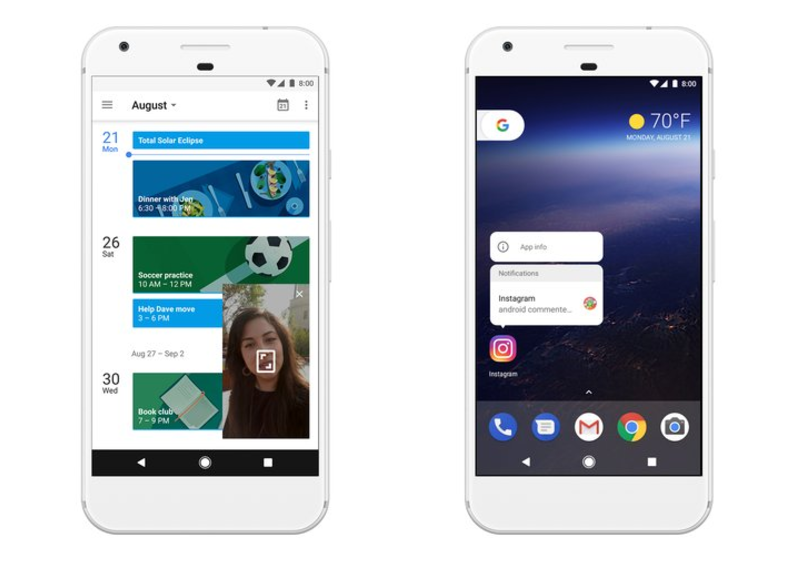 The Pixel 2 will receive security and feature updates the moment Google releases them, another huge advantage compared to other Android devices and the reason these phones should be on any Android purist's shortlist. Oh, and there's no bloatware. None. No lame gaming apps, no unwanted security software, and no app suite that tries to compete with features already baked into Android. This is Android at its finest.
If you haven't owned an Android phone in the past few years, you're in for a treat. The newest software is a far cry from the clunky, crowded interface of old. In fact, it didn't feel any less stable than iOS in our tests. If there's one complaint to make regarding Google's newest OS, it's that it's a bit too simplified—perhaps even Apple-like. Some areas, like the camera interface, are so stripped down it actually makes me miss some of the features you find on a good Android skin.
Google Pixel 2 and Pixel 2 XL Performance
Both phones use this year's system-on-a-chip (SoC) of choice for flagship phones, the Qualcomm Snapdragon 835 processor. I'm shocked by how much quicker these phones feel than some of the competitors using the same internals. These are easily the fastest Android phones ever released and easily keep up with the iPhone X in real-world use.
That's thanks in large part to the same integration between hardware and software that has benefitted Apple for years. Speaking of which, the Pixel and Pixel 2XL still can't touch Apple's latest A11 Bionic SoC in terms of raw power, but don't let that sway you. Both phones have sufficient processing power to handle all of your needs, from uploading videos to playing video games.

Google Pixel 2 and Pixel 2 XL camera
The original Pixel had, bar none, the best smartphone camera in the industry when it was released last year. The Pixel 2 and Pixel 2 XL's identical cameras build on that success, with a 12-megapixel lens that takes exceptionally detailed images.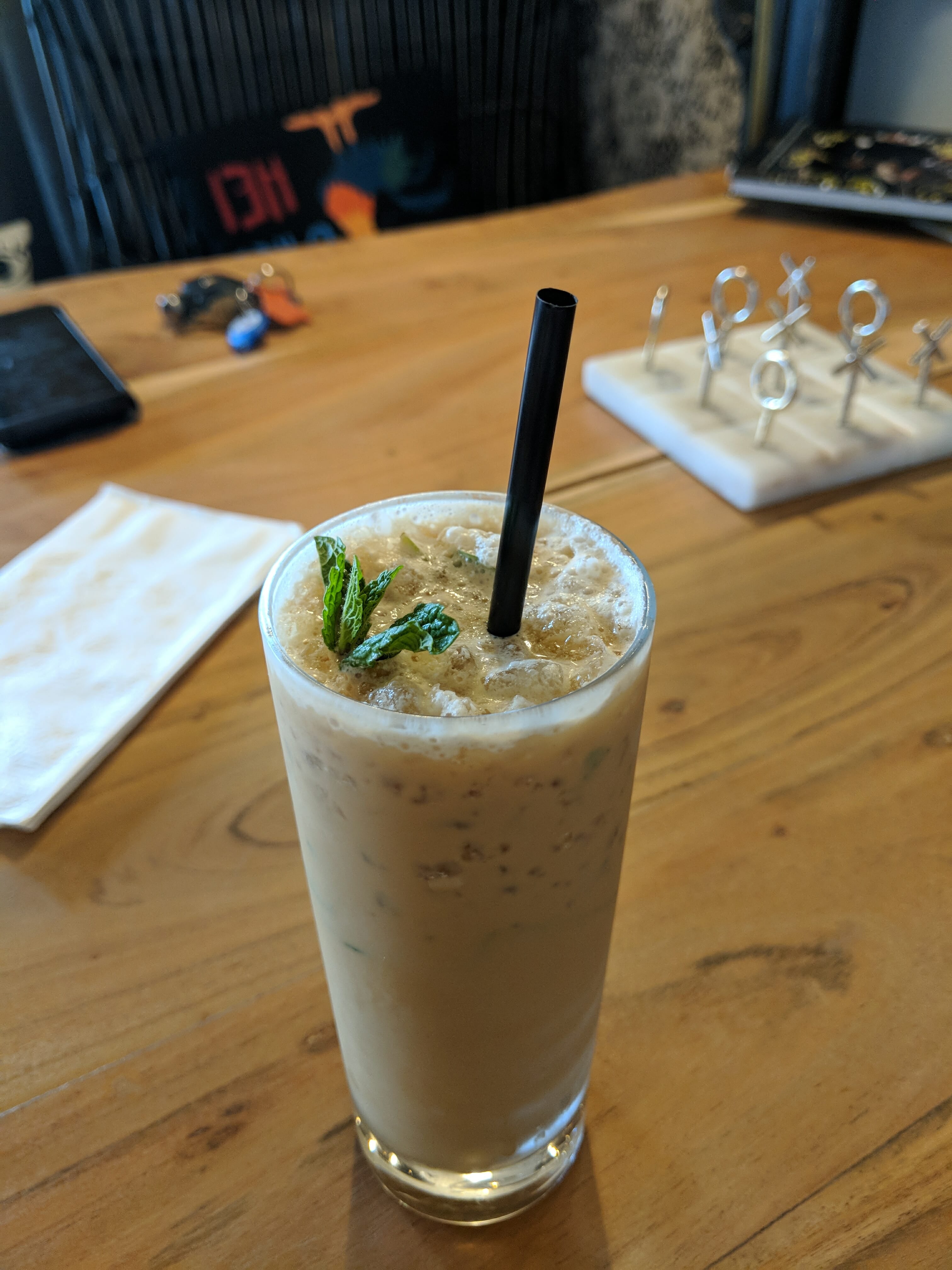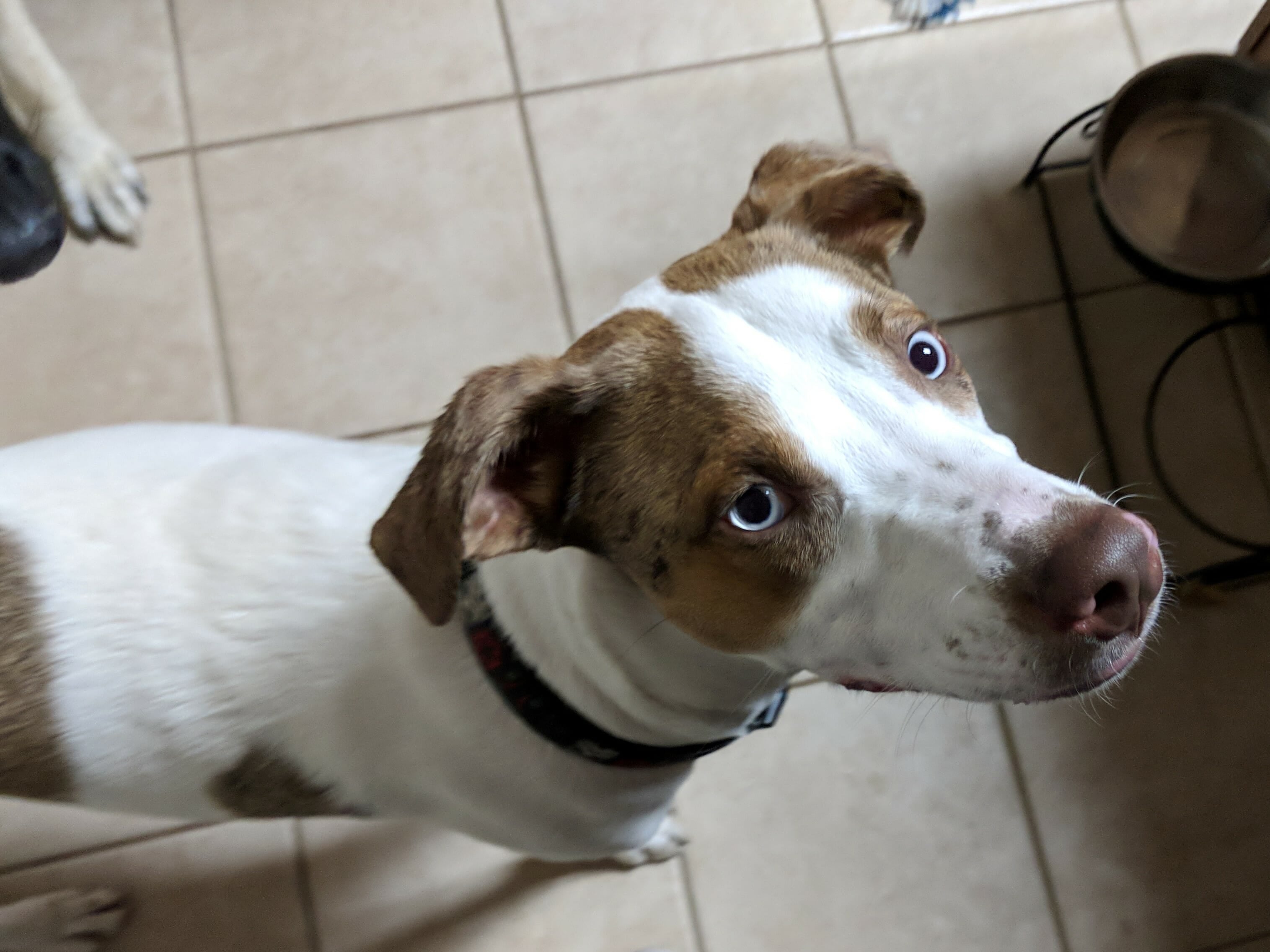 Photos are well exposed, and the camera's HDR mode does an excellent job keeping bright images from blowing out.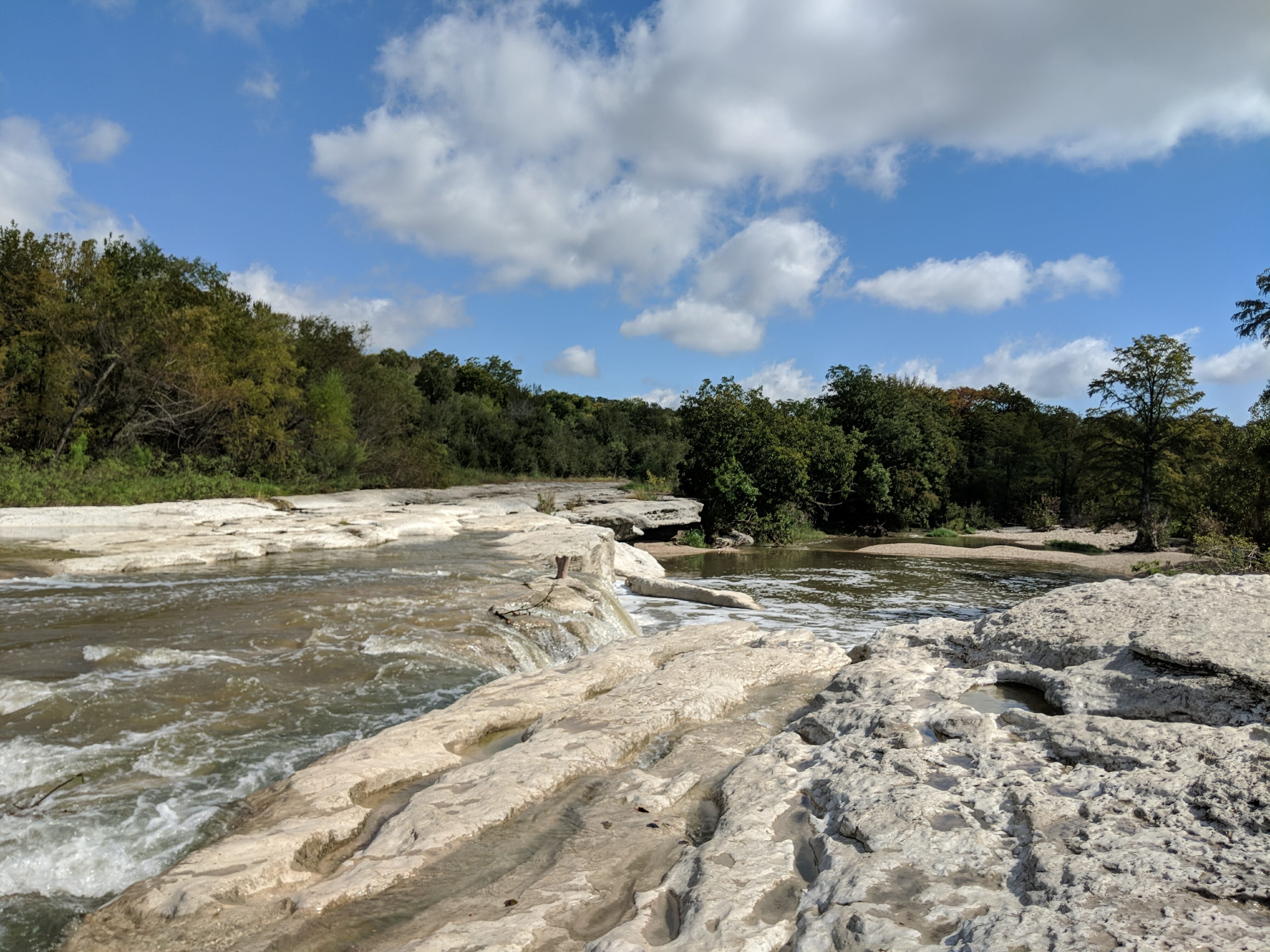 Color accuracy is also decent, though not as good as I was hoping or expecting. Some shots look a tad undersaturated, especially when compared to the iPhone X and Galaxy Note 8. While those devices may produce an image that's a bit oversaturated, certain photos taken with the Pixel 2 are no more accurate and just don't look as appealing. In this first image, you can see how the Pixel overstates the contrasts, with the tree appearing far too dark. It almost gives it a horror movie look (this was taken on a perfectly bright, clear day). I much preferred the Note 8's take, which was both brighter and more colorful.
The Pixel 2 does better in low light, however. These fruits are nicely saturated, and again, the details are incredible.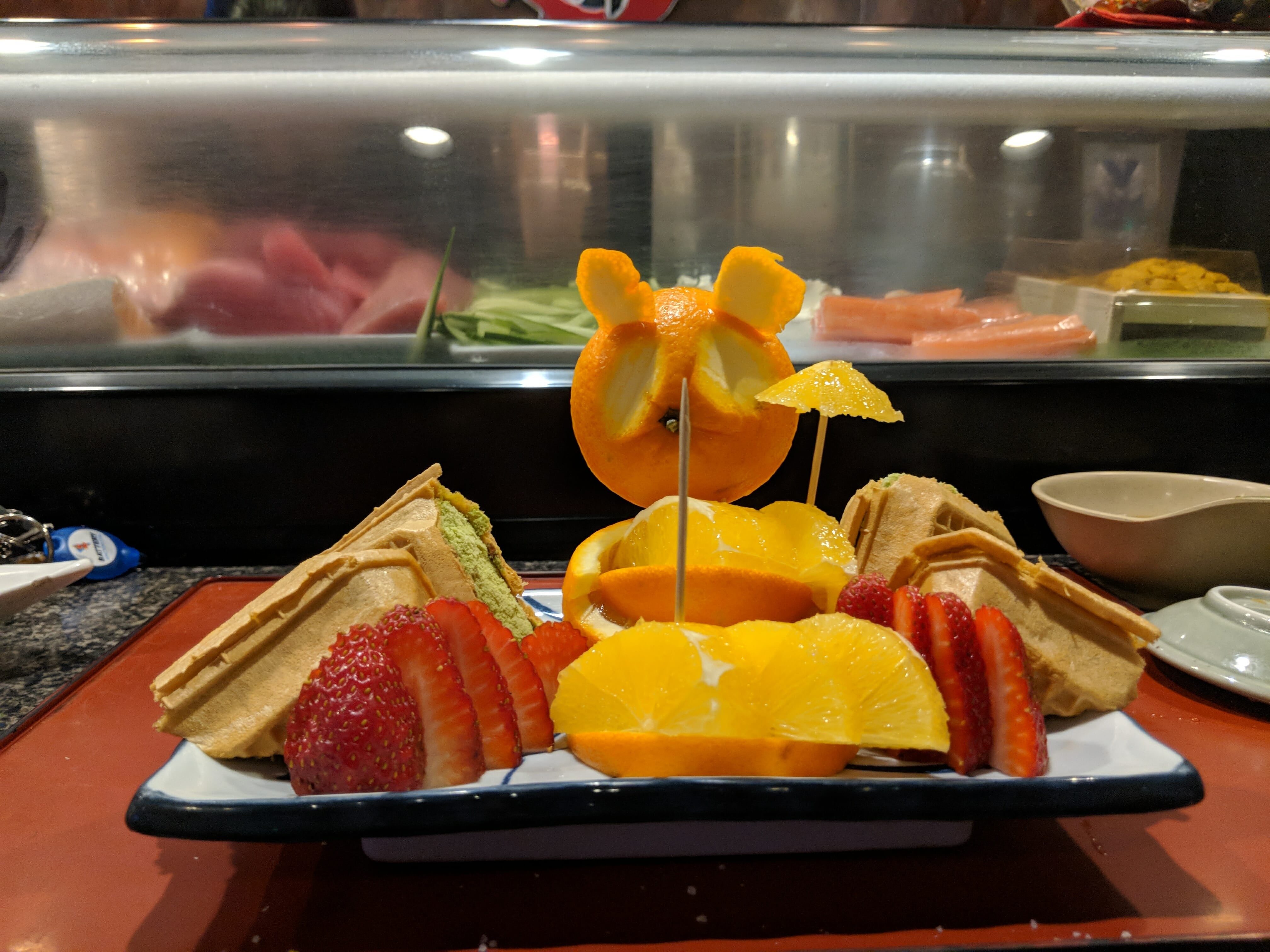 Unfortunately, the Pixel 2 and Pixel 2 XL are not equipped with a second lens, so no wide-angle shots like the V30 or telephoto images like the Note 8 or iPhone 8 Plus/X. That's a real shame because I found myself wanting that extra bit of zoom more than I expected. Like in this shot: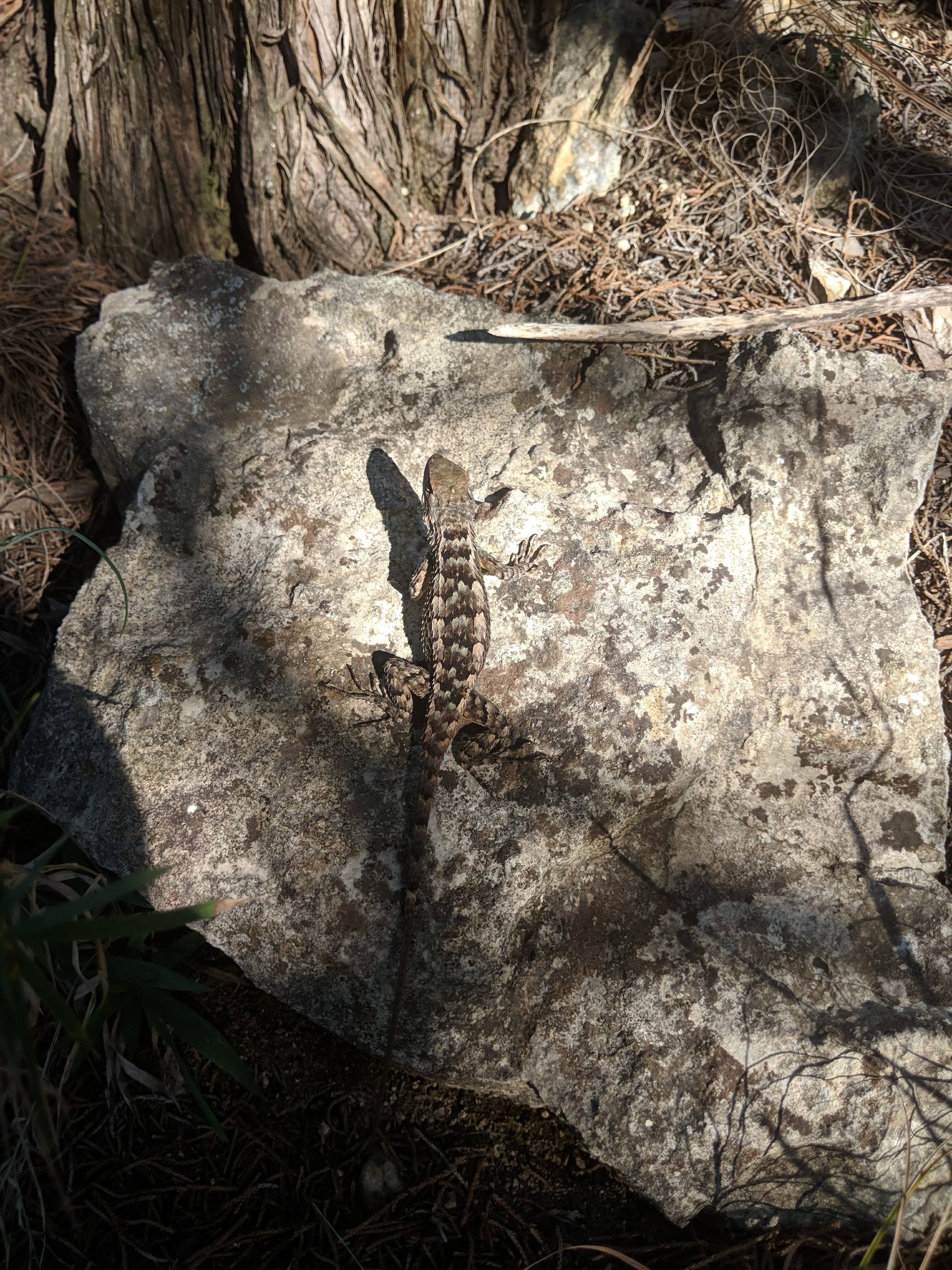 The Pixel 2 does, however, come with portrait mode, which adds fake bokeh (or background blur) to an image. Unlike other smartphones, the Pixel 2 is able to achieve this using software tricks, not a second lens. It worked as well as I'd hoped but struggled to clearly define edges. You can see parts of my hair and ears are blurred out in the image below.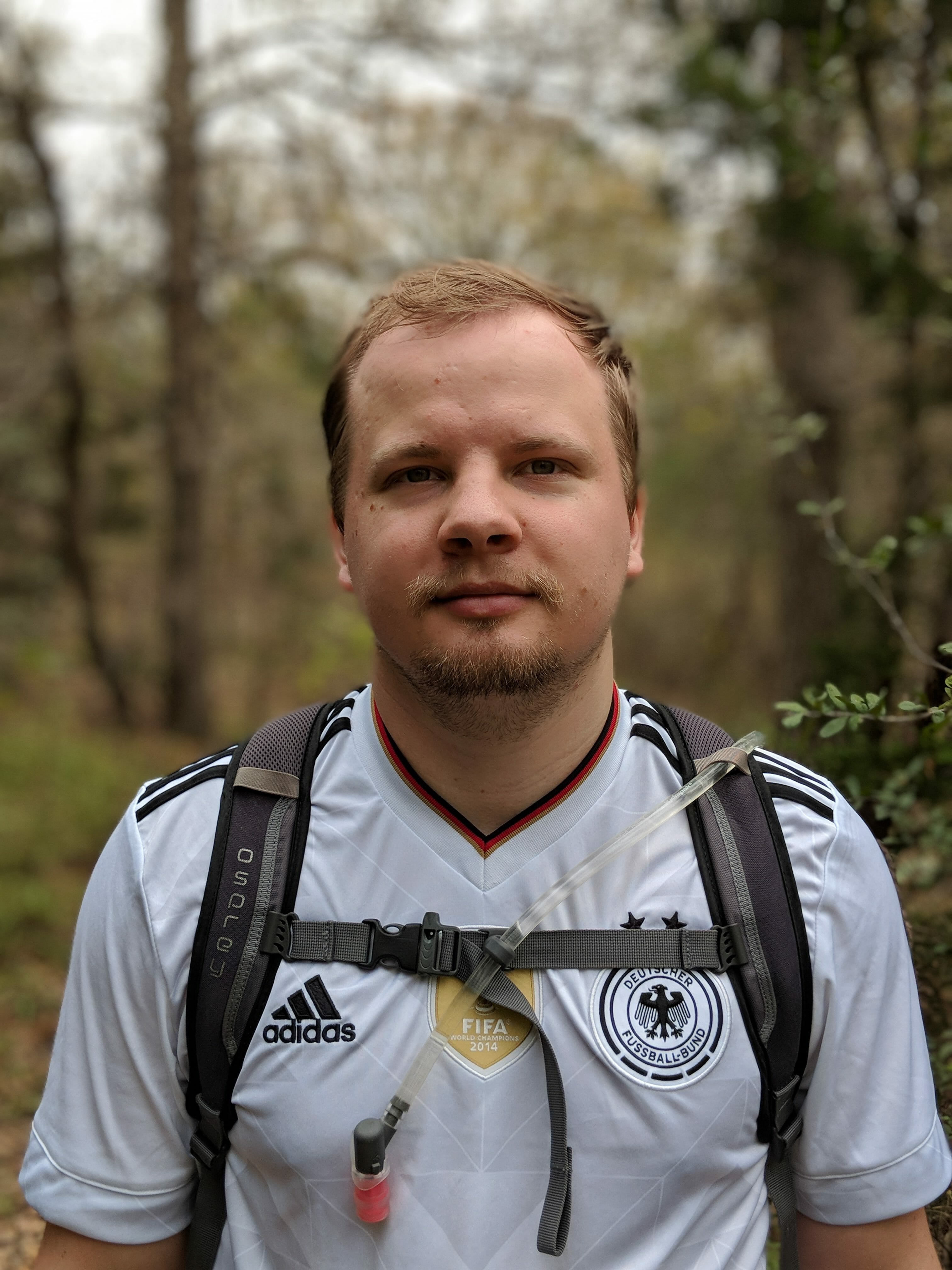 Low-light photos are good but not excellent. I prefer the brighter image taken from the Note 8, even though details are smeared, whereas the Pixel 2 retains those details but ends up with more noise. The Android 8.1 update, which adds support for the Pixel's Visual Core chip and HDR+, marginally improves low-light performance with improved noise levels and brightness.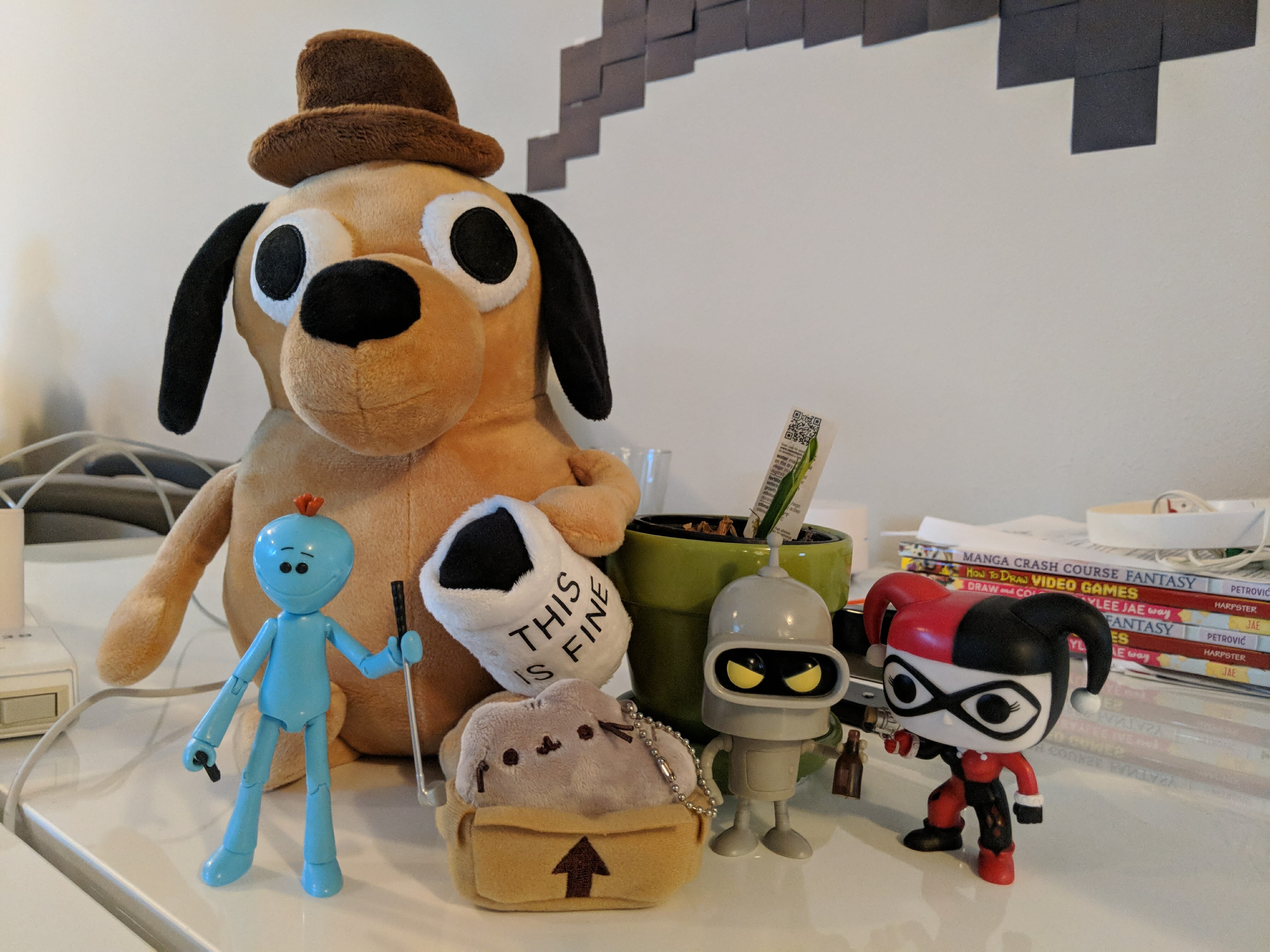 Google Pixel 2 and Pixel 2 XL audio
These are the only phones I've reviewed this year with front-firing speakers. Typically, phones with front-facing speakers blast louder, clearer music than those with speakers on the bottom. That's not always the case, though. In fact, the original Pixel sounded pretty terrible. This year, however, the Pixel 2 and Pixel 2 XL take advantage of their speaker placement, offering solid sound quality. The two phones have very different sound signatures. The Pixel 2 sounds similar to most other devices, nailing the vocals, doing a decent job with the treble, but having no bass extension. The Pixel 2 XL, on the other hand, has a surprising amount of bass, and mids sound thick and rich. Vocals, however, are a bit hollow, and the treble is underwhelming.
If you can't beat them, join them. Last year, Google slammed Apple in a Pixel ad for killing the 3.5mm headphone jack. Perhaps it recognized the commercial success of Apple's wireless AirPods because Google has now copied Apple's much-hated decision. That's right: The Pixel 2 doesn't have a headphone jack—a user-hostile and frankly embarrassing omission. The Pixel 2 does come with a 3.5mm to USB-C adapter, but it's not really a solution for those who cherish their wired headphones. Google did release its own set of semi-wireless earbuds, the Pixel Buds, but they've been met with middling reviews.

Google Pixel 2 and Pixel 2 XL battery life
Both phones have decent battery life. I was able to get through a full day on a single charge but only had around 10 to 20 percent juice left. That's an underwhelming result compared to the top phones we tested this year. The LG V30 has surprisingly excellent battery life, easily pushing deep into a second day of use while both the iPhone X and Galaxy Note 8 finished a day of medium-to-heavy use with around 30 percent remaining.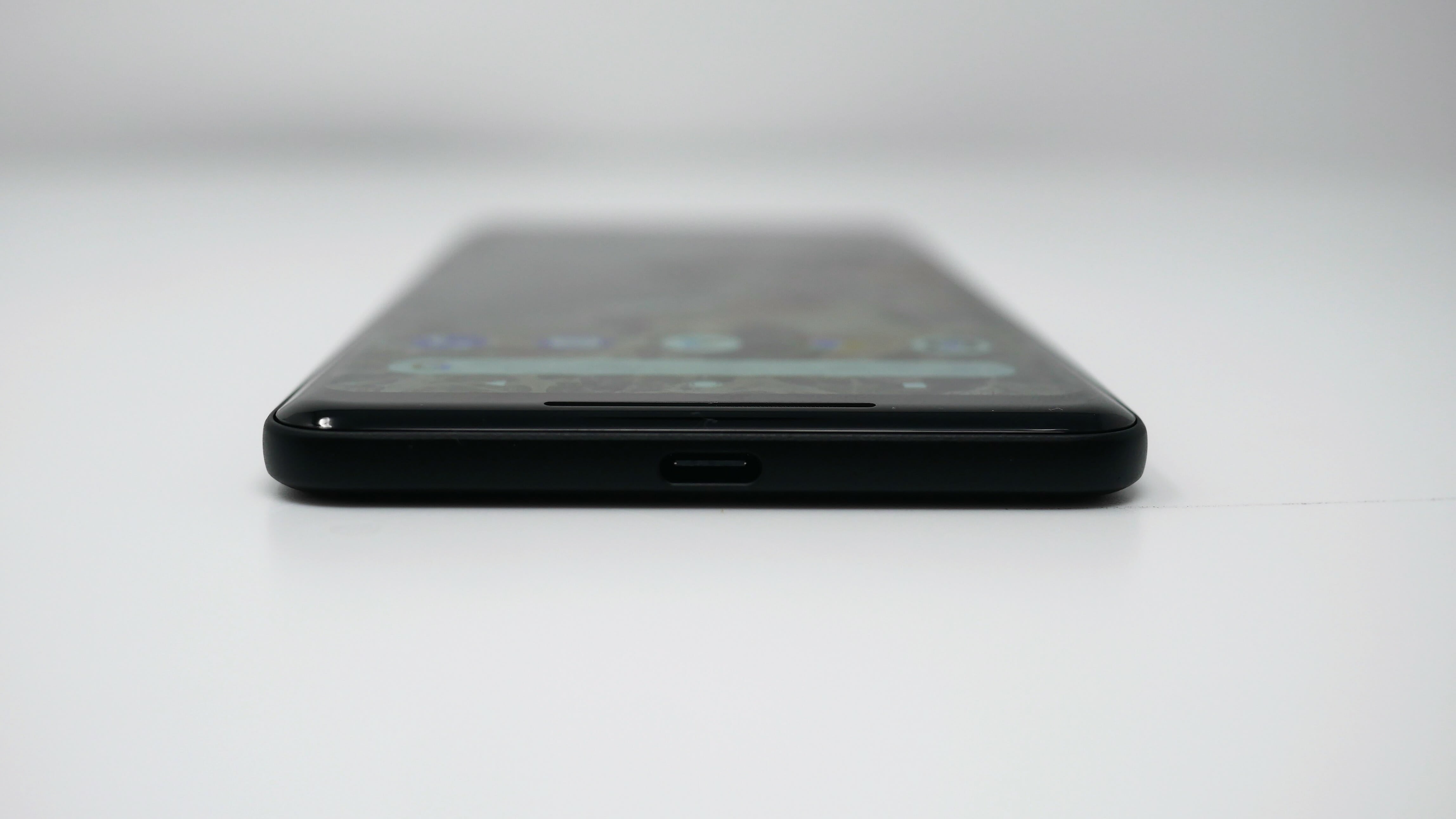 While the Pixel 2 and Pixel 2 XL support fast charging via USB-C connection, they are not wireless charging compatible. It's yet another missing feature that leaves me scratching my head.
Should you buy a Google Pixel 2 or Pixel 2 XL?
If you'd asked me this in November, I might have stuttered. But now, after Google updated its display with better color saturation, the Pixel 2 and Pixel 2 XL are both easy to recommend. They're the fastest Android devices I've ever tested and come with the best software and camera of any phone out there. If the rest hadn't been such a bumpy ride, the Pixel might have come out ahead of this year's top device, the iPhone X.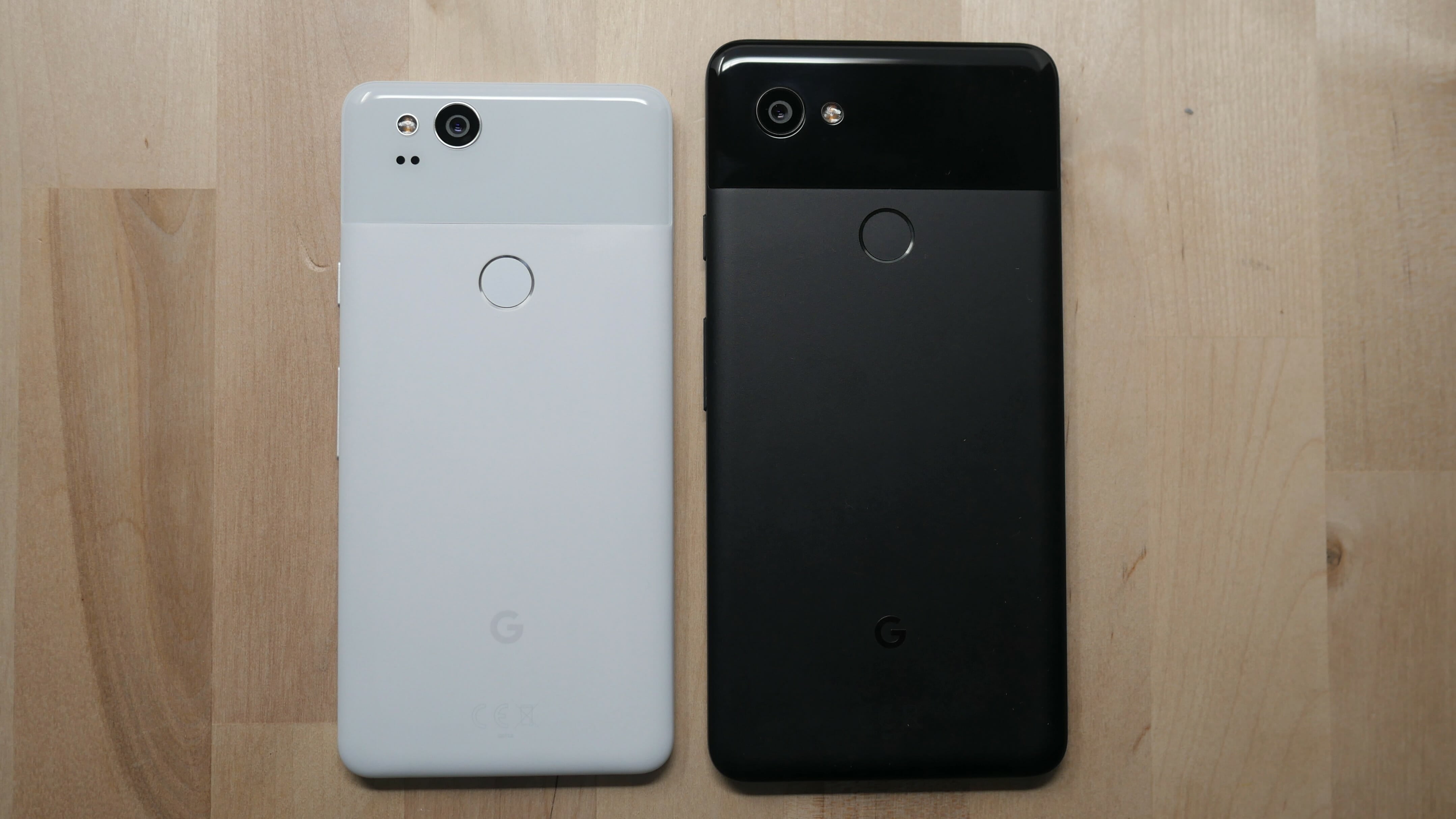 Sadly, the Pixel 2 and Pixel 2 XL don't reach their full potential because of some infuriating omissions. There's no headphone jack, no wireless charging, and no dual-lens camera. The Pixel 2's thick bezels are clunky and screen burn-in issue cast doubt over the longevity of the Pixel 2 XL's display.
Then there's the price. It's high. Not quite iPhone X or Galaxy Note 8 high, but $650 and $850, respectively, is a lot of money to drop on phones that, while excellent, are missing some key hardware elements.
So, who should buy the Pixel 2? Ironically enough, the same folks who want an iPhone-like experience on Android. A no-nonsense phone with blazing fast speed and a class-leading camera that's free of the bells and whistles you get with a Samsung or LG device. But for those of you who were drawn to Android for its rich feature set and "see what sticks" approach, the Pixel 2 isn't the phone for you.