Last weekend, Garrett Foster was fatally shot while participating in a Black Lives Matter protest march in Austin, Texas.
Yesterday, police identified his killer as Daniel Perry. Perry, an Army sergeant, has not been charged.
Unearthed tweets from an account that purportedly belonged to Perry are causing some to call for his arrest. They accuse him of fantasizing about killing Black Lives Matter protesters in the weeks leading up to the fatal shooting.
A livestream captured audio of the killing, which involved a member of the protest crowd and Perry, who was driving a vehicle that people described as nearly running over protesters.
Perry reportedly shot first, firing five shots, three of which hit Foster. Although right-wing commentators rushed to accuse him of such, Foster did not fire his weapon.
Several witnesses told police that Foster, who was pushing his disabled girlfriend's wheelchair in the march, did not aim the AK-47 he was legally carrying at Perry's car.
In a statement provided to reporters, Perry's attorney said that Foster pointed his gun at the vehicle. It claims that "several witnesses" confirm this. The statement also said Perry was driving for a rideshare company at the time and inadvertently ended up at the protest.
Some quotes from the tweets that allegedly came from Perry include suggestions to "shoot center of mass" because "it is a bigger target" and "Send [protesters] to Texas we will show them why we say you don't mess with Texas."
"Now is the time to take up arms and protect yourself against violence," reads another.
Perry's alleged account, @knivesfromtrigu, has since been deleted. An archive of the account is available online.
Based on photos circulating online, including one released by his attorney, the avatar does appear to be a picture of either Perry or someone who closely resembles him. The account name is Daniel Perry.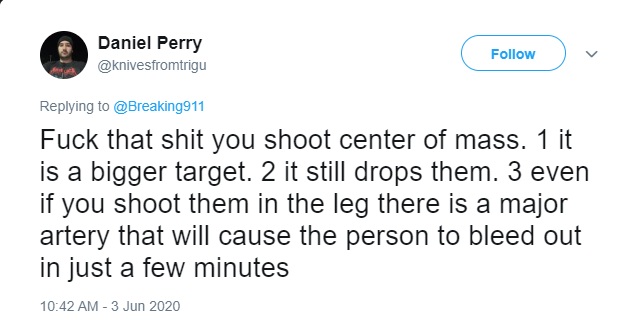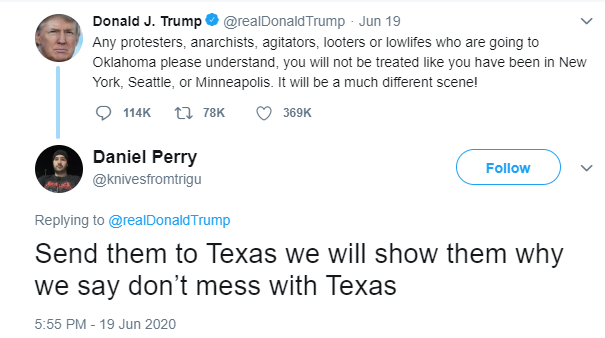 The tweets are from the last two months when Black Lives Matter protests inspired by George Floyd's death have been ongoing in cities nationwide.
In another of the tweets from February the author, presumably Perry, claims his "moral compass doesn't work anymore."
Other tweets blame China for the coronavirus pandemic. "[L]et's just call it the Chinese bat soup virus," says one.
Numerous of the tweets in question are replies to President Donald Trump, conservative commentator Michael Savage, and Breaking 911, a right-wing site that has been described as "bogus" and untrustworthy.
Now people are calling for Perry's arrest for murder on the grounds that the tweets establish intent. Some allege that he is a "violent right-wing extremist." One tweet from Perry's alleged account states that he is Jewish.
Austin police have stated that the incident is still under investigation.
READ MORE: