After a Black Lives Matter protester was fatally shot in Austin, Texas this weekend, the far-right scrambled to falsely report that the victim shot first.
In fact, the slain protester, Garrett Foster, didn't shoot at all.
The falsity demonstrates how disinformation circulated by fringe groups to support their preferred narrative—that Black Lives Matter protesters are violent and lawless—works its way into the conservative media ecosystem and up to the White House.
The claim is based on tweets by conservative commentator and perennial victim-blamer Ian Miles Cheong, as well as In the Matrixx, a prominent QAnon conspiracy theorist.
"Black Lives Matter protestor in Austin, Garrett Foster, shot at a car five times. He missed. The driver shot back, killing him," Cheong wrote.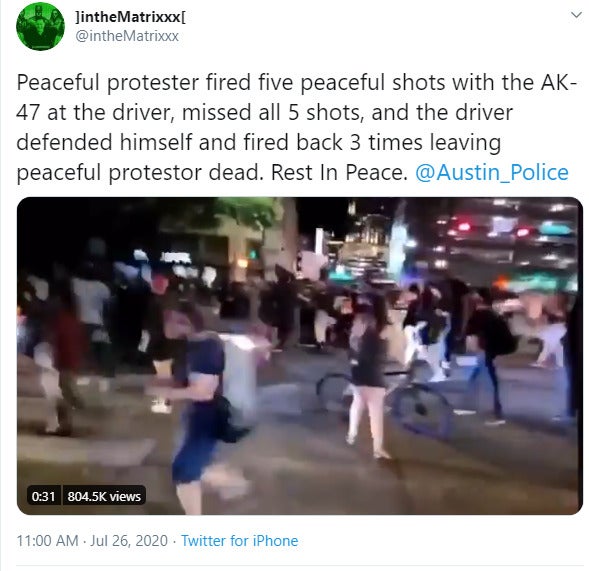 Cheong's tweet falsely claiming that Foster fired first has since been taken down. It was retweeted by President Donald Trump before Twitter removed it, however.
In the Matrixx's tweet remains on Twitter as of this writing.
It's not clear whether In the Matrixx or Cheong tweeted the false claim first. In the Matrixxx tweeted about Foster at 11:00am yesterday. Subsequent tweets in Cheong's thread were sent at 1:26pm and 1:30pm, respectively.
Conservative outlet the Post Millennial, where Andy Ngo is editor-at-large, also published a story that relied heavily on Cheong's tweets about the incident.
The Post Millennial later issued a correction, yet as of this writing its reporting clearly attempts to blame Foster for his death, referring to him as a "street-level instigator" who had expressed "violent intent." This claim closely parrots a tweet by Cheong.
The Post Millennial states that video shows Foster aiming his gun at vehicles as evidence of this "violent intent." Its story includes a screenshot Cheong claims shows Foster "pointing guns at cars."
The picture is grainy and dark, and a woman stands in the foreground, blocking view of Foster's torso. While it does appear that he is holding his weapon, Foster's gun looks to be pointed at the ground.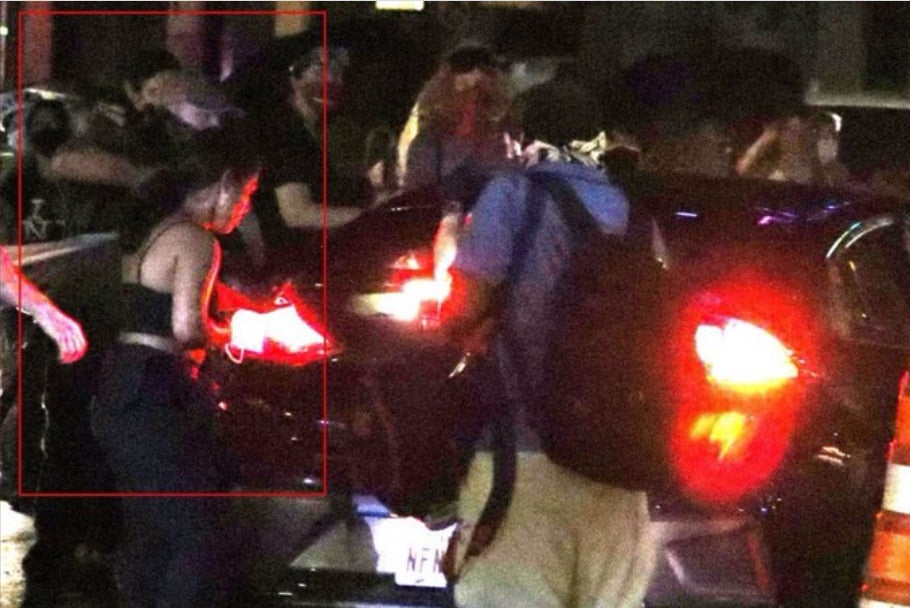 The image is anything but definitive.
The other images Cheong tweeted merely show Foster carrying his weapon, which was strapped to his chest. In one, he's looking at something on his phone.
According to the New York Times, the driver fired first. Foster didn't even fire his weapon.
The shooter does claim that Foster pointed the AK-47 he was legally carrying into their vehicle as they attempted to drive through the crowd.
But the Times reports that witnesses disagree with this account. At the time of the shooting, they say, he was pushing his girlfriend's wheelchair through the intersection.
Although it's been thoroughly debunked, the false claim that Foster fired first continues circulating—likely in part because it was amplified by Trump.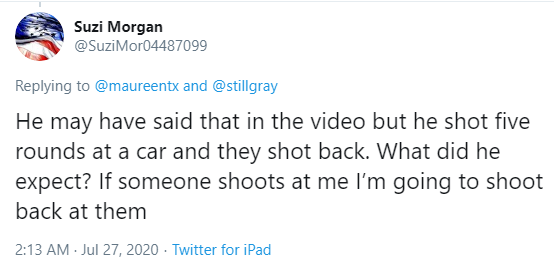 Consequently, Twitter user @F12_Antifascist states that Foster's Facebook page and other sites are rife with abuse of the deceased 28-year-old.
"This is the alt-right propaganda machine," @F12_Antifascist added. "Fiction is spun to reality through lies. I saw it during the assault on cider riot & when Ngo had a lactose incident," referring to Ngo's claim he was once hit with a concrete milkshake.
READ MORE: