Curfews are being enforced in response to nationwide protests, demanding change after the police killing of George Floyd. Now, rideshare companies are left to decide whether they will abide by those curfews.
Many of the companies, the Daily Dot has learned, will suspend operations during curfews in cities like Los Angeles, Washington D.C., and New York.
Uber, Lime, and Revel all plan to suspend operations during the hours requested by local governments, even when demonstrators may still be out protesting and in need of services.
A spokesperson for Uber told the Daily Dot that its customers and drivers will be notified in the app when service is halted. This includes UberEats users, however, the spokesperson added that the situation is "fluid."
Additionally, in a written statement to the Daily Dot, Uber shared: "Some cities have requested that we suspend operations during curfew hours while others want to ensure Uber is available for essential services."
"We're also using the Uber app to educate riders and drivers about city curfews and remind them Uber should be used for emergency purposes only during this time," the spokesperson stated.
Scooter-sharing company Lime, which operates in many cities where demonstrations are occurring, told the Daily Dot it has removed scooters from streets.
"Lime has removed scooters from streets and paused service in select U.S. cities following the directives of local regulators. Safety is our top priority and we are actively working with cities to balance this with the need for affordable transportation options," a Lime spokesperson told the Daily Dot.
A spokesperson for Revel, another scooter-sharing company, pointed the Daily Dot to its announcement on Twitter, stating, "We'll be shutting down our service in line with curfews in NYC and Oakland."
"You'll be able to end your ride after these times, but won't be able to start a new ride. Our DC service is fully shut down per the city," it later wrote in an update.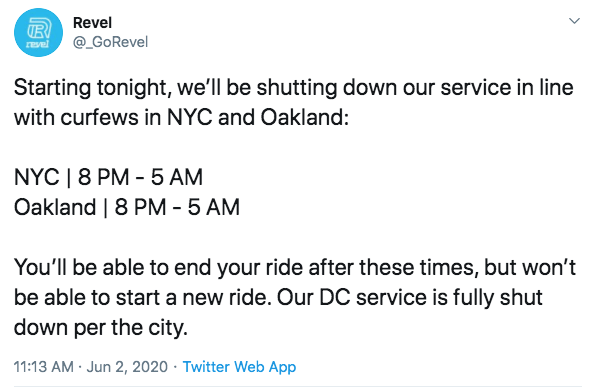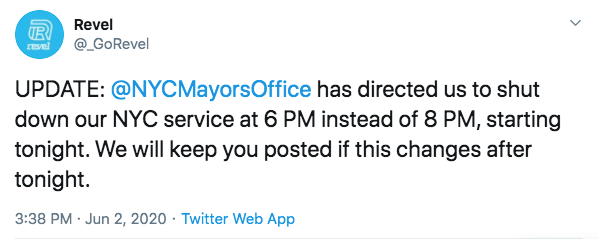 New York City Mayor Bill de Blasio said at his daily press conference on Tuesday that a curfew in New York will be in effect from Tuesday 8pm to 5am EST through Sunday.
Citi Bike stated via Twitter it would be shutting down at the 8pm curfew. "We disagree with this decision and believe it is important for the system to remain open and provide a reliable transportation option. We know how disruptive this is to everyone who relies on Citi Bike to get home — especially essential workers," Citi Bike wrote.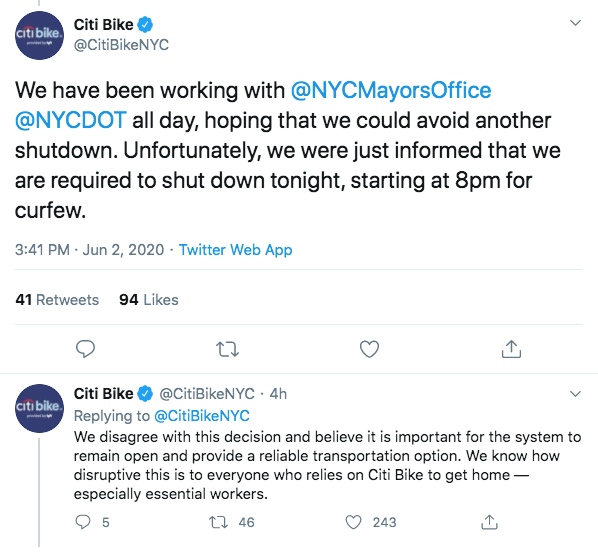 Lyft, which owns Citi Bike, didn't respond to the Daily Dot's request for comment.
Rideshare services have become increasingly used amidst the coronavirus pandemic, as public transportation routes have been reduced. And while these services are asked to operate according to their cities' laws, they could have refused and continued to transport protesters.
READ MORE: