Inspired by Deborah Feldman's memoir of the same name, the German Original Limited Series Unorthodox follows Esty (Shira Haas), a Hasidic Jewish woman as she flees from her home in a conservative Orthodox community in Williamsburg, Brooklyn, to pursue her passions in Berlin.
Unorthodox

RELEASE DATE:
March 26, 2020
DIRECTOR:
Maria Schrader
STREAMING:
Netflix
Inspired by Deborah Feldman's memoir, 'Unorthodox' follows a Hasidic Jewish woman as she flees from her conservative home in Williamsburg, Brooklyn to pursue her passion in Berlin.
Communicated in English, German, and Yiddish, Unorthodox tells a compelling story about escaping rigorous doctrine and inherited trauma for a life of meaning and self-actualization.
For fans of the novel, prepare for a series that does not resemble that book at all. The two share the same name and follow a Jewish woman leaving her Hasidic community in Brooklyn—but that's about it. But if you enjoyed the novel and its underlying themes—autonomy, following your passions, rejecting toxic patriarchal norms—then you'll enjoy the series, too.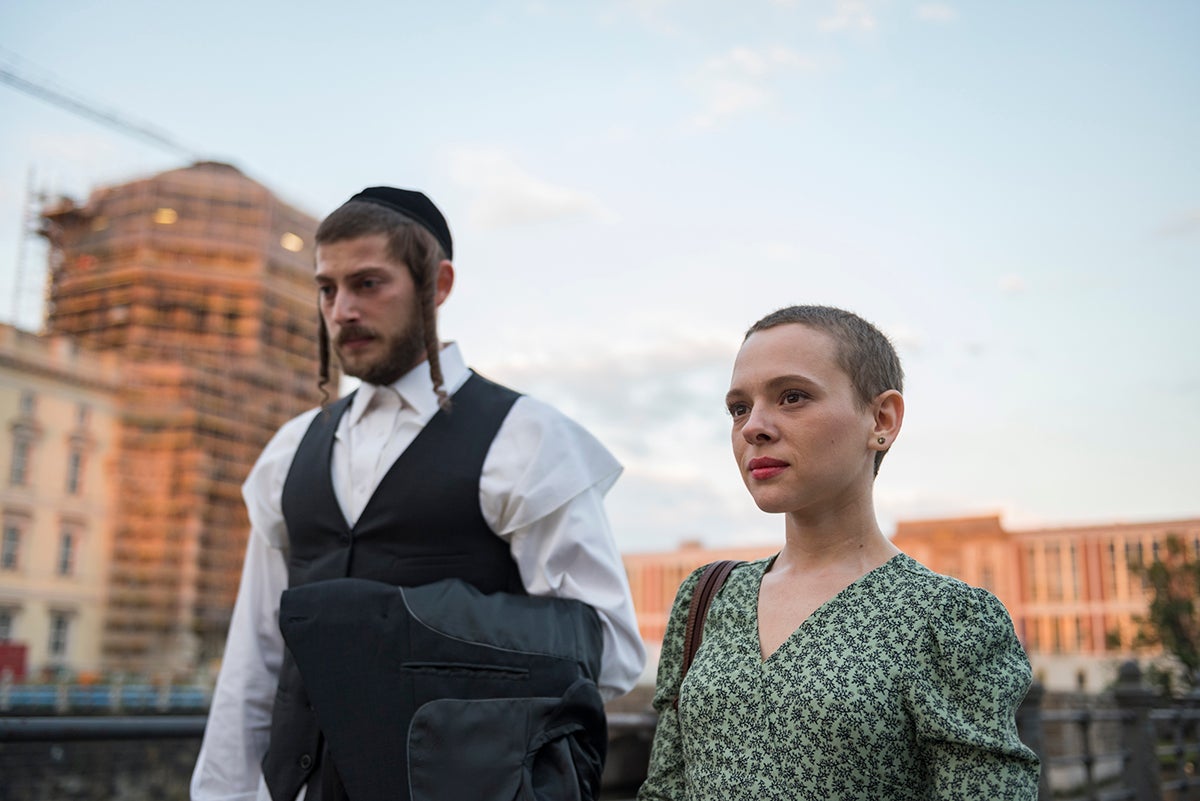 In the series, Esty runs away from her arranged marriage plagued by pressure to have painful sex and helicoptering family members demanding she has babies. She escapes to Berlin, where she can claim German citizenship thanks to her mother who has also left the community. Upon arriving in Berlin, Esty stumbles upon a music conservatory that unleashes her passion for music and introduces her to students who take her under their wing, showing her the vast world outside her Hasidic upbringing. But as Esty explores all the opportunities open to her now in Berlin, the community she left behind works tirelessly to track her down and bring her home.
As the main character, Haas carries the series well with her intense eyes that speak monologues without actually saying a thing. Her supporting cast is pretty good, too—including her husband Yanky (Amit Rahav), her mother Leah (Alex Reid), as well as her new friends Robert (Aaron Altaras) and Dasia (Safinaz Sattar).
Viewers of Unorthodox are fully immersed in the culture of Hasidic Jews, a sub-group of ultra-conservative Orthodox Judaism, who primarily reside in the U.S. and Israel and account for roughly 5% of the world's Jewish population. In the series, Esty and her husband's family follow the Law to the letter. While the series does a successful job portraying many of the group's practices—from foiling their entire kitchen during Passover to shaving a woman's head after she gets married—it does not stop to explain the culture, so viewers need to do a little independent research as they watch. For viewers that do, this series is a captivating way to learn more about a new culture.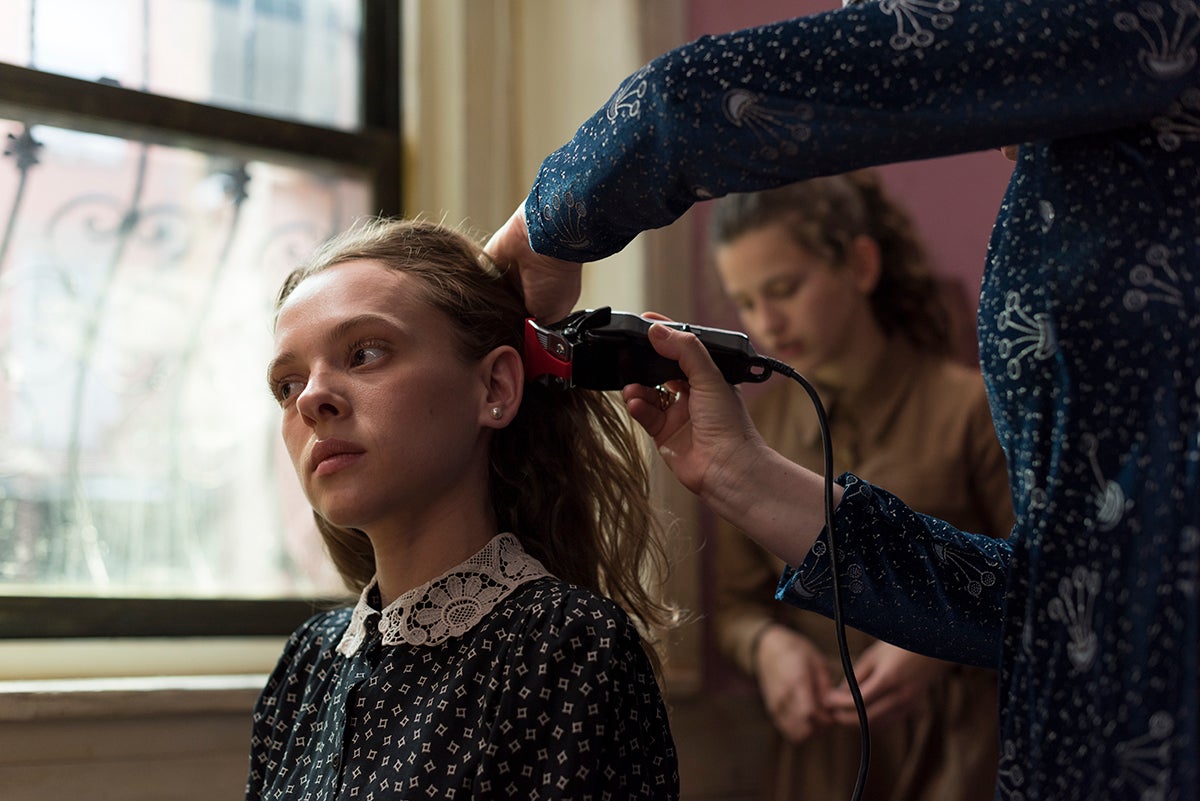 The painstakingly accurate way the series portrays how women's bodies are treated in Hasidic culture stands out. Written and directed by all women—including Maria Schrader, Anna Winger, and Alexa Karolinski—the show's success in authentically communicating a woman's experience doesn't come as a big surprise. Esty, like all the other women in her community, can only lay with their husbands two weeks out of the month. When they are on their period and for seven days after, they are considered unclean. Literature and film about arranged marriages usually imply that sex is an obligation—not to be enjoyed by the woman—but Unorthodox tackles the uncomfortable subject head-on. Esty has it even worse than other women in her community because she suffers from vaginismus.
With Germany as the setting, the series takes the opportunity to tackle the concept of inherited trauma. Esty feels the pressure to build a family not only because it's demanded by the Law, but because her community sees it as a way to build back the 6 million lost in the Holocaust. Returning to Germany is more than just a symbolic way of turning her back on her community; Berlin is where she's able to find freedom.
Unorthodox is a suspenseful slow burn without much of a climax—which might be disappointing for viewers who prefer punchy, action-packed drama. The series' strength lies instead in its captivating subject and how it draws viewers into Esty's world.
Still not sure what to watch tonight? Here are our guides for the absolute best movies on Netflix, must-see Netflix original series, documentaries, docuseries, and movies.
Looking for something more specific? Here are our Netflix guides for the best war movies, documentaries, anime, indie flicks, true crime, food shows, rom-coms, LGBT movies, alien movies, gangster movies, Westerns, film noir, and movies based on true stories streaming right now. There are also sad movies guaranteed to make you cry, weird movies to melt your brain, old movies when you need something classic, and standup specials when you really need to laugh. Or check out Flixable, a search engine for Netflix.
---
WATCH: 10 Great Shows & Games to Binge While You're Stuck at Home