For the last decade, YouTube has ended each year with a look back at its top creators and trends.
Each year, the company attempts to pay homage to its most successful moments through its YouTube Rewind videos. Last year, the Rewind video quickly became one of the platform's most disliked videos. The video has 17 million dislikes and only 2.7 million likes. The video's utter failure in the eyes of most YouTubers prompted YouTube to try something new in 2019. While the video did far better than 2018's version—it only has 8.2 million dislikes and more than 3 million likes—many creators remain unimpressed. One such creator is PewDiePie—the site's top star—who quickly trolled YouTube with a video of his own.
Several weeks following the release of YouTube's 2019 rewind, PewDiePie—whose real name is Felix Kjellberg—released his rewind video. These year-end videos have become a trend of sorts for PewDiePie, who released a similar video last year. Pewds put out his take on YouTube's final year of the decade on Sunday. In three days, the video racked up nearly as many likes as YouTube's version—2.2 million, to be exact—but far fewer dislikes, at only 22,000. It mocked YouTube's format and paid homage to PewDiePie and his fellow YouTubers in the Swedish creator's signature style.
"In 2018, we made something that you didn't like," PewDiePie's video begins. The same words began YouTube's 2019 rewind video. "So in 2019, we made a top-10 WatchMojo video. That will fix it."
Much of PewDiePie's video spends time looking back at the year's top memes, from AirPods and Untitled Goose Game to "OK boomer" and the choking Sasuke meme. The entire video is set to upbeat, techno-style music while images and audio clips go flashing past. Pewds spends plenty of time honoring himself, as well as a few of his fellow creators like Ninja, Shane Dawson, and Logan Paul. Kjellberg's own biggest moments—from his wedding to his most prominent meme review hosts and his diss track aimed at T-Series—are all carefully worked into the video. He also takes time to briefly honor several altruistic efforts, like Greta Thunberg's address to the United Nations and Mr. Beast's "Team Trees."
Midway through PewDiePie's seven-minute video, he takes a break from honoring himself and his fellows to look back at a few creators and stars that passed away in 2019. That includes tributes to Dillon the Hacker, Grant Thompson, Juice WRLD, and Etika. Then, Pewds returns to the memes. He mocks everything from politicians' renewed attacks on video games as the cause of violent behavior, the Sonic overhaul, and even Baby Yoda.
In the comments section, PewDiePie fans went after YouTube for not including the upload among its trending videos. "Why isn't this trending," many commenters wrote, with various meme responses from YouTube.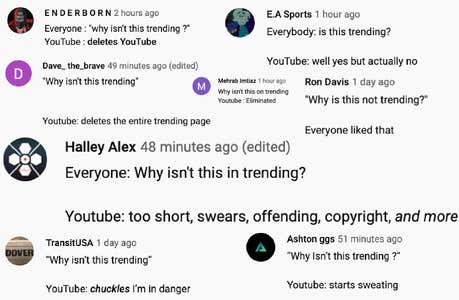 PewDiePie's video has only been out for a few days but is already on track to vastly surpass YouTube's rewind in popularity.
READ MORE:
H/T Dexerto