A mass shooting in two New Zealand mosques has left at least 40 dead and eight others hospitalized, according to BuzzFeed News, which also reported that four suspects have been arrested in connection and that authorities have found homemade explosives on-site.
Now the world's biggest YouTube star has renounced one of the alleged shooters following a disturbing endorsement.
On Friday, four reported gunmen opened fire in a Christchurch, New Zealand. One of the alleged shooters, a 28-year-old white Australian man who has yet to be named publicly, reportedly published a 73-page manifesto beforehand apparently full of anti-Muslim rhetoric, white nationalism, and 4chan memes. He also live streamed the shooting via a nearly 20-minute-long Facebook video, according to USA Today.
Clips of the shooter saying "remember lads … subscribe to PewDiePie" remained accessible on Twitter Friday morning.
In response to being named, PewDiePie, or 29-year-old Felix Kjellberg, tweeted early Friday: "Just heard news of the devastating reports from New Zealand Christchurch. I feel absolutely sickened having my name uttered by this person. My heart and thoughts go out to the victims, families and everyone affected by this tragedy."
PewDiePie's previous tweet was a call to subscribe to his channel, and "subscribe to PewDiePie" is a phrase that's been all over the internet recently.
Subscribe to PewPieDie, explained
The phrase "subscribe to PewDiePie" has become a flashpoint for YouTubers since the fall. Yes, they want PieDiePie to gain subscribers so that he will remain the No. 1 YouTuber in terms of overall followers. But it's not that simple.
He's competing for the title with an Indian entertainment studio, T-Series. There is a genuine fandom for PewDiePie, but it's also about reserving the top spot for an individual person and not a studio, which purists argue is important.
Office printers have been hacked in efforts to convince people to subscribe to PewDiePie, and the phrase even appeared last month during a Super Bowl gimmick organized by fans. PewDiePie himself has been a leading cheerleader in his subscriber rivalry, publishing numerous videos about the matter recently.
The connection became a trending topic early Friday, with many stepping in to defend PewDiePie on Twitter from the idea that he bears any culpability for the tragedy.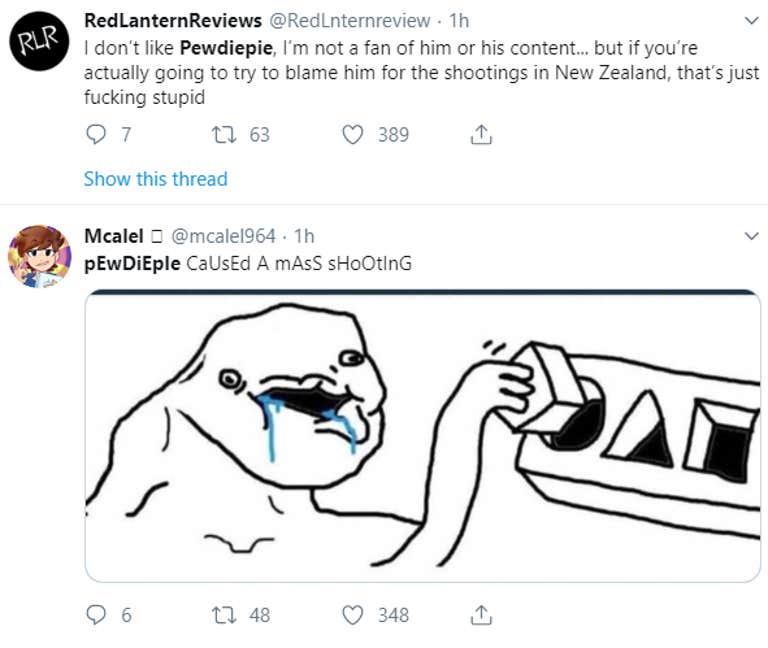 For his part, PewDiePie has been criticized for not using his platform responsibly and for anti-Semitic stunts, gags that target women and set them up for harassment from his huge fanbase, and using the N-word during a live video game. The manifesto tied to the mass shooters celebrates white supremacy.