Too Hot to Handle is a dating show where contestants compete for a $100,000 prize, but aren't allowed to kiss, have sex, or masturbate. For every action that goes beyond cuddling, the prize money goes down. Lana, an Alexa stand-in, monitors the activity of 10 contestants who are all attractive in the same vague way, mostly wear bathing suits, and can't stop talking about sex.
Too Hot to Handle

RELEASE DATE:
April 17, 2020
CREATOR:
Talkback
STREAMING:
Netflix
Netflix's latest dating show offers no interesting ideas about sex or relationships.
Netflix is reading the room. We're isolated, horny, looking for the next binge. The premise alone insures the show will be popular, like previous reality hits The Circle and Love Is Blind. Too Hot to Handle contains some of the same elements but heightens the storyline. Contestants are trapped on a luxury island, given a steady stream of champagne (food and water is there, I guess?), and surveilled by a sentient cone (and multiple cameras). Comparing it to Black Mirror is easy but at least that show typically leaves you with something to think about.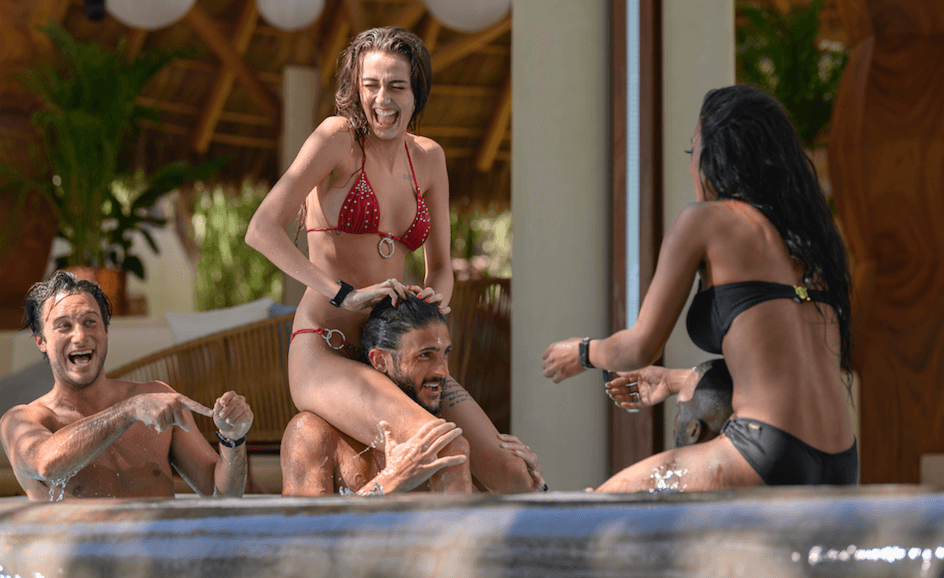 The competition is called "the retreat" and the goal is to get the sculpted and perky contestants to think beyond mindless flings and one-night stands and create genuine intimacy and trust in relationships. The men predictably identify as alphas, the women as obvious catches. Like The Circle, a narrator (comedian Desiree Burch) comments on the inane statements that often come out of contestants' mouths; there's also a running joke about how they're not that bright. (In one episode, a contestant tries to draw a clock and isn't sure whether it starts with 12 or 1, but what is time these days?)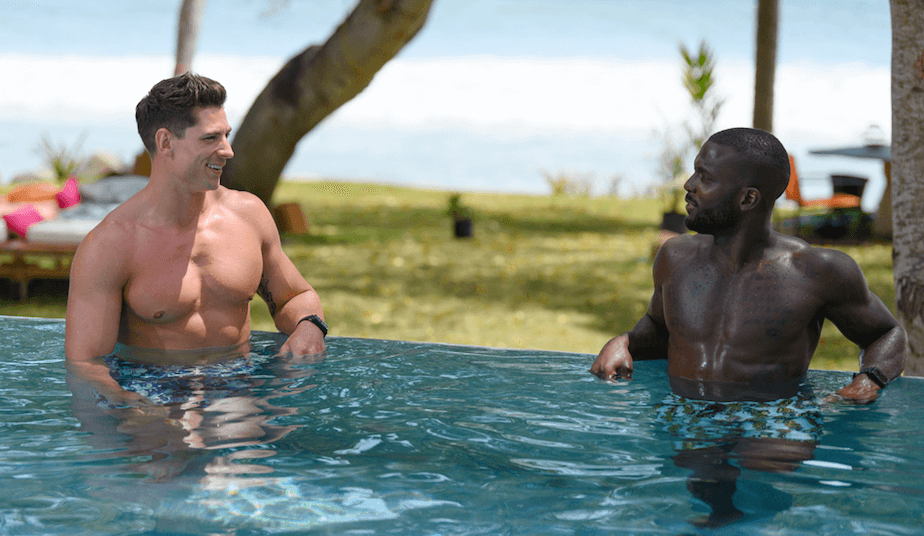 Contestants must attend therapy sessions (in bathing suits) to learn more about themselves and potential romantic partners, but even those moments are reductive and performative. The women look at and draw their (own) vaginas with the guidance of someone named Yoni Puja, and are immediately empowered; the men cover each other in mud, scream, and talk through their feelings with a ponytailed "heart warrior" who claims they can't reach that level of introspection when "females" are around. Too Hot to Handle hints at a queer relationship, which would break up the oppressive straightness of dating shows, but it appears to be just a plot point. Instead it leans on the reality show formula of creating and heightening drama (not here to make friends, etc.), and offers a bland, traditional view of relationships and sexuality, minus any insight.
And what of the rule-breakers? They're the essential workers here. Despite the knowledge that breaking the rules depletes the grand prize for all the contestants, one-dimensional couple Francesca and Harry do it anyway, while the more forward-thinking Rhonda and Sharron try to play it safe. There is something interesting about how contestants view the shared prize money but Too Hot to Handle doesn't get into socioeconomic discussions (boner killer). It offers an escape, and the promise that people can "grow," but that would entail us actually getting to know these people.
By the end, I was extremely un-horny. So it works on one level.
Still not sure what to watch tonight? Here are our guides for the absolute best movies on Netflix, must-see Netflix original series, documentaries, docuseries, and movies. 
Looking for something more specific? Here are our Netflix guides for the best war movies, documentaries, anime, indie flicks, true crime, food shows, rom-coms, LGBT movies, alien movies, gangster movies, Westerns, film noir, and movies based on true stories streaming right now. There are also sad movies guaranteed to make you cry, weird movies to melt your brain, old movies when you need something classic, and standup specials when you really need to laugh. Or check out Flixable, a search engine for Netflix.