If country music is often defined by what you lost (your girl, your dog, your truck), Sturgill Simpson's jaw-dropping pivot toward rock on his new album—and accompanying Netflix anime—Sound & Fury, is defined by what he's leaving. A furious burst of swaggering sci-fi bar rock aimed squarely at every fraud and coward in his sights, Sound & Fury is a joyful celebration of doing things for yourself. Drowning in heavy keyboards and thunderous noise, Simpson has taken stock of the world and finds it lacking. "Mercury must be in retrograde again," he snarls, "but at least it's not just hanging around, pretending to be my friend." 
Sound & Fury
RELEASE DATE:
9/27/2019
WRITERS:
Sturgill Simpson, Jumpei Mizusaki
STREAMING:
Netflix
Sturgill Simpson's 'Sound & Fury' is an abstract, blood-soaked anime masterpiece in the tradition of 'Robot Carnival' and one of the best rock albums of the year.
Listeners longing to hear Simpson croon over soft acoustic strings, ride a space turtle through hallucinations, or meditate on fatherhood are out of luck. They also already have records where he does that. Sound and Fury is the latest stage in the alt-country troubadour's continuing evolution. What once walked out of the water and developed a knack for traditional country has become a pissed off, guitar-soloing monster of rock n' roll. 
There were signs this was coming, particularly if you've seen Simpson live in the past six years. While his 2013 debut High Top Mountain proved popular with traditional country fans, his proceeding records saw Simpson explore everything from psychedelia to orchestral rock. But while Metamodern Sounds in Country Music and A Sailor's Guide to Earth pushed boundaries, they were still easily identifiable as country music. Live, however, they became swirling jams augmented by theremin and raging guitars.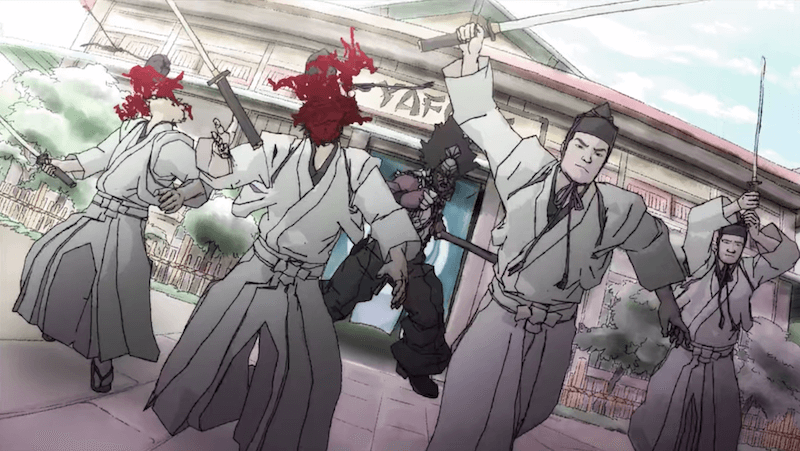 Simpson finally commits his live sound to record on Sound & Fury. Part Queens of the Stone Age desert rock, part '80s Gary Numan dance freakout, Sound & Fury simultaneously serves as his most straightforward and most daring album. Trading steel guitar for walls of squealing synths, guitar solos, and new wave grooves, Sound & Fury barrels forward for its first six tracks. It only takes time to slow down on track seven, "All Said and Done," a heartrending ballad that sounds like ZZ Top accompanied by Final Fantasy keyboards. But the peace doesn't last, quickly being shattered by the propulsive piano of "Last Man Standing."   
In a world of men pouting over rock songs, Sound & Fury vents but never rages. On "Best Clockmaker on Mars," Simpson uses his own depression as a focus for what matters to him, howling, "Some days I hate everything I am, but your love holds a mirror to me." Even when he snarls a line like "It's fuck all y'all season" on "Last Man Standing," he sounds like he's delivering it with a wry smile.
On its own merits, Sound & Fury is one of the most exciting rock records of the year. But it's not just an album. It's also a 41-minute anime/live-action visual album, where each track gets its own accompanying short film. Simpson made the anime in conjunction with a host of industry veterans, including Koji Morimoto (Memories, Robot Carnival), Michael Arias (Tekkonkinkreet, Harmony), Masaru Matsumoto (Appleseed Alpha, Onimusha: Warlords), Arthell Isom (Strike Witches), Henry Thurlow (Tokyo Ghoul, Naruto: Shippuden), Takanoku Mizuno (Mega Man X8, Higanjima: Love is Over), Hajime Sasaki (Wicked City, Twilight of the Cockroaches), and Shinji Takagi (Steamboy, Ranma ½).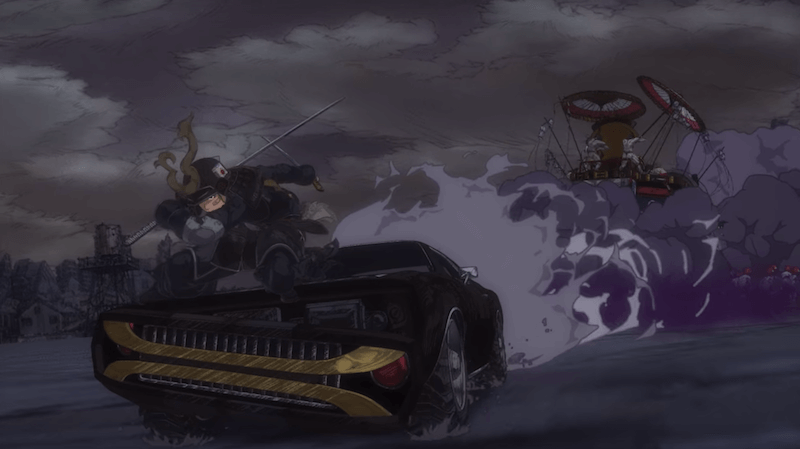 If the album itself is a shocker, Sound & Fury as an anime would have been unthinkable in the past. The album's visual component draws influence from some of the oddest retro anime around. Robot Carnival, Angel's Egg, Ninja Scroll, and Fist of the North Star each get a sly nod of admiration in Simpson's blood-soaked toon wasteland.

The two live-action segments fluctuate between Repo Man punk filmmaking and the high fashion of Alexander McQueen. Each is brief, stunningly beautiful, and immediately followed up by more ninjas and mutant fights. The film ends with two title cards. The first reads, "Get beyond love and grief; exist for the good of man. — Musashi Miyamoto." The second: "Dedicated to the lost souls and the victims of senseless violence around the world."  
Miyamoto was a legendary Japanese swordsman, philosopher, and ronin (a samurai without a lord or master who is left to wander the world alone). It's easy to see why Simpson might connect with the philosophy of a ronin. He doesn't have any interest in being a savior of country music; he just wants to forge his own path. And while Sound & Fury—both the record and the film—rages with frustration and violence, both projects are ultimately works of catharsis. In many ways, Miyamoto's exhortation serves as the theme of the album. Simpson needs to get some shit off his chest, if only so he can let it go.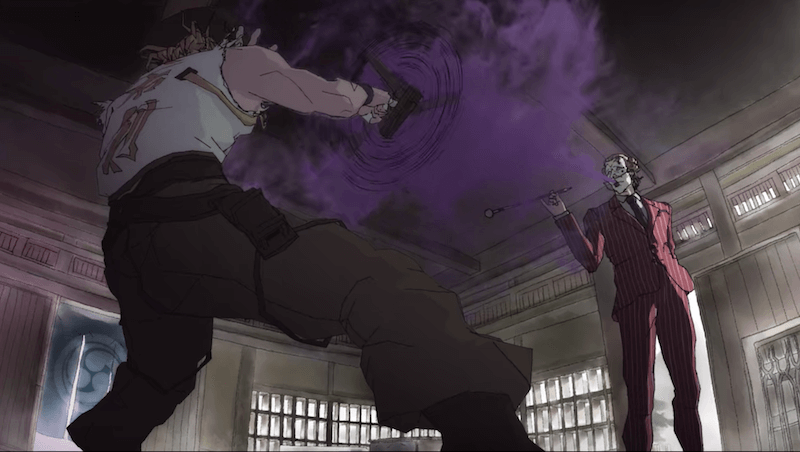 Occasionally, Simpson's voyage leads him in directions that wouldn't sound out of place in a honky-tonk. Those stops are just part of his journey. He's tasted success and had a realization, which he expresses on "Mercury in Retrograde": "Living the dream makes a man want to scream/ Light a match and burn it all down."
Sound & Fury is a rip-roaring record, augmented with a bizarre love letter to outsider '80s anime and new wave culture. My only real complaint is that a fall release means not getting to listen to it during the summer. These songs demand a road trip, preferably as you're peeling out of the lot of a job you just quit. 
If you don't like country music, now is the time to hop aboard the Sturgill Simpson train. Sound & Fury is creative, yet comfortingly traditional where it counts. Likewise, its visual component shows a reverence for the anime touchstones that preceded it, while also taking some delightfully bonkers left turns that only Simpson could have made. Pour yourself a drink and take the ride—and watch out for the ninjas as you go.
Still not sure what to watch tonight? Here are our guides for the absolute best movies on Netflix, must-see Netflix original series, documentaries, docuseries, and movies.
Looking for something more specific? Here are our Netflix guides for the best war movies, documentaries, anime, indie flicks, true crime, food shows, rom-coms, LGBT movies, alien movies, gangster movies, Westerns, film noir, and movies based on true stories streaming right now. There are also sad movies guaranteed to make you cry, weird movies to melt your brain, old movies when you need something classic, and standup specials when you really need to laugh. Or check out Flixable, a search engine for Netflix.