The Letter for the King promises a brilliant Arthurian fantasy with heroes of color that even tries to tackle colonialism, but the follow-through isn't there.
The series starts as the two Northern kingdoms, Unauwen and Dagobert, have finally conquered their Southern neighbor Eviellan after decades of war. This creates a new problem for both countries, however, as the army is led by the second son of Unauwen's king and now there's a prince with an army, no throne, and no clear purpose heading back North.
The Letter for the King

RELEASE DATE:
March 20, 2020
WRITER:
Will Davies
STREAMING:
Netflix
Despite its promising concept of a truly diverse Arthurian fantasy, 'The Letter for the King' fails to pull it all together with a series of poor creative decisions undermining what it set out to do.
At the same time, a teenage boy, Tiuri, played by Amir Wilson, is preparing to enter the knightly trials of Dagobert at the insistence of his father—despite his clear lack of ability in martial fields. Tiuri and his mother are actually Eviellan, rescued from death by Tiuri's adoptive father when Tiuri was a baby, all of which feeds Tiuri's sense of alienation and the belief that he doesn't belong there. Passing his knightly trials by the skin of his teeth, he then meets a legendary knight who gives him a letter before dying, one that he must deliver to the king of Unauwin fast—or darkness will overtake the world.
Pursued by his fellow knights, the villainous Red Riders, and the heroic Grey Riders—who have been misled by those dark forces—Tiuri discovers his shamanic heritage, makes friends and, to quote the Netflix summary "learns what it is to be a true knight—and a true leader." Unfortunately, as promising as this sounds, various creative choices let the whole thing down.
First is what seems to be an attempt to tackle, or at least a nod to, the ills of colonialism. The two Northern kingdoms are predominantly white, with the Welsh and medieval French elements standard for Arthurian fantasy, while Eviellan seems to be a fantasy African kingdom. We hear about taking captives in chains and the mass murder of the country's religious leaders and their families. We get a wishy-washy acknowledgment at the end that "we all" allowed the darkness to rise by Queen Alienor, though it's possible that she's referring to the evils of war as if both sides are equally responsible rather than the wilful destruction of one country by invaders. And people within the two Northern Kingdoms are really, really racist. But at the same time, we're supposed to sympathize with the Northern rulers, and interpret Alienor and the crown prince of Dagonaut as good people rather than architects of colonialism and genocide. We're being given the message that colonialism is bad while refusing to hold the people responsible accountable for it, as if it's some kind of natural force rather than a deliberate decision by people in power.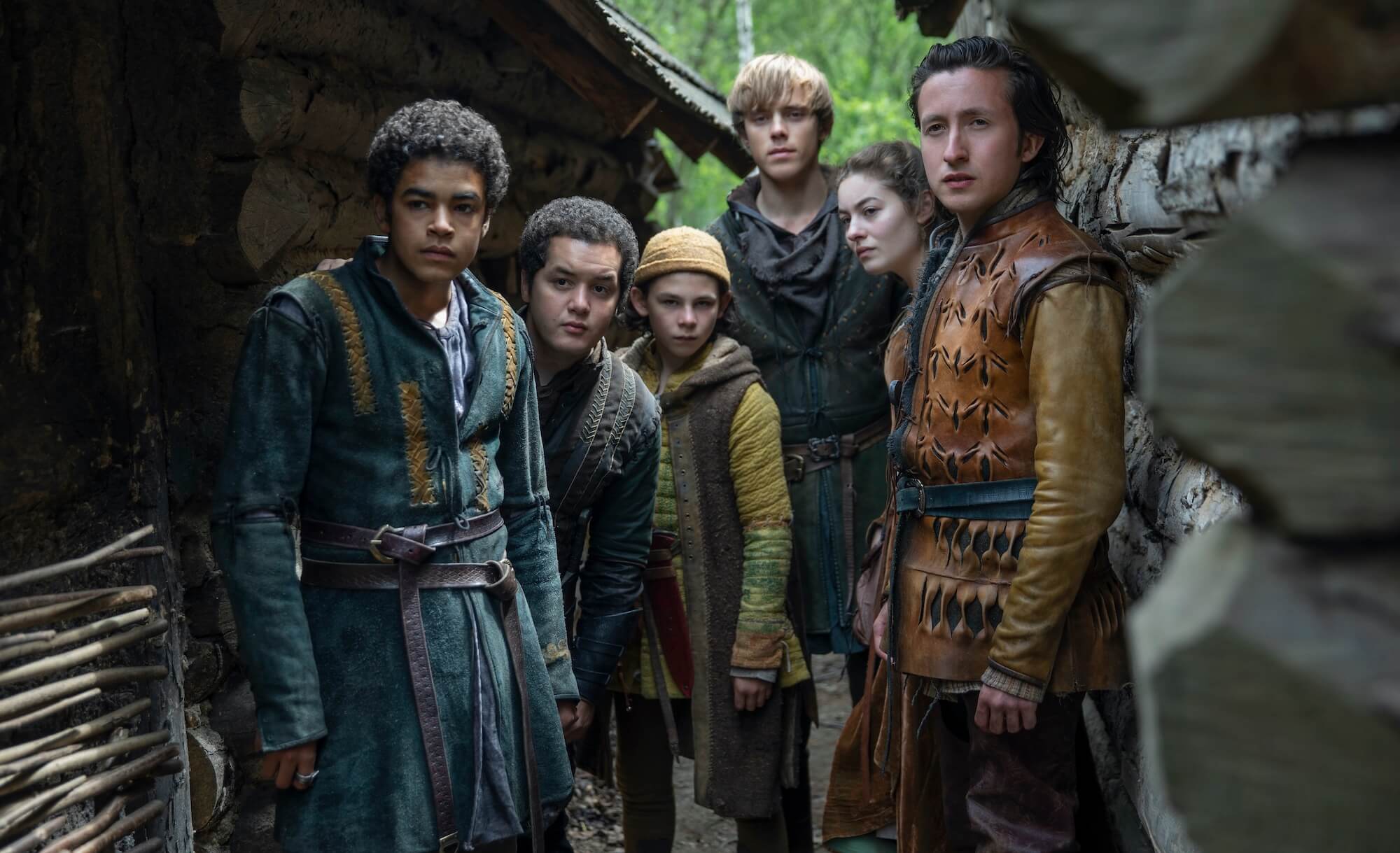 Compounding this is the way that Tiuri is set up in the first half of the series as the mage whose powers will combat the darkness, only to have the narrative snatch that away and give it to a white girl instead. We watch Tiuri come to terms with the knowledge that his first father was a shaman, that this was why he was killed, and why Tiuri and his mother almost died with him. That he has these powers that will help decide the fate of the world. Eviellan doesn't have a part to play in it at all, even though the dark mage acquired his powers through the murder of Eviellan's shamen. It robs Tiuri, and Eviellan, of the agency that narrative arc demands for a satisfying conclusion, instead making them subject to Dagonaut and Unuawen once again.
Also frustrating is the show's decision to set up a sweet romance between two of the teenage boys only to kill one of them half an episode later. At this point, the bury your gays trope isn't just harmful to young LGBT+ viewers, it's also boring. There are many more characters they could have killed to produce the same emotional punch at that moment but instead, they decided to kill off one half of a newly minted gay couple.
That said, nearly all of the actors play their roles brilliantly—especially the young actors playing the knights, Lavinia, and Tiuri. The characters are engaging and there are even several complex and relatable villains, which is always hard to carry off. I cared about the heroes, and it was nice to see some actual diversity in a fantasy series even if it wasn't always handled well. I'm invested enough in the characters that I'd even watch a second season (or a spin-off following Iona and the remaining Red Riders), albeit tentatively in the hopes that they'd handle things better the next time around.
Still not sure what to watch tonight? Here are our guides for the absolute best movies on Netflix, must-see Netflix original series, documentaries, docuseries, and movies. 
Looking for something more specific? Here are our Netflix guides for the best war movies, documentaries, anime, indie flicks, true crime, food shows, rom-coms, LGBT movies, alien movies, gangster movies, Westerns, film noir, and movies based on true stories streaming right now. There are also sad movies guaranteed to make you cry, weird movies to melt your brain, old movies when you need something classic, and standup specials when you really need to laugh. Or check out Flixable, a search engine for Netflix.