This review contains discussion of suicide.
Rarely do documentarians put themselves in front of the camera. When they do, they tend play the clown or the omnipotent expert. It's not often they share their pain. 
Pain is the subject of Evelyn. More than that, pain is the substance of Evelyn. Director Orlando von Einsiedel turns his camera on himself and his family, reflecting on the death of his younger brother by suicide 13 years ago.
Evelyn
RELEASE DATE:
9/10/2019
DIRECTOR:
Orlando von Einsiedel
STREAMING:
Netflix
Director Orlando von Einsiedel turns his camera on himself and his family, reflecting on the death of his younger brother by suicide 13 years ago.
Von Einsiedel is a prolific and impressive documentarian, probably best known for his Oscar-winning short, The White Helmets, about Syrian first responders. Yet even with his history of working in conflict zones, this is hard for him. Von Einsiedel tells us early in the film, "Despite all of that, I can't bring myself to talk about my brother and how he died."
Evelyn, named for von Einsiedel's brother, follows the family as they walk through the departed's favorite natural spaces and reflect on his memory. Throughout the film, the von Einsiedels try to make sense of Evelyn's death. Periodically, they circle some definitive statements. At one point, their father remarks on the family history of mental illness. "He started to change when he was 18, and Evelyn was no exception there," he says. "We have a history in my family of male suicides, unfortunately."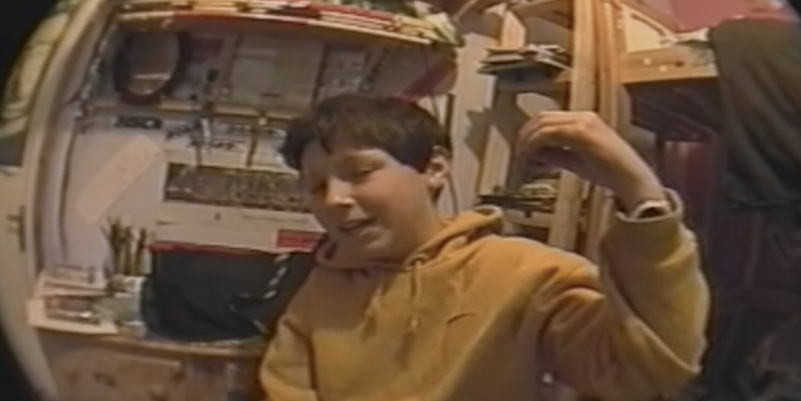 But these statements get quickly washed away in the rushing tide of emotions and memories. The family's experience is one of sorrow, memorial, and reflection far more than it is about finding answers. 
Visually, Evelyn is fairly simple, shot with the unpretentious confidence of an expert hand. Von Einsiedel contrasts simple footage of his family walking through the natural beauty of the U.K. with vintage home videos. The photography is meditative, never overwrought, and sometimes transcendent in its simplicity. The film periodically punctuates close-ups of sorrowful faces, forest paths, and wildflowers with impressive drone shots. It gives viewers the sensation that perhaps, Evelyn is watching with us. 
Much of Evelyn takes place in Scotland's national parks, including Cairngorms and Loch Lomond and the Trossachs. It's hard to imagine a more beautiful and appropriate backdrop for this film. The land is lovely but rugged. The landscape is far less developed than national parks in America. The family is often alone with their pain; you can almost feel the melancholy sitting heavy in the Scottish fog.
Orlando hikes with his brother, Robin, his sister, Gwendolen, his divorced parents, Andreas and Harriet (separately), and some close family friends. They all remember Evelyn in roughly the same way, as a beautiful yet troubled soul. But every family member deals with their grief differently. Some turn into themselves. Some lash out. Some chatter. They all cry—but they even do that in their own way.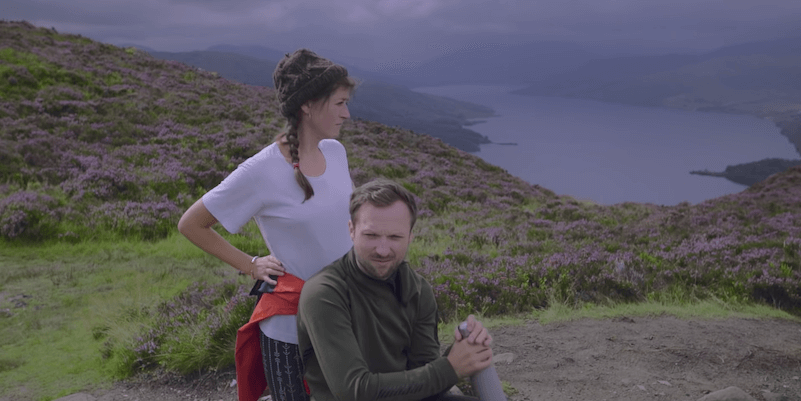 It almost feels unfair to pinpoint the most affecting moments of Evelyn. Every family member who appears on-screen is open and raw, inviting the audience into their pain. The ones with whom you resonate the most might depend on how you personally confront grief.
Leon, a family friend, deserves particular mention. He approaches the project with an honesty that the family members can't quite muster. In one of the film's most powerful moments, he confronts Orlando, questioning whether choosing to make a documentary allows him to hide behind the narrative he is presenting. It doesn't feel like a spoiler to say the filmmaker weeps. It doesn't feel like an outrageous prediction to say you will, too.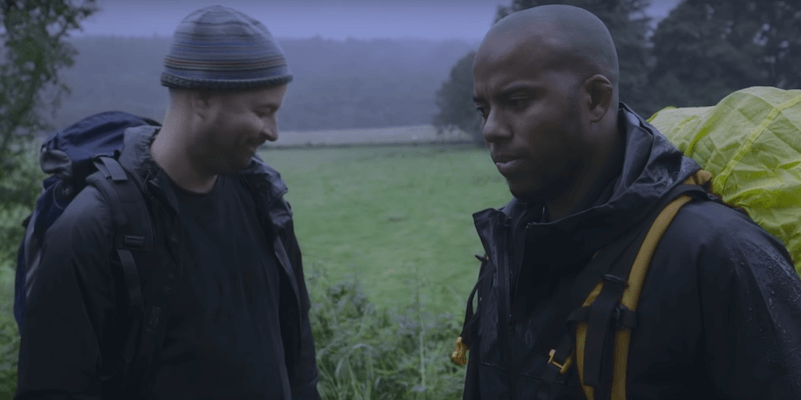 The kind of deeply personal exploration Evelyn offers would have made for a great film on its own. But Evelyn gets at something more universal. The film is about how all of us experience grief, and how we strive to understand how someone we love might take their own life. 
At one moment in the film, the family decides to get some ice cream. The seller takes their orders and they get to talking about their journey. John, the cashier, lost a family member to suicide as well. Later, the von Einsiedels meet a veteran who recently had three of his friends from the armed forces take their own lives. The ice cream seller and the veteran share something deep with the family in their brief interactions, communicated with only a few words but carrying immense power. They are proud of each other for sharing their pain. 
Obviously, Evelyn is not a feel-good date night film. It is powerful and raw, capable of producing deep, painful reactions. But if you are in a place to watch Evelyn, you will find the beauty amid the pain. 
For more information about suicide prevention or to speak with someone confidentially, contact the National Suicide Prevention Lifeline (U.S.) or Samaritans (U.K.).
Still not sure what to watch tonight? Here are our guides for the absolute best movies on Netflix, must-see Netflix original series, documentaries, docuseries, and movies.
Looking for something more specific? Here are our Netflix guides for the best war movies, documentaries, anime, indie flicks, true crime, food shows, rom-coms, LGBT movies, alien movies, gangster movies, Westerns, film noir, and movies based on true stories streaming right now. There are also sad movies guaranteed to make you cry, weird movies to melt your brain, old movies when you need something classic, and standup specials when you really need to laugh. Or check out Flixable, a search engine for Netflix.