Horror is a genre of big ideas. For all the countless remakes, ripoffs, and churned-out schlock, the heart of the genre revolves around telling big stories in small packages. Netflix's latest horror original, Eli, continues that tradition, using the framework of a haunted house story to explore a little boy with a strange and deadly disease living inside him. But beyond that foundation lays even more big ideas. 
Eli
RELEASE DATE:
10/18/2019
DIRECTOR:
Ciarán Foy
STREAMING:
Netflix
This high-concept riff on haunted houses and medical sci-fi will leave horror fans satisfied. 
Charlie Shotwell (Captain Fantastic) stars at the titular Eli, a boy living in an environmental suit to protect him from a vicious, unknown autoimmune disease. Even a moment's exposure to the outside world causes him to lose his breath and break out in blood-red rashes. His parents have drained their finances seeking a cure, finally finding the mysterious Dr. Horn (Lili Taylor). Eli journeys to Dr. Horn's giant home/lab/clean room to begin his brutally painful treatment by day, while ghostly visions haunt him at night. 
During his stay, Eli meets Haley (Stranger Things' Sadie Sink), a young girl who lives next door and communicates with him through the windows. It adds a charming human element à la The Secret Garden to the otherwise grim and sorrowful story. Eli's parents are complicated, with his mother fawning and his father verging on resentment. Dr. Horn is kind, but seemingly indifferent to Eli's suffering. And, of course, no one believes him about the ghosts.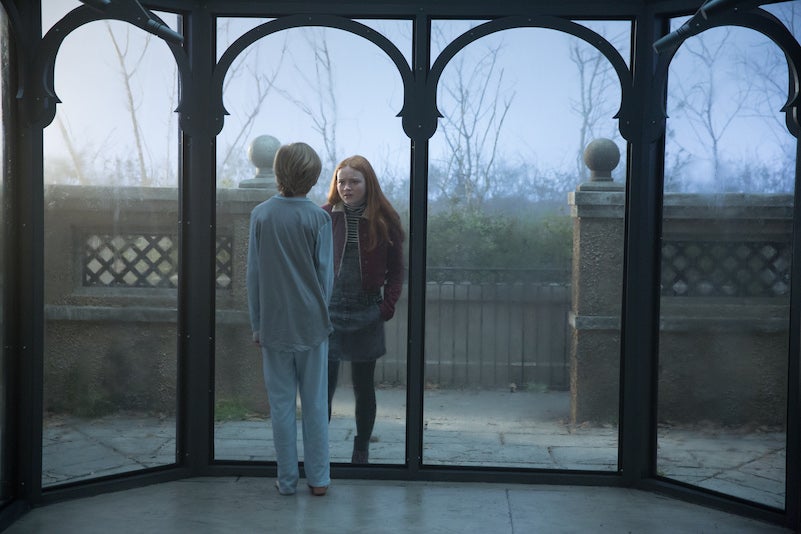 Directed by Ciarán Foy (Citadel, Sinister 2), Eli toes a delicate line of nearly overwhelming viewers with too many different ideas. There's a family drama, a high-tech medical mystery, ghosts, and betrayals of trust all building up to the film's final revelations. Yet despite its modest budget, Eli deftly tackles these big ideas.
Horror fans consume a ton of content, making us difficult to surprise sometimes. One of Eli's greatest strengths is its willingness to address the audience's preexisting knowledge. You've seen haunted houses and medical horror movies before, but Eli plays with those conventions to develop fresh scares along with familiar tropes. The interplay between its common roots and original ideas keeps the viewer off-balance. 
By utilizing jump scares along with a building sense of dread, Eli checks the boxes on all the various spooks that horror fans love. Each revelation and treatment elevates the tension, while the most traditional frights keep things fun. Watching a child suffer is always hard, and Shotwell delivers a horrifyingly anguished performance.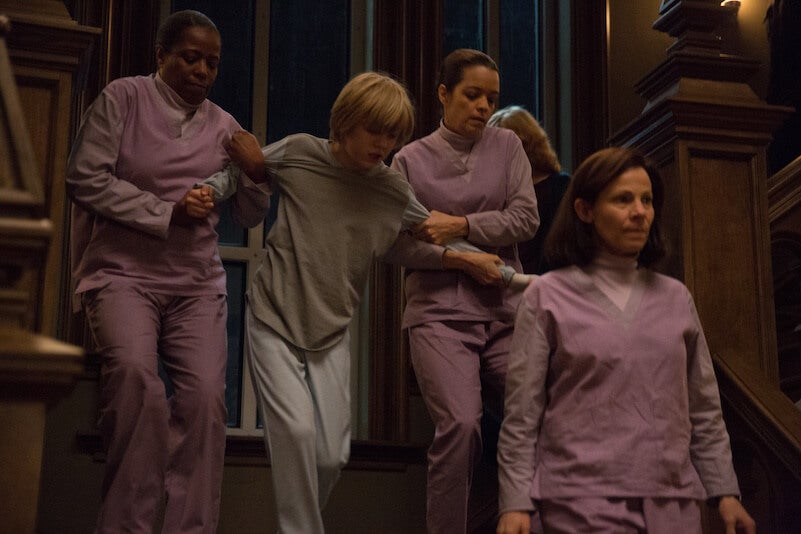 It's impossible to discuss the ending of Eli without ruining the whole film. How much mileage you'll get out of it depends on what kind of horror fan you are. If you've ever described a beloved yet flawed movie to a friend by saying, "I understand that, but…" there's a good chance Eli will leave you smiling.  The final idea is truly ambitious, the sort of thing you would usually only see in anime.
Yes, the haunted house movie about the bubble boy swings for the fences at the end. But after watching the film a second time specifically with this twist in mind, it makes sense. Threads, tiny though they may be, are placed carefully throughout the film. If the creators decide to make a sequel, there's plenty of meat left to explore on this bone, particularly regarding a secondary character. Even as a standalone picture, Eli is a satisfyingly spooky way to spend an evening. Folks who traditionally don't like horror movies won't be swayed, but these kinds of movies aren't for them anyway. Sometimes, stuff is just for us fans. 
Still not sure what to watch tonight? Here are our guides for the absolute best movies on Netflix, must-see Netflix original series, documentaries, docuseries, and movies.
Looking for something more specific? Here are our Netflix guides for the best war movies, documentaries, anime, indie flicks, true crime, food shows, rom-coms, LGBT movies, alien movies, gangster movies, Westerns, film noir, and movies based on true stories streaming right now. There are also sad movies guaranteed to make you cry, weird movies to melt your brain, old movies when you need something classic, and standup specials when you really need to laugh. Or check out Flixable, a search engine for Netflix.