Even tight-knit families have secrets. Growing up, Rachel Mason knew her parents ran a bookstore. It wasn't until high school that she learned the full truth. Circus of Books, her parents' store, was a landmark in the Los Angeles gay community. Serving as a cruising spot, porn store, and community space, Circus of Books was everything her straight-laced suburban Jewish parents weren't. Now, decades after learning the truth, Rachel has gathered her family together to tell the bizarre and oddly wholesome story of a mom-and-pop porn empire. 
Circus of Books

RELEASE DATE:
April 22, 2020
DIRECTOR:
Rachel Mason
STREAMING:
Netflix
'Circus of Books' is a powerful, sweet, and often wholesomely hilarious documentary about one family's unexpected gay porn empire.
In the '80s, the legality of distributing pornography was a grey area left up to the law. Gay porn, in particular, was heavily policed, the very act of participating in its sale a revolutionary. Karen and Barry Mason may be beautiful people, but they're also capitalists at heart. They didn't sell gay porn to make a statement about equality; they just knew money was green regardless of its owner's sexuality. At least at first. 
Circus of Books' greatest strength as a film is also its biggest weakness, namely that the director is the subject's daughter. Documentarians learning about their subjects throughout making a film is standard, but rarely does the subject fill in personal details of the director's past. At its best, this allows the viewer more in-depth insight into the emotional core of the story.
But often, Rachel's closeness to the subject gets in the way. There are moments you'd like to see her parents open up, but you realize it's impossible simply because of the family relationship. Karen Mason, in particular, struggles to open up to her daughter, unwilling to acknowledge her business was important even as she mourns its downturn.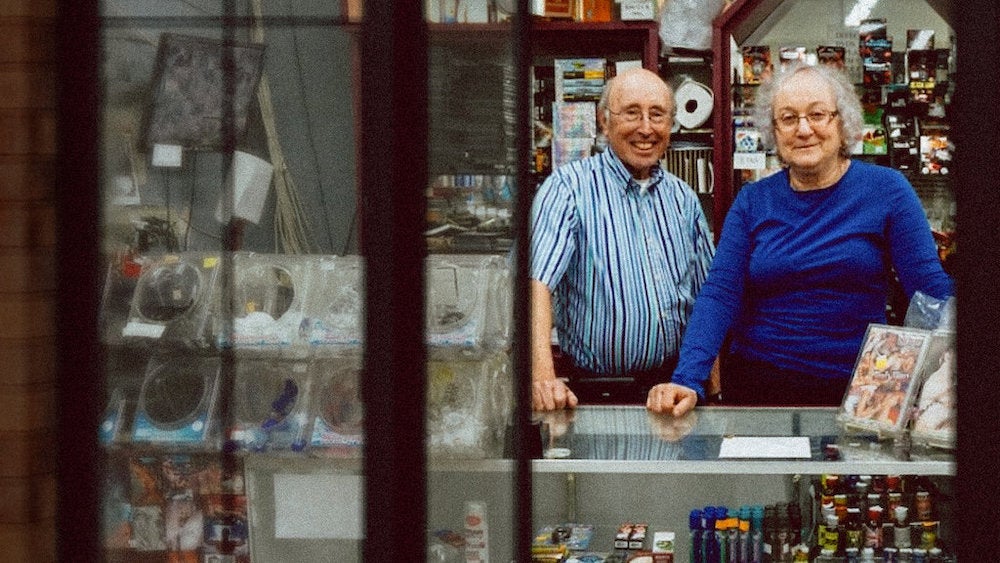 While the drama that comes from watching a filmmaker struggle with their subject is often hilarious, viewers looking for more details about the landmark store may be disappointed. There are two histories of Circus of Books, the one that helped inspire a generation of gay men and that of the quiet family behind the scenes. Over time, these two stories intersect in powerful ways, but this is the story of people on the periphery of the community—accidentally prominent figures who stumbled into something meaningful and let it grow.  
Barry is a goofball with a heart of gold, dedicated only to his family and his work. He's almost like a sitcom dad at times, always ready with a warm joke behind this smile. Incredibly, he's not the most interesting Mason who fell into the porn world. His wife, Karen Mason, is the real star of the film, a softly fierce woman torn between a loving heart and her deeply held conservative Jewish faith. Karen's life is a series of contradictions, each slowly rolled out through the film. She's incredibly religious, but her husband is indifferent to the faith. The conservative contingent of her religion sees homosexuality as an abomination, yet Karen earns her living through gay porn and loves many gay people.
Karen spends most of the film as the ultimate example of someone who says, "I have no problem with gay people" while having a secret caveat. She employs gay men, runs a gay porn empire, and visits friends dying of AIDS in an era of ignorance and hate against the LGTBQ community. But the separation of business family and real family is absolute in her mind. God is at home; she merely participates in the business at work. 
The third act of the film explores Karen's response to one of her children coming out. After a life of being "cool with gay people," Karen is faced for the first time with worrying about one's soul, with initially disastrous results. Through what can only be described as hard work, she comes to terms with her own issues with having a gay son. Witnessing her transformation from heartbroken mother to counselor for parents struggling to accept their own children's homosexuality is beautiful, yet brutal.
Straight people don't need redemption arcs or participation trophies for overcoming their bigotry, no matter how it's learned. Yet Karen's story is never self-congratulatory. Instead, she comes to painful terms with the hurt she caused her children. Rather than patting herself on the back, Karen becomes a crusader, doing the work of talking parents through accepting their children, so their children don't have to.
Towards the end of the movie, Karen tells the camera, "It's the parents' role to fight for change and the kids' role to have as normal a life as possible." After everything, we've witnessed—from the horrors of the AIDS crisis to Karen's homophobia—it's hard not to cry hearing her words.
There are moments when it's frustrating to see Circus of Books rush through the store's story to get back to the Masons. But even before she knew what kind of better world they would be fighting for, Karen and Barry Mason tried to make sure their kids had as normal a life as possible. Even when it eventually means questioning her religious beliefs.
Circus of Books is a technically flawed documentary. There are threads it picks up without fully exploring, and at a little over 90 minutes, it feels too short, making you long for the stories left on the cutting room floor. While the filmmaker occasionally feels too close to the subject matter, the details she draws out that only a daughter could are worth every moment her Mom tells her to stop making the movie. Ultimately, Circus of Books is essential viewing—a raw, often hilarious, moving story about a family working in the background of a marginalized culture.
Still not sure what to watch tonight? Here are our guides for the absolute best movies on Netflix, must-see Netflix original series, documentaries, docuseries, and movies.
Looking for something more specific? Here are our Netflix guides for the best war movies, documentaries, anime, indie flicks, true crime, food shows, rom-coms, LGBT movies, alien movies, gangster movies, Westerns, film noir, and movies based on true stories streaming right now. There are also sad movies guaranteed to make you cry, weird movies to melt your brain, old movies when you need something classic, and standup specials when you really need to laugh. Or check out Flixable, a search engine for Netflix.