Netflix's latest acquired international film All the Freckles in the World has very little—if anything—to do with freckles. 
The Spanish coming-of-age drama is about youngster José Miguel and his efforts to win over the girl of his dreams, who is not only out of his league, she's also already in a relationship. If you feel like you've heard this plot before, that's because you have. The plot isn't just pedestrian; it also has sexist undertones and rewards José Miguel's problematic behavior. The movie gives off some major John Hughes '80s vibes—and not necessarily in a good way. Just like The Breakfast Club and Sixteen Candles, All the Freckles in the World celebrates shady treatment of women and definitely won't age well. 
All the Freckles in the World
RELEASE DATE:
01/03/2020
DIRECTOR:
Yibran Asuad
STREAMING:
Netflix
The Spanish coming-of-age drama is about José Miguel and his efforts to win over the girl of his dreams, who is both out of his league and already in a relationship.
All the Freckles in the World takes place in Mexico City circa 1994 as the World Cup kicks off in the United States. Little 13-year-old José Miguel (Hanssel Casillas) has been uprooted with his family to live at his deceased grandparents' house and attend a new private school. José Miguel makes fast friends with punk Liliana (Andrea Sutton Chávez) and Malo (Alejandro Flores) and falls in love with upperclassman Cristina (Loreto Peralta). José Miguel may not have any interest in the World Cup, but Cristina does, so he challenges her boyfriend—who is a talented soccer player—in their school's soccer tournament. The winner gets to keep Cristina.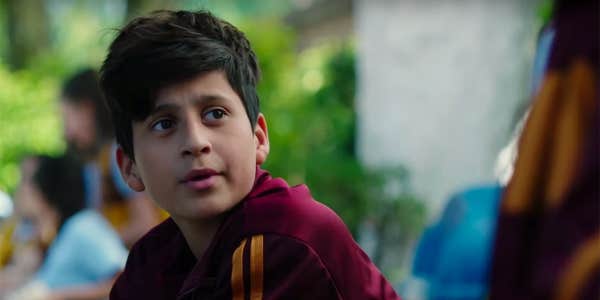 Our "protagonist" is the least likable character in the movie. The film writers want us to see José Miguel as the underdog. He brings an airplane-themed lunch box to school, sincerely introduces himself on his first day of school as "an inventor," and is much shorter than the rest of his classmates. But when he sees Cristina—the stereotypically hot blonde upperclassman—he boldly declares that she will be "his." And that's when José Miguel becomes problematic and hard to root for. He sees Cristina as a conquest and "works hard" to win her over from her longtime boyfriend, Kenji. Once they actually become friends, he lies to her over and over again and treats her like she's territory to be won. 
The supporting cast generally lacks motivation and compelling backstories. Malo is a 19-year-old who has never passed his freshman year and is having an affair with his teacher, but neither of those ideas are explored beyond the surface, making it difficult to understand why such details were included. Liliana is a punk who likes rock music and immediately falls for José Miguel–but her fixation with him is the extent of her character development. Cristina is given even less: At age 14 she's a glorified sex object who oddly sucks on lollipops in every scene and supposedly gives come-hither looks to José Miguel even though they've never met. We never learn anything else about her. 
Also, in case you were wondering—nobody ever utters the word "freckles" in the film. Cristina has some subtle freckles on her face, but they're hardly "all the freckles in the world." 
The actual film production and soundtrack are pretty compelling, however. The film may have suffered from poor writing, but director Yibran Asuad masterfully uses detail shots to tell more with less. The film is appropriately soundtracked by the sounds of '90s rock. 
The movie would be less disappointing if José Miguel ever learned a lesson from his exploits. By the time the credits roll, all he has done is make excuses for himself and made himself into the victim of his own bad decisions. Coming-of-age movies about problematic men are only worthwhile if they at least learn something valuable by the end. 
Still not sure what to watch tonight? Here are our guides for the absolute best movies on Netflix, must-see Netflix original series, documentaries, docuseries, and movies. 
Looking for something more specific? Here are our Netflix guides for the best war movies, documentaries, anime, indie flicks, true crime, food shows, rom-coms, LGBT movies, alien movies, gangster movies, Westerns, film noir, and movies based on true stories streaming right now. There are also sad movies guaranteed to make you cry, weird movies to melt your brain, old movies when you need something classic, and standup specials when you really need to laugh. Or check out Flixable, a search engine for Netflix.