23-year-old Yuma Takada (Mei Kayama) is creative, talented, loved, and excited for the future. She lives in Japan with her mother, and works as a Manga artist for her cousin, hoping to make it on her own. She has cerebral palsy, a condition that affects her mobility. But in a so-called media representation renaissance where people with disabilities are still largely underrepresented, 37 Seconds, directed by Hikari, aims higher than the inspiration porn that often shows people with disabilities "inspirationally" "overcoming" them, though it has its own faults.
37 Seconds

RELEASE DATE:
1/31/2020
DIRECTOR/CREATOR:
Hikari
STREAMING:
Netflix
37 Seconds follows 23-year-old Yuma as she manifests her dreams, challenges and explores emotional boundaries, and finds a piece of her she did not know was missing.
Yuma is open about her vulnerability and low self-confidence, but she knows she deserves better—from her caring but overbearing mother, her exploitative cousin, and from those people she looks to for platonic and romantic relationships. 37 Seconds doesn't fixate on Yuma's disability, nor does it ignore her experience living with cerebral palsy, and the dehumanizing behavior she gets from people who discriminate against her. Plucked straight from the archives of the coming-of-age genre, 37 Seconds follows Yuma as she manifests her dreams, challenges and explores emotional boundaries, and finds a piece of her she did not know was missing.
Minutes into 37 Seconds, the audience becomes familiar with the deep intimacy of Yuma's relationship with her mother (Misuzu Kanno), her sole caretaker and only immediate family member. (Her father, who wrote to her once, left their family when she was a child.) Whereas her mother cares because she loves, her cousin, Sayaka (Minori Hagiwara) cares for her own benefit. As a famous YouTuber and Manga illustrator, Sayaka passes off Yuma's talent as her own, steals from Yuma's wages, and ignores her at a signing event, afraid to be associated with Yuma publicly, even when her editor suggests exploiting Yuma further in order to expand her fanbase.
After making several cold calls and drawing up a sample for a pornographic manga publisher, she's told by the editor that the sex scenes don't look real enough, and is invited to resubmit her work once she can draw realistic-looking sex scenes from experience. The suggestion, and plot line, is so expected it might almost be boring, but it's just the impetus at the beginning of a more fulfilling adventure.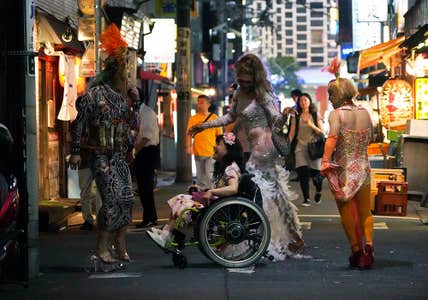 Yuma's dates are fun and entertaining, until they're not. Her longest date night features her getting stood up by a man who made ableist comments about her on their first date, a sex worker who mocked her to someone over the phone while at a love hotel, an unsuccessful attempt at sex with said sex worker, and an inaccessible elevator. At the height of her evening, she finds an ally in Mai (Makiko Watanabe), another sex worker whose client Mr. Kuma also uses a wheelchair, who asks Mr. Kuma's driver Toshi (Shunsuke Daito) to assist Yuma.
In Mai and Toshi, Yuma find friendship and entertainment, cultivating a life outside of her mother's understanding. However, when her mother finds out what Yuma's been up to, she's forced to negotiate new boundaries, and distance herself from the people in her life who treat her the way they do because of their misconception of her ability, putting herself on a course for greater discovery and independence.
Hikari creates a depicts a deep, complicated relationship between Yuma and her mother, exploring the ways in which her mother is more dependent on her presence than vice versa, and her mother's abusive inclinations once she begins to feel Yuma pull away. Kayama's portrayal of Yuma is one of strength, and she keenly communicates emotion with the slightest changes in facial expression, her disappointment and hope feeling heavier when it's not as visible, remarkable for being a newcomer.
The director shies away from casting Yuma's mother as a total villain, and Sayaka, Mai, and Toshi have aspects of multidimensionality to them, too. They aren't just depicted the catalysts or keepers of Yuma's growth, giving Yuma full agency over her decisions. The film itself is beautifully shot, some shots rolling for what seems like minutes, just building with emotion and anticipation, communicating the weight of the sadness, happiness, dejection, and joy that Yuma and her mother experience.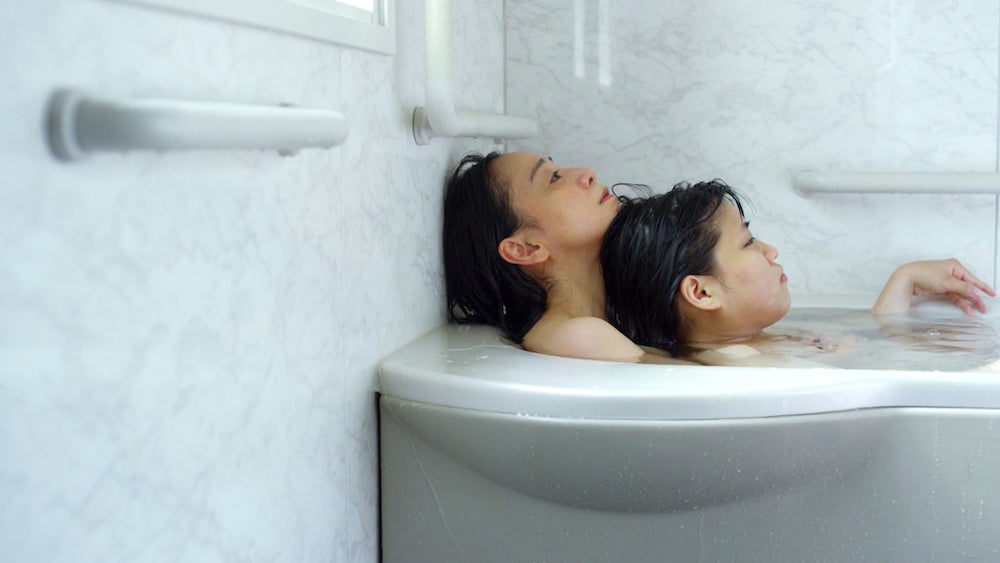 I'm cautious to give a definitive assessment of 37 Seconds's success in its depiction of someone with disabilities as an able-bodied viewer, but there were moments in the film that stood out to me as regressive. When Yuma asks Mai about having sex with people with disabilities, Mai characterizes them as angry at the world. At the end of the film, Yuma muses about what her life would be like if she didn't have cerebral palsy, and then expresses acceptance that she does. I can't justify these moments from such an otherwise good film, parts that seem to be projecting able-bodied misconceptions that people with disabilities are angry because of their disabilities, or fantasize about being or should want to be able-bodied, or must "make peace" with their disability. With a film that seems to have a steady hand on nuance, I wonder why these moments couldn't be more empathetic and honest.
Overall, 37 Seconds is enjoyable, it's entertaining, it's an adventure. It gets at the heart of what it's like to find things out about yourself that you didn't know before, and to enjoy the newness of being a young adult. I felt triumphant for Yuma when she was happy, and nervous for her when she was vulnerable. People with disabilities deserve greater representation and stories in film and TV, ultimately with narratives that explore their lives in addition to their identity and ability. 37 Seconds is, at the least, a start.
Still not sure what to watch tonight? Here are our guides for the absolute best movies on Netflix, must-see Netflix original series, documentaries, docuseries, and movies. 
Looking for something more specific? Here are our Netflix guides for the best war movies, documentaries, anime, indie flicks, true crime, food shows, rom-coms, LGBT movies, alien movies, gangster movies, Westerns, film noir, and movies based on true stories streaming right now. There are also sad movies guaranteed to make you cry, weird movies to melt your brain, old movies when you need something classic, and standup specials when you really need to laugh. Or check out Flixable, a search engine for Netflix.