Netflix kicked off 2020 with The Circle, a reality show where contestants used online personas to communicate with each other. Now it's taken things a step further with the sensational, soapy, occasionally dumb dating show Love Is Blind. Contestants try to find a spouse by talking to members of the opposite sex through a wall over the course of a few days. The contestants who get engaged then are given roughly a month to plan their wedding and start a new life together. Their goal is marriage, but the result is a hilarious trainwreck with occasional moments of beautiful humanity. 
Love Is Blind


RELEASE DATE:
Feb. 13, 2020
HOSTS: Nick and Vanessa Lachey
STREAMING:
Netflix
Love Is Blind
borrows shamelessly from other reality shows but uses its stolen parts to tell a surprisingly deep, and addictive, story.
From the offset Love Is Blind presents itself as a social experiment, which makes sense. Trying to elevate your reality show by calling it an experiment is a long-standing tradition in the genre, from The Real World to Survivor. The supposed experiment on Love Is Blind is that these people don't see each other before getting engaged. In actuality, Love Is Blind's biggest experiment is with the form and pacing of reality shows. 
Having seen the entire season, Love Is Blind's biggest asset is how much it changes over time. Love Is Blind will be released in blocks, with each block centering on an aspect of the journey. Episodes 1 through 5 hit Netflix Feb. 13, episodes 6 through 9 arrive Feb. 20, with the finale episode coming Feb. 27.
Each block is almost its own different reality show with the same people. Block one is a gimmick reality show like Survivor or Netflix's own The Circle. Groups of men and women talk to each other one-on-one through a wall, with the surviving couples taking a trip to get the know each other. Block two is closer to shows like 90 Day Fiance; following the couples as they go home, meet family members, and merge lives. We end with the finale which turns wedding ceremonies into a kind of elimination chamber.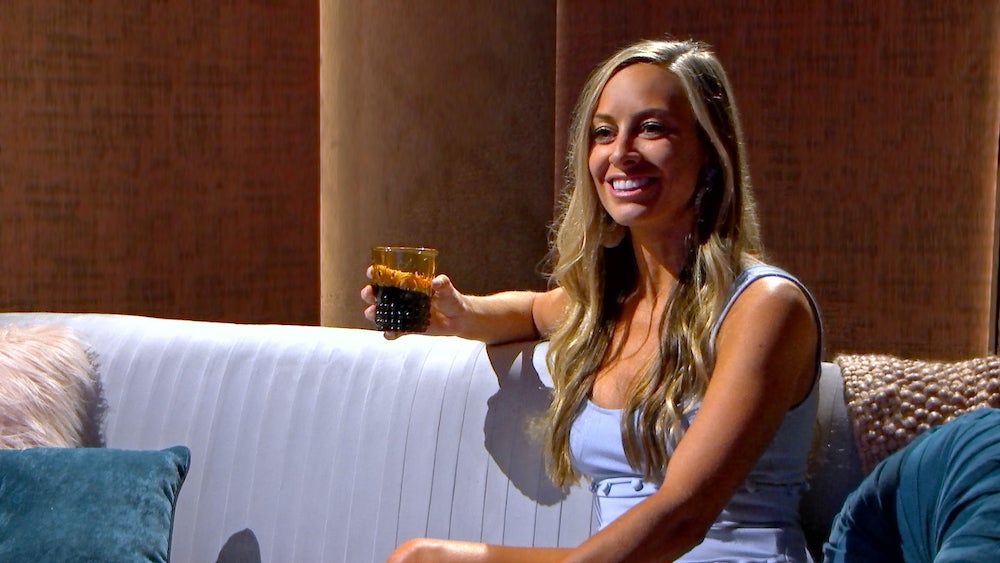 It would be easy for all this jumping around to get jarring. Instead, it allows Love Is Blind to avoid the repetition of other reality shows even if its premise isn't particularly original. We've seen every gimmick here before on other shows like The Circle, Survivor, Real World, 90 Day Fiance, The Proposal, The Bachelor, True Life, Big Brother, and a thousand others. You just haven't seen all of these ideas thrown in a blender before like Love Is Blind does. 
It also means producers can't fall back on familiar tropes as often. For example, the show starts with the men and women living in separate quarters. During the day they talk to prospective matches and at night they pine over their love. We've seen countless shows where contestants live in the same house together. Mix in alcohol and lust, and normally that's a recipe for reality show gold. But Love Is Blind barely spends two episodes in the house and focuses most of that time on the one-on-one interviews between couples. When a woman does get drunk and tell another player the guy she likes is trouble, it's a minor moment. Not a blow out like you'd expect on The Bachelor or Real World. 
If there's one thing Love Is Blind's producers should be commended for it's how little manufactured drama there is. Particularly when viewed alongside the current season of The Bachelor where producers hired a country singer to perform on the show who used to date one of the contestants. Love Is Blind blissfully avoids these sorts of manufactured problems. It makes the actual stories being told feel more authentic, even as the situation remains absurd. This technique allows subplots like a contestant who keeps getting drunk and hitting on someone else's fiance to stand out. You never feel like anyone is being set up for an embarrassing moment, so when those moments arrive it's almost worse. 
Love Is Blind was also lucky to end up with the couples it did. I truly can't remember enjoying watching people's personal growth this much on a reality show before. There are a few house fires, but most of the couples end up being good people trying their best. It plays with your expectations over the first few episodes, letting you get to know everyone through their conversations. These moments are occasionally surprising, like the tender reaction a rough southern frat boy has after discovering someone had an abortion. With one glaring exception, you'll probably end up rooting for all of these couples.   
The show says it's asking if love is blind, but once contestants leave their Mexican vacation and hit home, the reality becomes clear. You might be able to fall in love in darkness, but keeping love alive requires hard work. In these moments you start to see how smart the mixed-up nature of the show is. These couples go from a thought experiment to paradise to home in little more than a week, bringing with them an entirely new person. What happens when you find out your idealized lover doesn't have a job and has been couch surfing? 
---
---
More importantly, what happens when you leave paradise? For many of these people talking to their partner through a wall was more intimate than real-life conversation. This reality becomes so hard for them to ignore that multiple couples end up talking to each other from different rooms when they get home. They need to recreate the pod experience to remember why they loved this person. It's fascinating TV.
Frustratingly the show only gives us a few episodes of these interactions before the season is over. I wanted more, for me and for these people. Why didn't any of these couples go to therapy? It would have been incredible to watch them talk through their issues with a professional. Instead, we get delicious, yet fleeting, bits of people in over their heads fighting for their relationships. I regularly found myself shouting "talk to a marriage counselor you idiots." 
Even worse, Love Is Blind never bothers to answer its own question. This is largely because it needs to work as a series. There are people who get hurt because of the arbitrary timelines involved, not their desire to be in their relationship. It would be interesting to see what would happen if these people had six months to plan their wedding instead of a few days. Allow them to process, grow, and mature their love. But we don't get to see that show because rushing the big day leads to juicer problems than nurturing love does. 
Ultimately Love Is Blind vaults over its deeply cringe-worthy concept thanks to breathless pacing and compelling cast. All reality shows feel fake at times, but there's an honesty here that's hard to be cynical about. If Love Is Blind borrows anything from 90 Day Fiance, it's that show's earnestness. As absurd as the premise is, no one seems to be playing for the camera, which makes it much easier to get lost in the story. 
Still not sure what to watch tonight? Here are our guides for the absolute best movies on Netflix, must-see Netflix original series, documentaries, docuseries, and movies. Looking for something more specific? Here are our Netflix guides for the best war movies, documentaries, anime, indie flicks, true crime, food shows, rom-coms, LGBT movies, alien movies, gangster movies, Westerns, film noir, and movies based on true stories streaming right now. There are also sad movies guaranteed to make you cry, weird movies to melt your brain, old movies when you need something classic, and standup specials when you really need to laugh. Or check out Flixable, a search engine for Netflix.