Roberta was dead to begin with.
La Casa de Las Flores, a new Spanish-language Netflix telenovela set in Mexico City, kicks off with an incredibly striking image. The camera eases its way through a beautiful high-end flower shop only to land on a dangling pair of stilettos: Roberta is hanging herself.

The death of Roberta, a woman we will soon come to know as the mistress of a family patriarch and the keeper of numerous secrets, is going to have severe consequences. In true soap operatic fashion, this death will kick open a number of closets, and skeletons will come marching out at a furious pace.
As many soap operas have done in both the U.S. and Mexico, La Casa de Las Flores, created by prolific 33-year-old writer and director Manolo Caro, follows the exploits of a wealthy family with a lot of secrets. The family business is a flower shop, but this is not some rinky-dink operation. We get the sense that this family provides flowers to the rich and famous for weddings, funerals, and any other special occasion the idle wealthy might cook up. Status matters in their world and too many unsavory secrets being aired out in the open could be ruinous.
How do we know that La Casa is on the verge of collapse? Diego, the family's financial advisor (Juan Pablo Medina), who also happens to be the secret lover of one of the sons, a son who happens to be in a relationship with a gold-digging socialite, lets us know of course!
The previous sentence probably tells you what kind of show this is, but if it isn't quite clear, let's discuss some other subplots. One daughter is bringing home her African-American boyfriend from New York City, but some family members are racist. Mom has a secret drug habit. The youngest son is a little too fond of the sauce. Another daughter hints at conspiring with the police chief on a cover-up. And there's a mariachi band! That's all just in the pilot.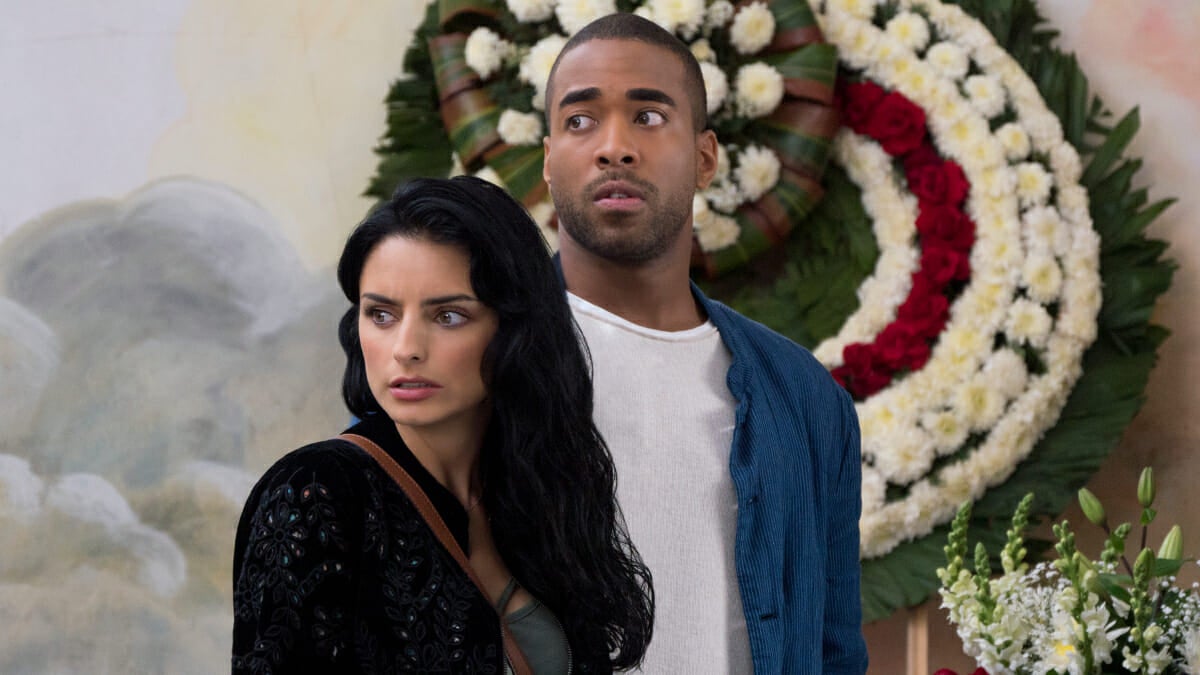 This is a telenovela with a capital "T." If your only frame of reference for the form is Jane the Virgin, and you'd like to see more, this might be a good next step.
La Casa de Las Flores bills itself as a telenovela with a modern twist, and it mostly follows through on that promise. While it packs in the requisite amount of plot twists you would expect from a Mexican soap, the series offers a level of wokeness that you might not expect. Issues of race, class, and LGBTQ rights are front and center.
One of Roberta's secrets is that there is another "La Casa de Las Flores," a working-class drag cabaret, meant to contrast the bourgie La Casa de Las Flores of the show's title. The other Casa is used to draw attention to the sharp socio-economic and racial divides that persist in modern-day Mexico City. Our patriarch (Arturo Rios) is torn between the two Casas, two women, and as such, between two sides of the economic divide in CDMX.
Despite these serious topics, there is a winking comedic playfulness that emerges in the show, particularly in scenes set at the bar. The series is being advertised as dramedy, and we wouldn't go that far (unless some of the humor is lost in translation), but it is fair to say that there is a fun, light touch to the proceedings that show Caro's love the telenovela genre, and he isn't here to take things too seriously. La Casa stops short of being subversive or parodic, but it is light-hearted and self-assured.
If the subject matter is a little adventurous, the character development is less so. Paulina (Cecilia Suárez) is the stern perfectionist daughter trying to hold the family together. Virginia (played by telenovela legend Verónica Castro) is the goofy-yet-sexy-yet-devious matriarch who know more about the world than she lets on. Claudio (Lucas Velazquez) is the ladies' man who is actually staying in the closet to keep up appearances.
While the show avoids cliche telenovela overacting and pushes the social boundaries of the form, it doesn't necessarily try to escape the comfortable confines of the genre in other ways. If you're looking for something unique and subversive, Netflix's Spanish offering Cable Girls, a period soap that follows the lives of female telephone operates in late 1920s Madrid, is a more accomplished and challenging series.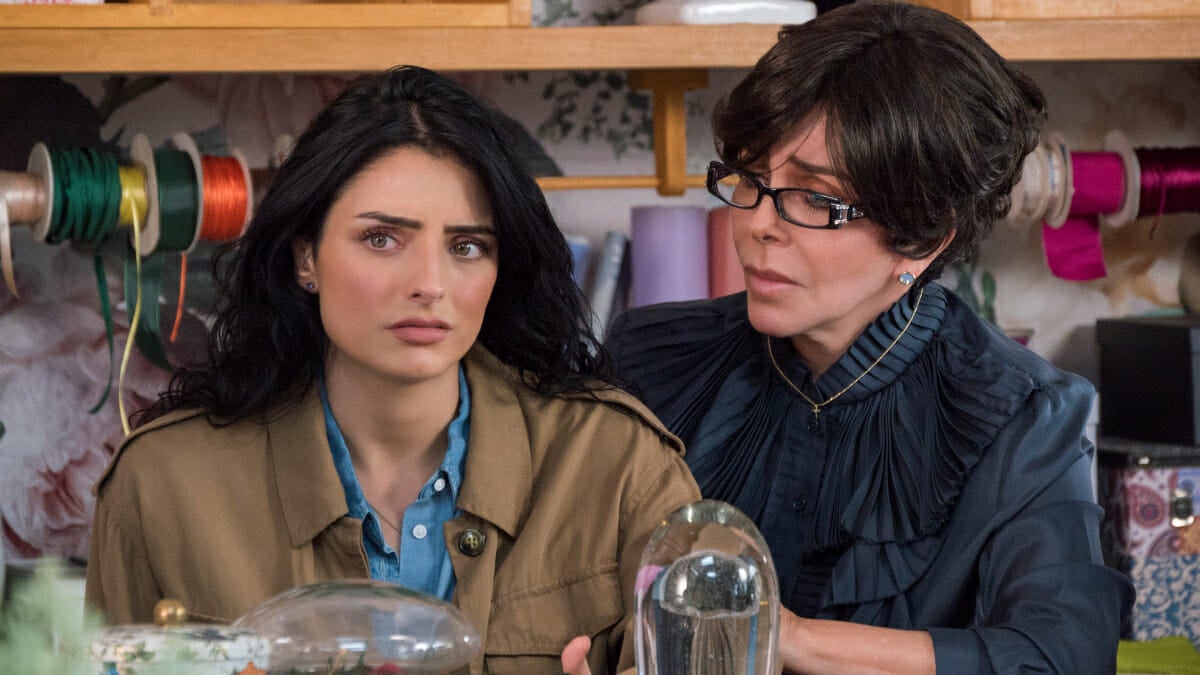 That isn't to say you won't like La Casa de Las Flores. Light, airy camerawork, musical flourishes, periodic touches of humor, and the lively pace come together to create a nice piece of comfort television. The scenes shot on location work particularly well, as the classic beauty of Mexico City, a beauty that is lost is most American representations of Mexico, is on full display.
But, here, again, you are left wishing the show had pushed further. The high-class old money colonia (neighborhood) of Polanco is (at least spiritually) where we can assume the story takes place. However, there are more hip, vibrant areas of Mexico City, like Roma Norte and La Condesa (often compared to Silverlake, Los Angeles and Williamsburg, Brooklyn) that are just begging for a proper TV treatment. If Netflix were to head to one of these colonias to produce something that blended American shows like Girls, Insecure, and Looking with telenovela style, the streaming giant could have a transformative international hit. If the show truly had ambitions of updating the telenovela, something like that could bring the form in line with the best in modern TV.
La Casa de las Flores offers exactly what many soap opera fans want when they turn on the television or computer after a long day: the visual equivalent of a warm bath. And while it may preserve the telenovela to a new generation, it stops short of challenging the genre. If you want some good old-fashioned soapy gloss with some modern renovations, La Casa de las Flores will do the trick.
https://www.youtube.com/watch?v=I-z8-ZEiVw0
Still not sure what to watch tonight? Here are our guides for the absolute best movies on Netflix, must-see Netflix original series, documentaries, docuseries, and movies.
Need more ideas? Here are our Netflix guides for the best war movies, documentaries, anime, indie flicks, true crime, food shows, rom-coms, LGBT movies, gangster movies, Westerns, film noir, and movies based on true stories streaming right now. There are also sad movies guaranteed to make you cry, weird movies to melt your brain, old movies when you need something classic, and standup specials when you really need to laugh. Or check out Flixable, a search engine for Netflix.