Rarely is a holiday film a masterpiece. An It's A Wonderful Life or Muppet's Christmas Carol only comes along once or twice in a generation. But this time of year, we aren't necessarily looking for a Criterion Collection–worthy selection to get us in the Christmas spirit. It's enough for a Christmas movie to tell a fun story and not take itself too seriously. 
Holiday Rush
RELEASE DATE:
Nov. 28, 2019
DIRECTOR:
Leslie Small
STREAMING:
Netflix
A fun, brisk film about a New York radio DJ realizing there is more to Christmas than material things, Holiday Rush should scratch your Yuletide itch.
Holiday Rush, released on Netflix Nov. 28, understands this, and as a result, turns out to be one of the most enjoyable of the glut of Christmas movies being released in 2019. 
Hallmark Channel and Netflix are in a Christmas movie arms race this year, with other players like Freeform and ABC entering as well. In a sea of hastily cobbled-together rom-coms that end with a Christmas morning kiss, Holiday Rush has charm, personality, and care that you don't always see in the made-for-TV (or made-for-streaming) holiday movie space.
First and foremost, credit goes to lead actor, Romany Malco, who plays Rashon "Rush" Williams. The charming character actor steps into the leading man role here and brings a sweet comedic sensibility that elevates the material and drives the story forward. Probably best known as Conrad in Weeds or Jay in The 40-Year-Old Virgin, Malco is always a game and generous scene partner, and his work in Holiday Rush is no exception.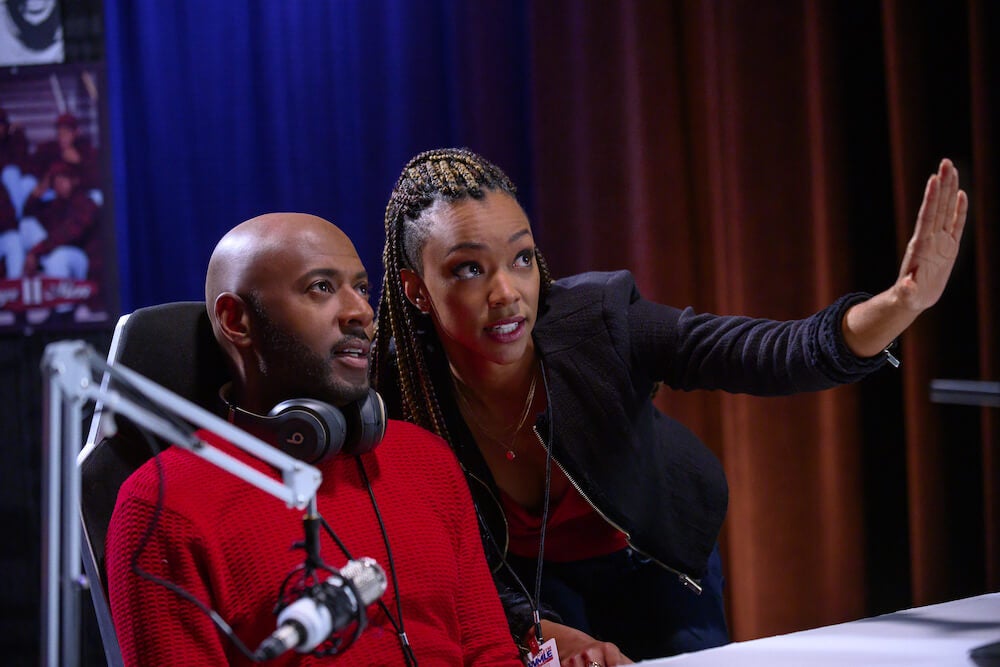 Malco's comic energy is complemented by the well-paced script that tells the story of Rush's firing from a prime slot as a beloved New York hip-hop DJ and his holiday scramble to pick up the pieces of his life and support his family's expensive lifestyle. 
With a tight script, Holiday Rush writers Sean Dwyer and Greg Cope White eliminate the dead air that can be deadly in these holiday rom-coms. It's OK to be saccharine or even schmaltzy, but too many films like this bring the action to a halt so that the characters can appreciate the season at the expense of the plot. There are sweet moments here—home videos are watched and Christmas songs are sung—but the story always keeps moving.
Here, the show must go on, and tricks like couching dialogue in text messages, unloading exposition in a voice-over rewrite of "Twas the Night Before Christmas," and giving Rush four children to encourage a rat-a-tat pace in family scenes keeps things brisk.
The strong supporting cast also knows what kind of film they are in, and they support the story with quick, broad performances that keep the action lively. The standout of the film is Deon Cole as aloof, scummy radio boss Marshall Stone, but Darlene Love as "Aunt Jo," and Desha Nelson as Rush's daughter Mya deserve mention as well. Every actor in the film is on the same page and in the same movie.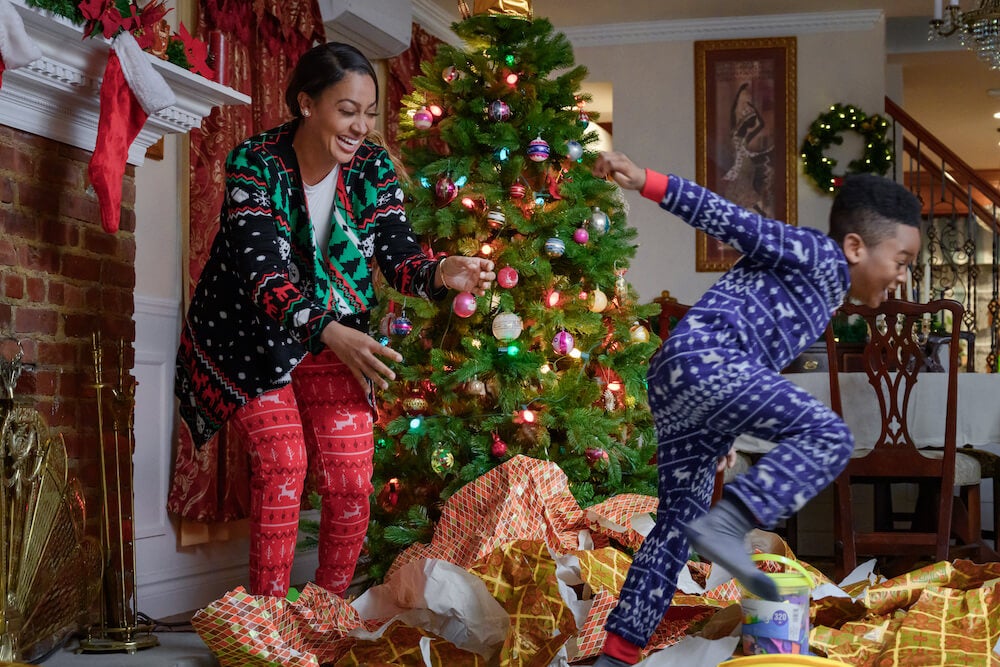 Holiday Rush isn't necessarily destined to be a Christmas classic. A clumsy subplot featuring Rush's dead wife (La La Anthony) includes her ill-advised appearance as a ghost. The simmering economic tension of the film is resolved a bit too easily in the interest of Christmas cheer. The sexual tension between Roxy Richardson (Sonequa Martin-Green) and Rush moves into genuine love before we can get any will-they won't-they fun you expect from a great rom-com. 
But, for a film that is meant to be unwrapped for the holidays and then forgotten, all of these sins are forgivable. Christmas is a season for forgiveness after all, and with lines like, "Why do I have to have smart kids? Dumb kids are way cheaper," and "Promise me something. That Santa will bring me at least one Insta-worthy moment," it's hard not to just sit back and enjoy the show. 
If you are looking for a holiday masterpiece, there are plenty of places that you can watch Jimmy Stewart contemplate his life in black and white this Christmas season. If you want something fresh and fun, you could do a lot worse than Holiday Rush.
Still not sure what to watch tonight? Here are our guides for the absolute best movies on Netflix, must-see Netflix original series, documentaries, docuseries, and movies. 
Looking for something more specific? Here are our Netflix guides for the best war movies, documentaries, anime, indie flicks, true crime, food shows, rom-coms, LGBT movies, alien movies, gangster movies, Westerns, film noir, and movies based on true stories streaming right now. There are also sad movies guaranteed to make you cry, weird movies to melt your brain, old movies when you need something classic, and standup specials when you really need to laugh. Or check out Flixable, a search engine for Netflix.