Netflix's Criminal ​is the streaming giant's credible and often gripping turn at the popular police-drama procedural. Armed with a novel premise, the sweeping crime-solving series takes place in four separate countries (United Kingdom, Spain, France, Germany) for three episodes in each location. The big trick: All 12 episodes transpire almost entirely within the metropolitan police interrogation rooms in each country.
Criminal
RELEASE DATE:
9/20/2019
CREATORS:
Jim Field Smith, George Kay
STREAMING:
Netflix
'Criminal' ​is Netflix's credible and often gripping turn at the popular police drama procedural.
While capturing country-specific tones, police mores, and language differences, Criminal manages to reach deeper into the core of police drama without the bells and whistles, tersely drilling down to the mental struggle between the police and the suspects.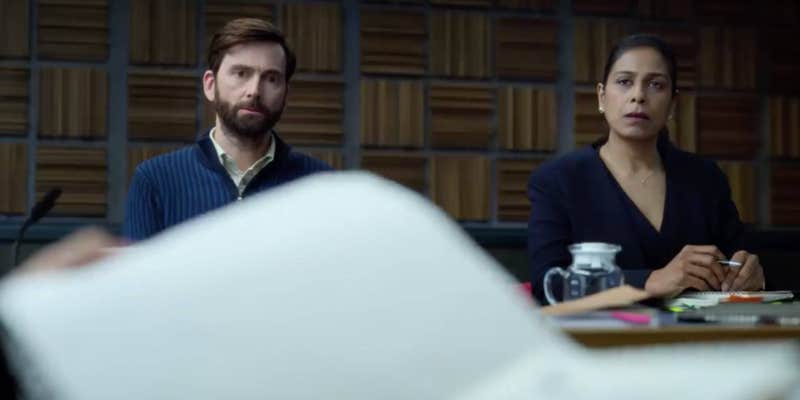 In various approaches, it would appear that Criminal hopped up off a giant Petrie dish, a film experiment come to life. All 12 episodes of the show were filmed at Netflix's Ciudad de la Tele production hub in Madrid. Only the slightest of differences were included to present a country-specific and single-set look, mostly in color and tone. 
Criminal's staging isn't an entirely new idea: Ryan Reynolds in Buried or Tom Hardy in Locke come immediately to mind, though in even stricter settings. Like those films, the show puts the talented groups of actors in a box without netting or tricks. No one is being chased down a noirish, darkened ally on a stormy night. Surprise allies (or enemies) aren't walking through the door with grand secrets or grudges.
In the U.K. version's first episode, David Tennant (Good Omens, Doctor Who) plays Dr. Fallon, charged with sexually assaulting and callously murdering his teenage step-daughter. The view of ice-chilled water easing down his character's veins is staggering. Lee Ingleby, Katherine Kelly, and Nicholas Pinnock are fine as the lead detectives on the case. However, the episode isn't much unlike one would see in Law & Order: SUV.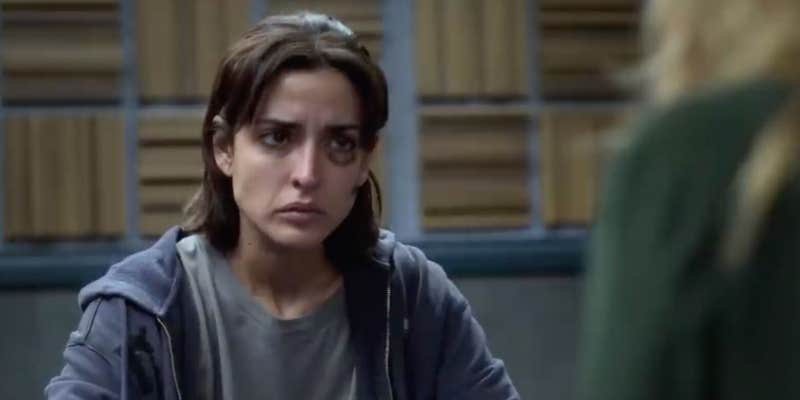 Writers for Spain, France, and Germany provide more nuance in their editions. For example, the German variant premieres by peering into the former division of East and West Germany, involving a cold case about two men living behind the Berlin Wall. The French edition commences with the story entrenched in a specific real-life event: a terrorist attack during a 2015 Eagles of Death Metal concert in Paris, where 89 people perished.  
Criminal's broad (and expected) issues lie mainly within the premise's confines. The characters end up forced into familiar crime drama tropes, fed out the inability to create consistency found in most serials. You're to take each revolving role as they come, as you almost barrow from ubiquitous shows like Law & Order for references—which leads to another question.
Are there differences in each country's policing or is the series' sameness based around the continued (profitable) export of an American-styled policing dramatization? 
Those inquiries aside, for disbelief suspension, Criminal works in the same high-wire capacity as a Mamet-like single-act play where everything is minimally built out, arched upward into a sturdy peak, then solved in 45 minutes. That the bulk of the episodes accomplish these tasks with only a trifling measure of tedium is a minor miracle. Netflix managing successful carriage of a credible franchise set for four countries, simultaneously, is just as impressive.
Still not sure what to watch tonight? Here are our guides for the absolute best movies on Netflix, must-see Netflix original series, documentaries, docuseries, and movies.
Looking for something more specific? Here are our Netflix guides for the best war movies, documentaries, anime, indie flicks, true crime, food shows, rom-coms, LGBT movies, alien movies, gangster movies, Westerns, film noir, and movies based on true stories streaming right now. There are also sad movies guaranteed to make you cry, weird movies to melt your brain, old movies when you need something classic, and standup specials when you really need to laugh. Or check out Flixable, a search engine for Netflix.