Basically everyone who's ever had a pet has spent at least a little bit of time wishing their furry friend could speak to them in a language they could understand, rather than a series of confusing barks or meows.
While saying one TikTok user may have had that wish come true would be going too far, he did have a gasp-worthy encounter with his feline pal that happened to be caught on camera.
Ike Tommy was recording his cat, or his bathroom floor, when she started meowing at him as she waited just around the corner, outside the bathroom. A subsequent meow sounds jarringly like, "Are you coming?" Tommy swung the camera around to try to catch her far too human words again. But she only meowed. 
The video has inspired almost 24,000 comments, many of which are in celebration of the idea that animals can totally talk.
"I swear [animals] can talk but they aren't allowed to let us know lol," wrote TikTok user @ickyandwinky.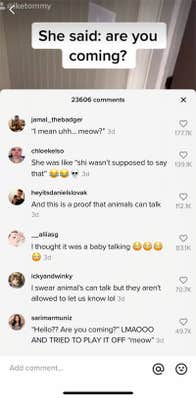 Others commented on the cat's apparent course correction, as she tried to cover her tracks with a harmless meow.
"Hello? Are you coming? *i mean uh* meaaao," joked TikTok user @mx.glass.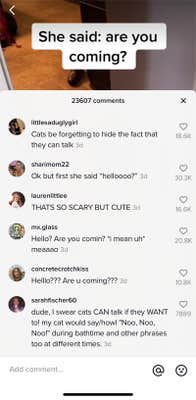 It's certainly not the only incident of an animal, and specifically of a cat, being caught on video making noises that sound far too human for comfort. But unless the talking animal is accompanied by CGI, a washed up actor, and unjustified profits, such incidents will never cease to be jarring. Actually, scratch that, it's all pretty jarring.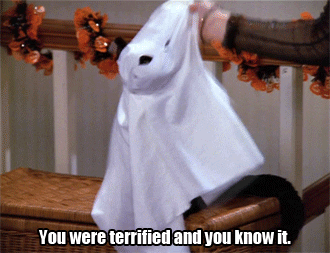 READ MORE:
H/T New York Post