We have a long wait before Star Trek: Discovery returns, but the show's latest comic may help tide you over. Twice the length of a typical issue, the first Star Trek: Discovery Annual explores Paul Stamets' backstory, introducing the early days of his Spore Drive research, and shows how he and Dr. Hugh Culber fell in love.
For many fans, the latter will be more exciting than the former. While we saw plenty of Stamets' fungus research in the show, his love life received less screentime. Dr. Culber, we hardly knew ye—although Discovery's showrunners have promised he'll return next season. This comic shares fresh insight into their relationship, although to my surprise, Stamets' professional partnership is just as interesting.
Before he joined Starfleet, Stamets shared his academic career with an astromycologist named Straal, who died when testing his own version of the Spore Drive. Reading the backstory, it's clear that Stamets benefited a lot from that partnership. Straal had better social skills and was less adventurous, smoothing over Stamets' standoffish personality and discouraging him from taking unnecessary risks. Without him around, it's easy to see how Stamets became isolated and miserable among Lorca's crew.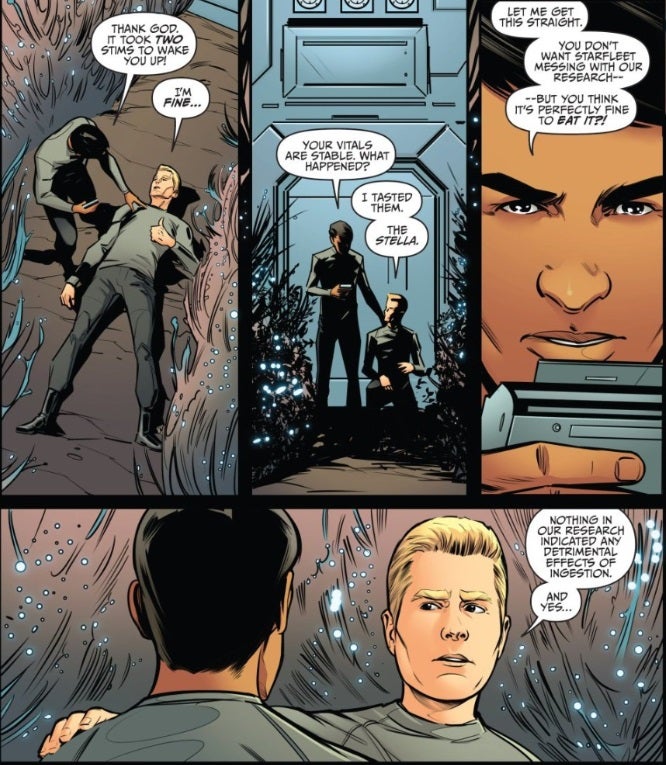 The 2018 Discovery Annual brings together a creative team from IDW's ongoing Star Trek comics and Discovery itself. Artist Angel Hernandez has drawn other Star Trek titles for IDW, and prolific Star Trek comics writer Mike Johnson shares a credit with Discovery staff writer Kirsten Beyer. They don't exactly take creative risks, but they definitely know how to make a Star Trek story work.
Like the show's first two tie-in novels, this comic offers some welcome background for a rather plot-heavy season of TV. Given how much it teaches us about Stamets and his academic life with Straal, it actually invites a rewatch of Discovery's earlier episodes. For one thing, it reminds us that Stamets isn't really a Starfleet guy, a key detail when understanding his role in the show.
Among old-school Star Trek fans, there was a lot of debate about whether Discovery followed the right tone. The first few episodes were pretty grim, and it took a while for the crew to gain that trademark Star Trek team spirit. For better or worse, this was intentional. Discovery's first season saw the crew forge their own identity as a unit, bonding over shared trauma and deciding what Starfleet means to them. Stamets is the odd one out because while he's definitely part of the team, he isn't a career Starfleet officer. He's an ambitious scientist who grudgingly allowed Starfleet to fund his research. So, unlike Michael Burnham or Saru, he doesn't have a strong sense of Starfleet ethics. He's probably the most selfish character aside from Lorca, because instead of striving for collective betterment, he really only has one goal: fungus research. This guy loves his space mushrooms!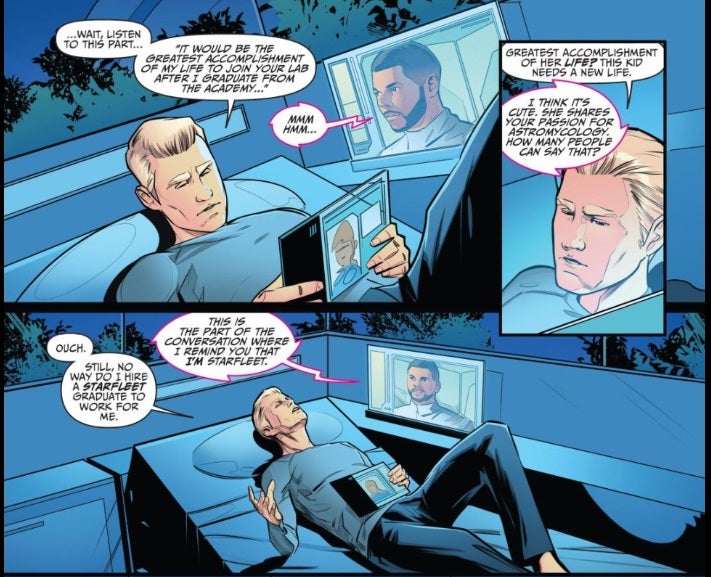 With Stamets as a single-minded workaholic and Culber as a more friendly, emotionally intuitive type, this could lead to an unequal relationship. Somehow, they're still totally cute together. It's not like Culber has any illusions about Stamets' personality, after all. Stamets is straightforwardly rude during their initial meeting, yet Culber cheerfully signs up for more.
We also know that Stamets is much softer at home than he is at work. While he's sharp and impatient with his colleagues, he is (thank goodness) more fun and open with his boyfriend. In turn, Culber seems to find his snippiness amusing rather than hurtful, and enjoys taking a more supportive role in their relationship. I'm curious to see how this progresses next season, because no matter how Culber returns from the dead (Mycelial ghost? Alternate universe twin?) it will inevitably shake up their original dynamic.