This review contains overall plot points for Valerian and the City of a Thousand Planets but no major spoilers.
Valerian and the City of a Thousand Planets introduces us to an expansive universe with a wealth of detail through each new alien, creature, and planet brought to life. But where its visuals and hints of worldbuilding created its universe, the characters and overly long story ultimately made that universe feel hollow.
Based on the French comic series Valerian and Laureline by Pierre Christin and Jean-Claude Mézières, director Luc Besson (The Fifth Element, Lucy) tells an incredibly visual story. Certain scenes illustrate the lives of creatures we find there better than any dialogue, and at its high points, Valerian stands with Besson's best work.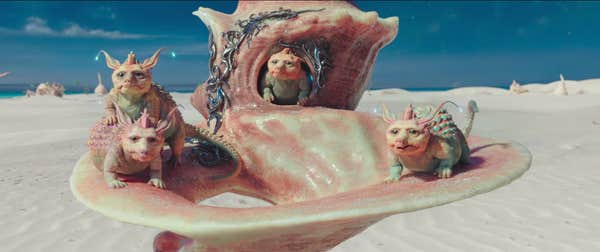 The film's opening sequence, a montage of greetings and handshakes set to David Bowie's "Space Oddity" on the International Space Station, is far more hopeful and optimistic than several other films in the genre. Where others go gritty—which tends to just mean "dark"—Valerian revels in the colors and brightness of its world, whether it's showcasing the new communities contained within Planet Alpha or the planet Mül.
By the time we're introduced to Major Valerian (Dane DeHaan) and Sergeant Laureline (Cara Delevingne) in the 28th century, the universe has adapted. Humans and countless alien species live together, interact, and share their knowledge on Planet Alpha, which is what the International Space Station became after it got too big to safely orbit Earth. It's there that the plot starts to take off—though it's even longer before the true story is revealed.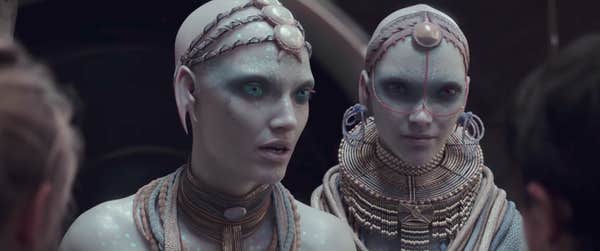 We wait a great deal of time—and an entire side mission—to even arrive there. When a film has compelling characters, ones we get to know or learn more about, those lengthy asides can work. Valerian has none of those, and Valerian and Laureline seem to function on sarcasm alone. We learn little about them and their camaraderie, and their introduction to us feels more like it should be the middle of a story, not the beginning. They fight like hell trying to get back to one another, but their joyless bickering whenever they reunite gets old very quickly.
The trailers for Valerian and the City of a Thousand Planets showcased visually spectacular new worlds, but unless you go to Valerian's website to learn more, much of that will probably go over your head. Some are covered as Valerian and Laureline's ship gives an overview of the planet, while others are glimpsed only as Valerian intrudes on them in a fast-paced (and beautifully shot) chase sequence. The most focus is given to the Pearls, the primary species that lives on Mül, and the Boulan Bathor, with whom we spend a considerable amount of time.
Much of that is bungled throughout a stilted script that loses steam a little more than halfway through. The visuals are still spectacular (though I can't speak for how it looks in 3D), but the plot drags on to reveal a story we've already seen play out in many other movies. And although there are certain threads the film could pick up and explore to give the film more depth—for instance, how humanity keeps trying to erase its sins throughout history instead of confronting them head-on—it leaves us (and it) mostly hanging. Rihanna's character, Bubble, offered one of those threads during her brief appearance in the story, but we leave her behind as the film heads toward its climax.
It's possible that Valerian may obtain a cult following like The Fifth Element or the more recent so-bad-it's-good science fiction spectacle Jupiter Ascending. Unfortunately, Valerian is debuting in the middle of a sea of other films, so while the visual effects alone may make it worth seeing, it might fail to register with moviegoers. 
Valerian and the City of a Thousand Planet is now showing in U.S. theaters.