As an early 2000s tween, I used to spend countless hours watching Nickelodeon's Slime Time Live and dreaming fervently of the day I could bathe in fluorescent green goop on live television. There was something about the way the slime looked—harmless but almost glowing, untouched in a giant vat—that made you want to jump right in. Their noses may be buried in their phones, but teens and tweens today, it seems, are still really into this idea. But they've found a more sophisticated, profitable way to obsess over gooey substances: Welcome to the strange, internet drama-fueled world of DIY slime.  
Slime-making accounts, run by "slimers," have seen a massive uptick in popularity from the tail end of 2016 through mid-2017, and they don't seem to be slowing down anytime soon. Famous slime accounts on YouTube garner millions of views within days, often yielding a huge IRL profit. 23-year-old YouTuber Karina Garcia, who gained over 5 million subscribers through trending slime videos, recently purchased a house with her earnings.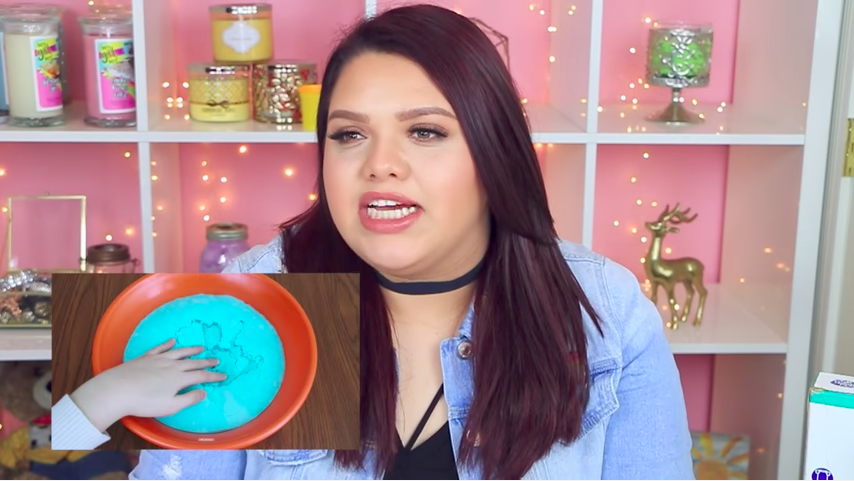 The most prominent slime accounts are operated by teen girls. If you type the words "how to" into Google today, the first fill-in-the-blank answer is "how to make slime,"closely followed by immortal how-to questions like "how to tie a tie" or "how to boil eggs." It turns out making slime is surprisingly simple, easy, and very cheap.
How to make slime: Recipes
Basic slime recipe
Ingredients:

1 bottle Elmer's glue (either clear or white)

1 teaspoon Borax powder OR substitute 1/2 cup liquid laundry detergent

1 1/2 cups water (room temperature)

Step 1: Dissolve 1 teaspoon of borax powder into 1 cup of water in a separate bowl. Mix well.

Step 2: Measure out about 1/2 cup of clear glue and mix with 1/2 cup of water until well mixed.

Step 3: Pour glue/water mixture into borax/water mixture.

Step 4: Get your hands in there and mix it up. Voila! Slime time.

Make sure to store your finished slime in an airtight container. If it ever becomes too sticky or goopy to handle, you can carefully add more borax powder to restore consistency. For added texture, mix in glitter, beads, styrofoam beads, or even a small amount of lotion to add a scent to your slime.
The basic slime recipe is made up of a combination of household ingredients and school supplies: white glue, water, food coloring, and the key ingredient, borax powder, which is found in most laundry detergents. You can easily purchase borax powder online through Amazon or from your local Target or Walmart for around $4. Here's where the profit comes in: Slimers can make a basic slime at home for less than a dollar and sell it at a much higher price—typically anywhere from $2 to $20, depending on their variations or additions to the slime.
Fluffy slime recipe
Ingredients:

1 cup hot water

1 teaspoon borax powder

1/2 cup Elmer's glue

1/2 cup foaming hand soap

Body lotion (optional)

Regular hand soap (optional)

1/2 cup Shaving cream

1 tablespoon corn starch

Food coloring of your choice (optional)

Step 1: Dissolve 1 teaspoon of borax powder into 1 cup of water in a separate bowl. Mix well and set aside.

Step 2: Mix together 1/2 cup of glue, 1/2 cup of shaving cream, and 1/2 cup of foaming hand soap—this is what gives the slime "fluff." Mix well.

Step 3: Add 1 tablespoon corn starch. Carefully mix in and add more if necessary to make sure the mixture starts to thicken and hold its shape.

Step 4: Add 2 pumps hand soap and body lotion. Both are optional, but adding them gives your slime a silky texture and scent.

Step 5: Add food coloring of your choice. Mix in carefully.

Step 6: Slowly add in borax/water mixture by teaspoons at a time until slime reaches desired consistency. Mix with hands. It shouldn't feel sticky to the touch once it's finished.
There are a ton of slime variations out there, but some of the most popular variations involve adding plastic beads, rubber bands, or foam microbeads to create slime with that signature "crunch" sound. Crunchy, squishy "floam"—yes, the same kind you might remember from infomercials of the early 2000's—has made a huge comeback in the DIY slime community.
Floam recipe
Clear PVA glue (which you can order by the gallon from Amazon)

2 cups hot water

1 teaspoon borax powder

Step 1: Mix activator (2 cups of water per 1 teaspoon borax). Set aside.

Step 2: Add in desired amount of PVA clear glue. Add activator mixture by teaspoon until glue starts to thicken and hold its shape.

Step 3: Knead slime with fingers. Remember: Floam should still be sticky to the touch so that it can latch on to the microbeads.

Step 4: Knead slime into separate bowl filled with microbeads. Fold and mix until slime reaches your desired level of "crunch."
https://www.youtube.com/watch?v=rvK21v3kS7c

READ MORE:
Under the hashtag #slime on Instagram there are more than 3 million posts, mostly videos, of stretchy, sticky, brightly colored goop that's squished and squashed around in the hands of teen slime enthusiasts. Each video follows roughly the same format: a spotless, fresh bowl of virgin slime is poked and repeatedly folded, making a distinct clicking or popping sound.
"It's both visually satisfying and auditorily [sic] satisfying, but it's the combination of these senses that make slime what it is," says Grace, one half of the teen girl duo behind the Instagram account Kickass Slimes. "It's great for relaxation. People who suffer from anxiety or general stress benefit from watching videos or playing with it themselves."   
Teens are always going to play with goop, or circulate obnoxious viral videos, or draw that one weird "s" symbol on all of their notebooks. But slime has surpassed a simple teen trend, crossing over into the Autonomous Sensory Meridian Response (ASMR) community. ASMR refers to the euphoric tingling sensation some experience in response to certain stimuli, like listening to quiet whispers or having their hair touched. That distinct slime sound—the clicking, popping, and crunching—can also trigger the "brain tingle" response that defines ASMR.
https://www.instagram.com/p/BRBjnvoAPDs/
Science has turned up barely any real information on why some people experience ASMR effects more than others, but ASMR videos continue to dominate on YouTube. A 2015 ASMR study found that most ASMR enthusiasts turn to videos produced by "ASMRtists" to help reduce anxiety symptoms or to use as a sleep aid.    
"The feeling when you pull back your fingers from poking it and then the noises it makes—it's just nice," says Sarah Schonbacher, the 19-year-old operator of an Etsy slime shop called Honey Guts. "You can poke it, stretch it, make different textures and noises."   
There are names for varying strains of slime—butter, fluffy, crunchy, and fishbowl, to name a few. With artisanal names like "super crunchy iceberg," "jiggly banana milk," and "pastel geode fishbowl," it's hard not click on the next suggested video, anticipating the next round of sounds.
As pure and silly as the slime world seems, just like the rest of the internet, it can get sticky when it comes to competing for followers and plagiarizing original recipes. When how-to videos or basic ASMR poking videos start to verge on boring, YouTubers are known to turn to wacky slime challenges like filling a bathtub with floam or creating 100-pound slime balls.
"I know what you're thinking—slime drama? Seriously? Seriously," Grace says. "It's intended to be a source of relaxation, not a place to argue about who created what type of slime first or demand recipes. People overreact all the time, but at the end of the day, it's just slime."
Editor's note: This article is regularly updated for relevance.