This post about Luke Cage season 2 is spoiler-free.
In a nod to the comics, Luke Cage recruited Iron Fist's lead characters for supporting roles in season 2. Danny Rand returned for a Power Man/Iron Fist team-up, and Colleen Wing helped Misty Knight come to terms with losing her arm. It was by far the best role we've seen for either character, with Danny shedding his angsty persona in favor of being Luke's dorky sidekick, and Colleen displaying more personality than we ever saw in Iron Fist.
Those Misty/Colleen scenes felt like a teaser for a show we'll probably never get to see.
In the comics, Misty and Colleen form a crime-fighting duo called the Daughters of the Dragon. They appear in other New York crime comics like Heroes for Hire, combining martial arts skills with detective work—and Misty's bionic arm. It's a pairing that makes for a natural spinoff miniseries akin to The Defenders.
Out of all the Marvel/Netflix shows, Luke Cage offers the best material for its supporting cast. Misty gets a lot more character development than, say, Karen Page in Daredevil, so it's not like she's being shortchanged in her own show. However, her scenes with Colleen are a rare glimpse of her personal life outside the police precinct. As for Colleen, it's the first time she gets a decent role at all.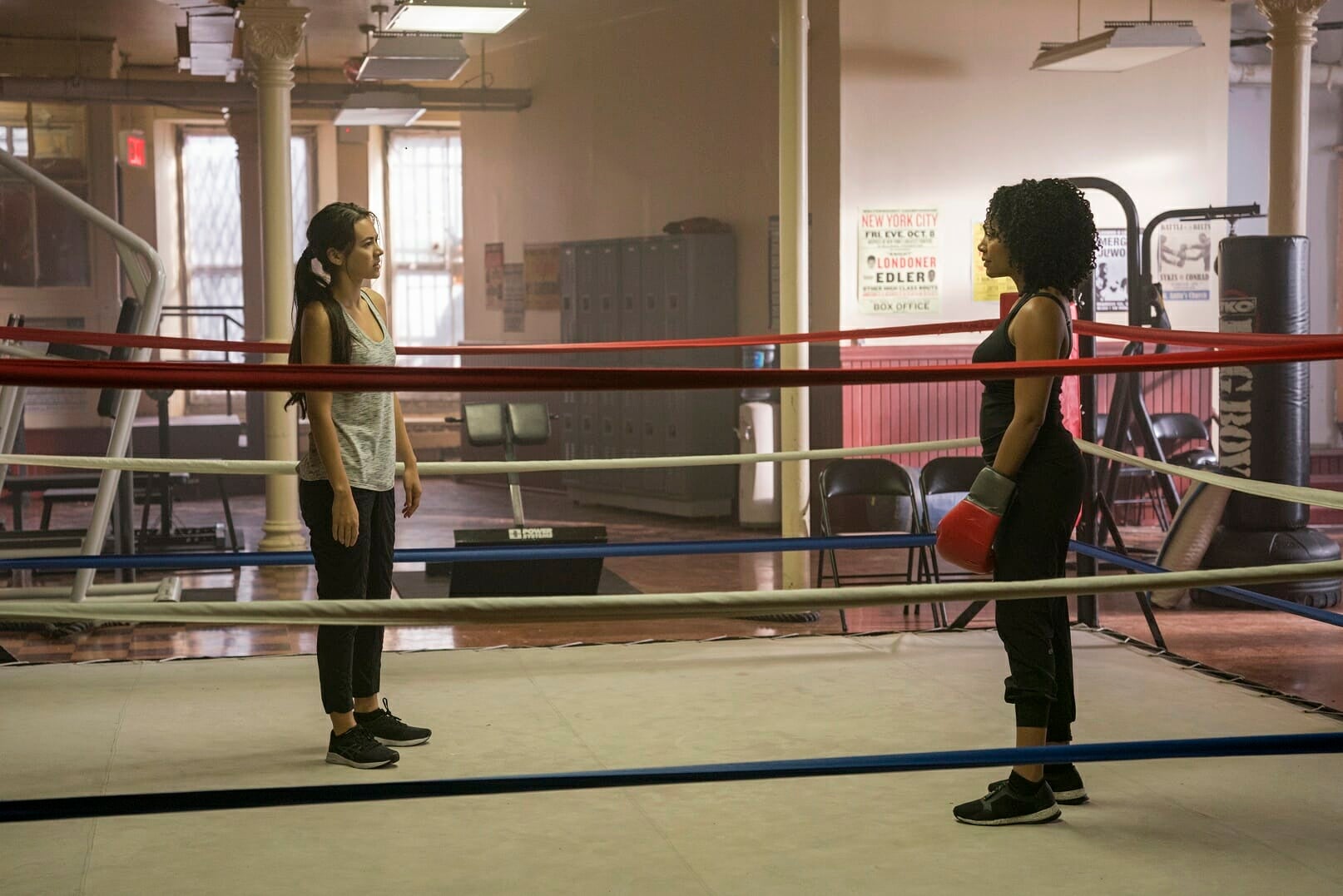 Actress Jessica Henwick tried her best in Iron Fist, but that show was a mess. It was hard to get a handle on Colleen's personality, partly because her romance with Danny was so unconvincing. The show failed to sell him as an appealing love interest, leading to a weird Anakin Skywalker/Padme Amidala dynamic where a cool and self-sufficient woman inexplicably shackled herself to an immature douchebag.
Colleen has more chemistry with Misty during that Luke Cage bar fight than she does with Danny in the entire first season of Iron Fist. You see exactly how her tough-love approach helps Misty find her equilibrium, and their rapport is obvious. Leaning casually on the bar and smirking as Misty beats up a sleazebag, Colleen seems more at ease than when she's playing second fiddle to Iron Fist's muddled vendetta.
READ MORE:
Why we need a Daughters of the Dragon Netflix series
As far as we know, the Misty/Colleen crossover was just a nod to the comics, not a teaser for a planned spinoff. That's a pity because it's easy to imagine how Daughters of the Dragon could outshine some of Marvel's existing shows. It's also a reminder of what types of character are seen as protagonists—and who gets relegated to a supporting role. With Iron Fist and Punisher, we already have two solo heroes who should be side-characters in other shows. Danny Rand is more entertaining as Luke Cage's goofy sidekick, while the Punisher fared better as a villain in Daredevil than as a troubled antihero in his own milquetoast spinoff.
Given the white, male-dominated nature of superhero media, there's a tendency to politicize the few exceptions that star women and people of color. That made sense for Black Panther (an explicitly political story about colonialism) and Wonder Woman (a feminist icon), but there's no contemporary equivalent of Spider-Man or Daredevil—action-packed thrillers that don't tackle larger societal issues. Adaptations with white male heroes can position themselves as politically neutral, and that's led to a noticeable divide among the Defenders: Daredevil's press tour can focus on fight choreography and character development, with no mention of how whiteness or masculinity plays into Matt Murdock's life. Meanwhile, Luke Cage and Jessica Jones navigate emotionally taxing issues like rape culture and racial profiling. These political themes ultimately led Luke Cage and Jessica Jones to tell more interesting stories, but after seeing that Daughters of the Dragon crossover, I have to wonder: What if Netflix just let Misty and Colleen kick ass and have fun?
READ MORE:
In the broader conversation about representation in pop culture, equality doesn't just mean greenlighting more thoughtful dramas tackling serious themes. It means more of everything, including silly escapist media. That's why so many people are excited about films like Ocean's Eight, a crowd-pleasing popcorn flick with minimal hidden depth. If men can have dozens of frivolous heist movies, why can't women have one too? In the context of the Defenders franchise, that means introducing a superhero show that isn't about a white guy—and is straightforward escapist entertainment.
In other words, Daughters of the Dragon.