Every good cartoon knows how to end. Each Looney Tunes short wraps with its classic, cheery "that's all, folks." Cowboy Bebop finished off nearly every episode with its iconic "See you, space cowboy" tagline, saving a devastating Beatles reference, "You're gonna carry that weight," for its finale. But for BoJack Horseman, a show about the mess it is to be human (or horse), the failures wrapped therein, and the consequences of those failures, there was never a chance for a neat and pithy signoff. The only way its ending could satisfy was by embracing the inherent dissatisfaction of its story, its characters, and life. 
And so it does just that, ending not with a bang or a whimper but a conversation that peters out, its conversants simply unable to keep up the relationship they once had. The gap can't be bridged. What has been done cannot be undone. It can only be accepted, tentatively, in silence. 
BoJack Horseman: Season 6 Part 2

RELEASE DATE:
1/31/2020
CREATOR:
Raphael Bob-Waksberg
STREAMING:
Netflix
The series' poignant, pitch-perfect ending is satisfyingly unsatisfying.
That, in itself, is wholly satisfying. BoJack Horseman, love it or hate it, has been one of the best shows on television since its second season. And its sixth and final season is as trenchant as ever in detailing how a life can go wrong and asking whether it can be made right again, all while shredding the absurd double standards of Hollywood and the media. 
Following the mid-season finale, which finds the star of the series absent and a number of the people he's hurt over the show's run dealing with the consequences of his role in their lives, it became pretty obvious what was coming: BoJack Horseman (Will Arnett) was going to get canceled. This season has been about BoJack's progress—he kicks his alcohol habit after months in rehab, travels the country trying to make amends and rediscover himself, finds joy in his new job teaching acting at Wesleyan, and actually puts effort into his relationships—but progress so late in a life can't cancel out the monstrous acts on which it is built. Especially not when those acts are those of a Hollywood—sorry, Hollywoo—celebrity.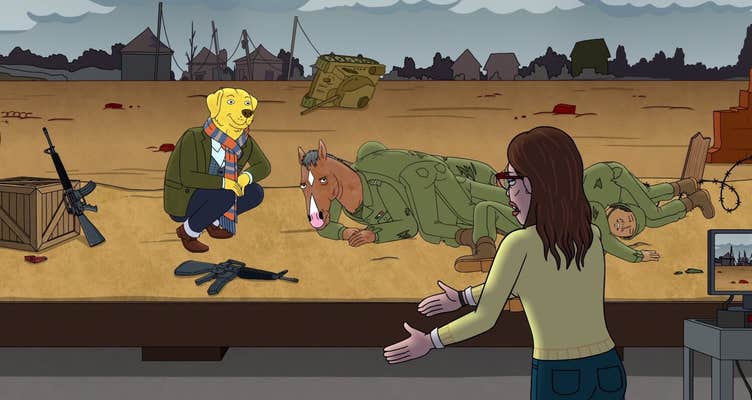 So in a one-two punch, a nosy Hollywoo Reporter journalist and a normally anodyne talk show host who's decided to pull no punches force BoJack to publicly face down his past, and that goes…well, about as well as one might imagine. Meanwhile, BoJack's friends and colleagues deal with conflicts of their own. Princess Carolyn (Amy Sedaris) struggles to find a balance between the working life she's so addicted to and the relationships she wants to build or maintain. Todd (Aaron Paul) finds his calling and works to repair relations with his estranged mother. Mr. Peanutbutter (Paul F. Tompkins) takes on his infidelity and codependency issues. And Diane (Alison Brie) wrestles with her book, depression, and a new relationship, realizing that maybe the goals she's held onto for so much of her life aren't going to make her happy after all. 
Some of these characters get fuller arcs than others, and this half of the season, like the first, has its lagging moments. But these are quibbles. For all these characters, the lesson is the same and it rings true: when it comes to self-actualization, or at least contentment, it's all about doing the work. But for BoJack, who has come so far and yet cannot outrun his own past, doing the work begins to feel hopeless. His reckoning with the seriousness of his situation results in the events of the show's final few episodes, in which he must confront, metaphorically or literally, nearly everyone he has ever wronged or who he feels wronged him.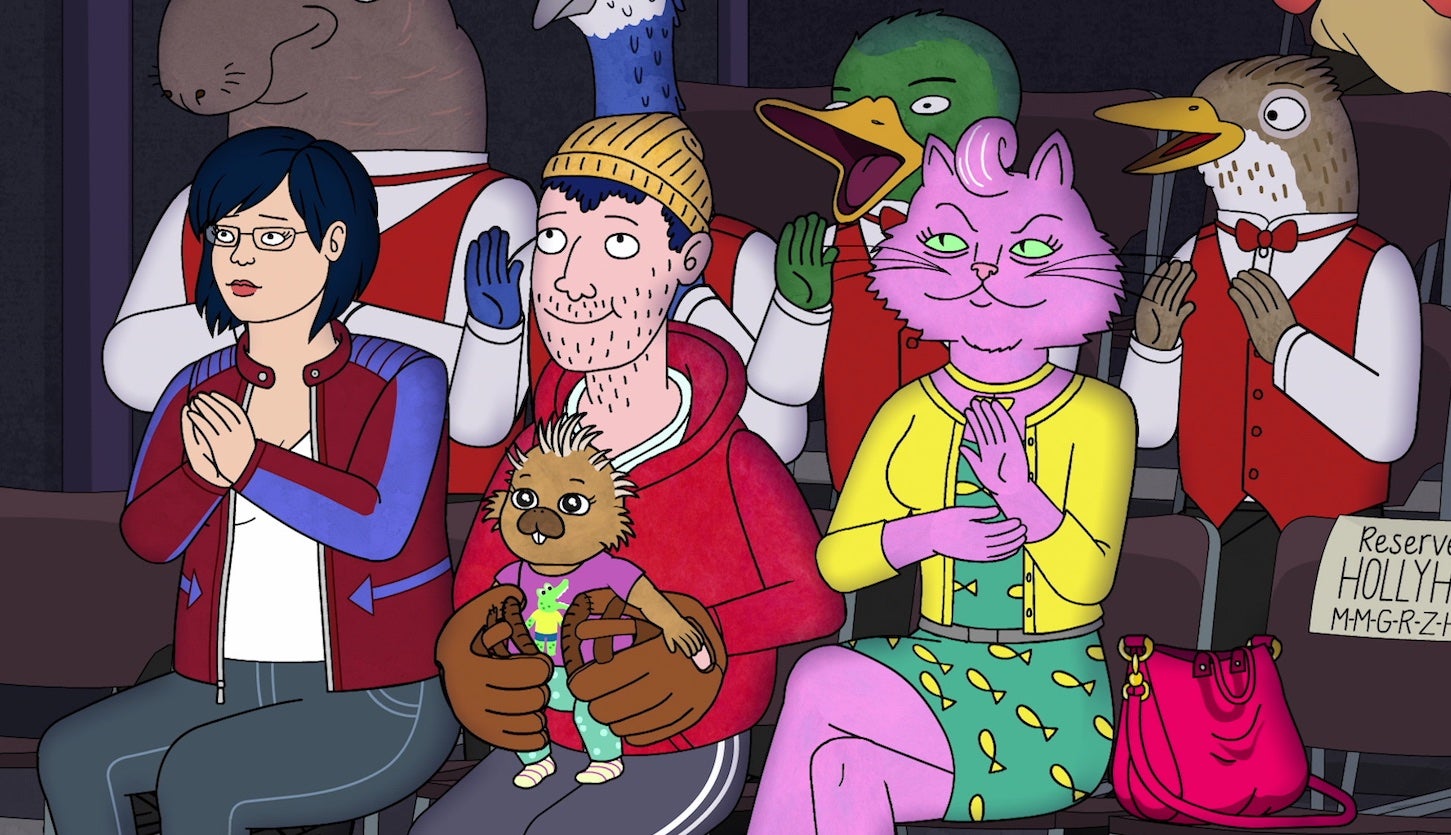 The show's penultimate episode, "The View from Halfway Down," is chilling, and it's filled with some of the best animation work on the series to date. (This season contains a couple of high water marks for the show's animators, as they continue to build on visual storytelling techniques employed in episodes like Season 3's "Fish Out of Water," Season 4's "Stupid Piece of Sh*t," and Season 5's "The Showstopper.") And its finale, "Nice While It Lasted," is both surprising and unsurprising, taking a finely-executed twist that shall remain unspoiled in this review and leaving all these characters—who have grown so much in some ways and changed so little in others—to come to terms with the last few years of their lives, both together and on their own. It also forces them to come to terms with both their legacies and their futures, just as a show on its way out must do for itself. It's the gentler punch of the one-two punch ending, but the bruise still lasts.
But while BoJack Horseman the actor may always have a lot of work to do to make his case for his value to those around him, BoJack Horseman the show no longer does. Building on the strong serial storytelling and character work of adult animated shows that came before, like The Venture Bros., the series has pushed the category to another level. Its balance of black humor with bleak commentary on human nature proved that a cartoon that's even darker than it is funny can and will find an audience willing to let it break their hearts. In the end, no matter what the catchphrase from Horsin' Around, the show's primary show-within-a-show, might indicate, BoJack Horseman wasn't too much, man. It was just enough—even if it's still sad to see it go.
---
12 Best Netflix Original Movies:
---
Still not sure what to watch tonight? Here are our guides for the absolute best movies on Netflix, must-see Netflix original series, documentaries, docuseries, and movies.
Looking for something more specific? Here are our Netflix guides for the best war movies, documentaries, anime, indie flicks, true crime, food shows, rom-coms, LGBT movies, alien movies, gangster movies, Westerns, film noir, and movies based on true stories streaming right now. There are also sad movies guaranteed to make you cry, weird movies to melt your brain, old movies when you need something classic, and standup specials when you really need to laugh. Or check out Flixable, a search engine for Netflix.