Pizza lovers, rejoice! This personal pizza oven perfects your homemade recipe better than any pizza stone ever could.
The pizza oven is designed with heating elements both above and below the rotating surface, thoroughly cooking your pie. The nonstick base rotates, so your pizza will cook evenly. The oven even comes with a timer and adjustable thermostat that heats up to 525 degrees.
The personal pizza oven uses 1200 watts to bake you a perfect 12-inch pie, every time. The stainless steel handle is even designed to stay cool to prevent burns. So whether you're looking to make a fresh or frozen pie, this oven can handle it all. It even tackles rising crust, keeping it crispy and never burned!
The pizza oven's pizza box design may be cheesy (you see what we did there?), but it's still cute as heck. And this may not be a brick oven, but you wouldn't know that with the results this baby produces.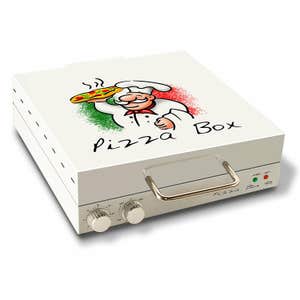 To make matters even tastier, the oven is on sale through Amazon, for a limited time. Usually $60, you can grab yourself one for just under $45.
MORE BAZAAR DEALS:
The Daily Dot may receive a payment in connection with purchases of products or services featured in this article. Click here to learn more.