After losing her job last year due to the pandemic, product designer Bonnie Kate Wolf joined the creative talent platform Working Not Working.
"I'd heard great things from other illustrators that Working Not Working was a place where you could get good work from reputable companies who would pay you well," she said.
She's since passed the platform along to other creatives looking for work, recommending the site as a space that gives freelancers a shot at contracts typically given to agencies. But on Thursday, she deleted her account.
"They've lost the trust for me by joining Fiverr," she explained.
On Thursday, Wolf was one of 90,000 people who received an email announcing Working Not Working's acquisition by freelance services marketplace Fiverr.
"This is going to be a very good thing and we're excited about our future," it stated, before attempting to address the dissonance between the two brands. While Working Not Working has been known to stand up for the value of creatives, Fiverr is perhaps best known for its early promise to provide "everything" for a five-dollar fee (though it has since dropped that model) and its "hustle" culture-embracing ethos.
"Now, some people will wonder, 'Aren't Fiverr and Working Not Working's missions on two different ends of the spectrum?'" the email continued. "Not anymore. For years, Fiverr has been actively moving upmarket. They have evolved and built incredible technology, enabling people to set their own prices and make a living from their laptops, from anywhere in the world."
That statement failed to sway many on social media, though. Dozens turned to Twitter to express their frustrations and, like Wolf, their intentions to delete their accounts.
"What a sad thing to see WNW go that way, such a cool idea over shadowed by such an awful company buyout," tweeted @IsaacTaracks.
Illustrator Jameela Wahlgren, whose Twitter handle is @whatagoodpup, wrote simply: "Well. I'm out."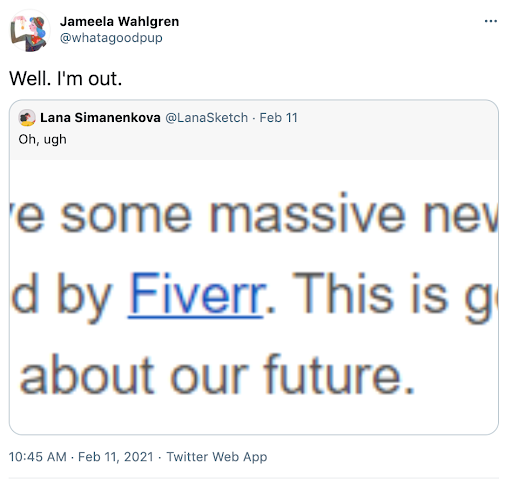 She elaborated on her tweet in a message to the Daily Dot, saying that she feels Fiverr has set an "incredibly low bar" for creative compensation.
"I deleted my account because even if WnW [Working Not Working] doesn't become flooded with low paying jobs, it is now run by people who have decided to align themselves with a company that is damaging the entire creative industry," said Wahlgren, who is also the founder and leader of the Philadelphia Illustration Guild.
Corey Upton, a freelance creative and graphic designer, had been on the site for more than five years before deleting his profile Thursday. When he joined, Working Not Working was invitation-only.
"They were all about the talent on both sides," he explained by phone. "It was supposed to hook talented individuals up with good gigs and supposed to hook good gigs up with the talented individuals."
In recent years, though, he felt it became "watered down." And with the acquisition, "I feel like it just kind of stepped off the edge," Upton said.
"It was kind of like the last straw," he added. "It just didn't seem like an extra thing that I wanted around considering what Fiverr has done to the industry."
Multiple users echoed Wahlgren and Upton's opinions on Fiverr, with one popular tweet from @litebox_info referring to the platform's business model as a "race to the bottom."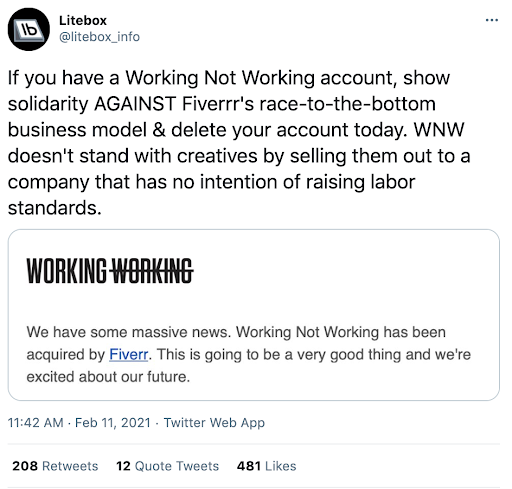 Others surfaced a May 2020 tweet from Working Not Working co-founder and CEO Justin Gignac, in which he seemingly shared their distaste of Fiverr. In an appeal to vote for Working Not Working in the Webby Awards, he criticized the site, which was its top competitor.
"Letting Fiverr win is letting the world know you're ok with creatives getting paid 5 bucks for what you do. Fuck that shit," Gignac tweeted.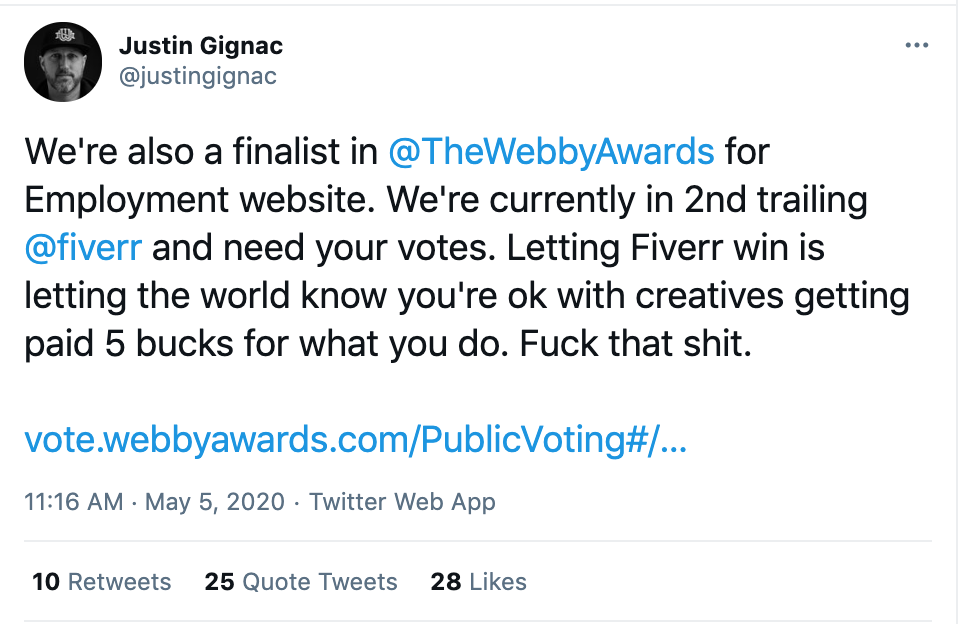 The CEO acknowledged the tweet after the acquisition, writing, "I didn't take it down when we started talking to Fiverr or before this announcement because I own what I say & allow myself to change my opinion when presented with new information. They're not the company I thought they were + I wanted to win a Webby."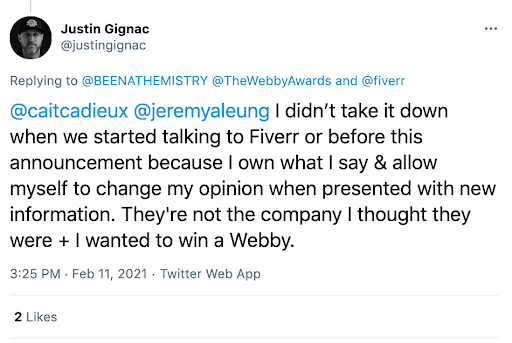 He encouraged angry Twitter users to reach out to him with their complaints, saying he is "happy to chat" about the choice. He also posted an image of a "Working Not Working How Could You? Hotline," which he told people to call and "rage into the machine."
"Insults cut way deeper when you hear a real voice," he tweeted. A similar tweet from the company's main account posting the number has since been deleted.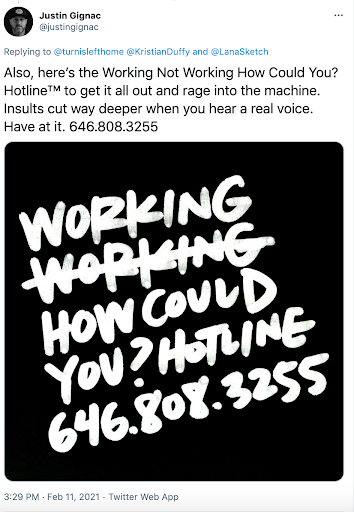 For Wolf, this response was "even worse" than the acquisition itself.
"Community is all that platform has – we are their product," she said. "So making fun of our pain or frustration or surprise or discomfort is really disrespectful."
Danielle Evans did call the hotline. The writer and dimensional typographer not only used Working Not Working in the past but also contributed to its magazine, including writing an article on the ethics of artists working for big brands that contradict their values. She says she read that out loud in her voicemail to the company.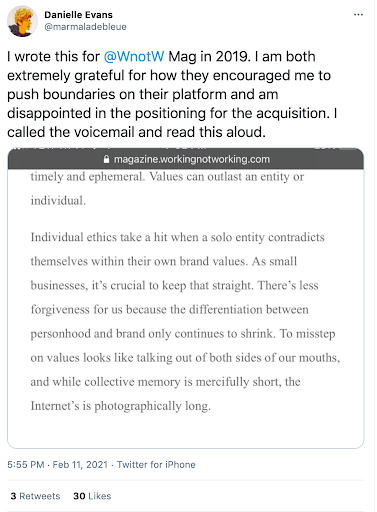 Evans says she's had a positive experience contributing to the platform in the past and that she's "really, really thankful" for the support she feels Working Not Working has given her. She's hopeful the company can find a better way to address concerns moving forward, calling its response so far "snarky."
"When those moments happen because we're humans, the best thing we can do is acknowledge them," she told the Daily Dot by phone. "Take responsibility, and then say how we're going to either smooth things or make it right or keep trucking because this is just how it's going to be."
In a statement to the Daily Dot, Gignac said that "We have actually had an overwhelmingly positive response from most of our community. Of course, we're bummed about the people who don't fully understand or support the move. We want to emphasize that we're not asking our members to join Fiverr, and the two companies will remain completely separate entities."
"Another thing is my co-founder, and I are creatives ourselves. All of our friends are on WNW, so it's very personal to us. We genuinely believe that this will help bring them more work and more diverse opportunities. We're a company that has consistently advocated for creatives and their value. That will never change."
At the time of publication, Fiverr has not responded to the Daily Dot's request for comment. 
---
Read more of the Daily Dot's tech and politics coverage