Economists have claimed that Bitcoin is just the beginning of the cryptocurrency boom. If you went all-in after seeing Sheldon get hyped on Bitcoin on Big Bang Theory, maybe it's time for you to expand your horizons and invest in a cryptocurrency you believe will succeed. Ripple is a great place to start, and it's different enough from Bitcoin that it could break through the uncertainty held by big banks. In fact, many major financial institutions have already gotten on board with Ripple, and many will follow.
Ripple is like Bitcoin's younger sister who went to business school: She's corporate-minded, forging her own space in the crypto world, and everything she talks about sounds legit. According to Coinmarketcap.com, Ripple is now the second-ranked cryptocurrency in the world, with a market cap of $73.6 billion, following a massive surge in value in late December 2017.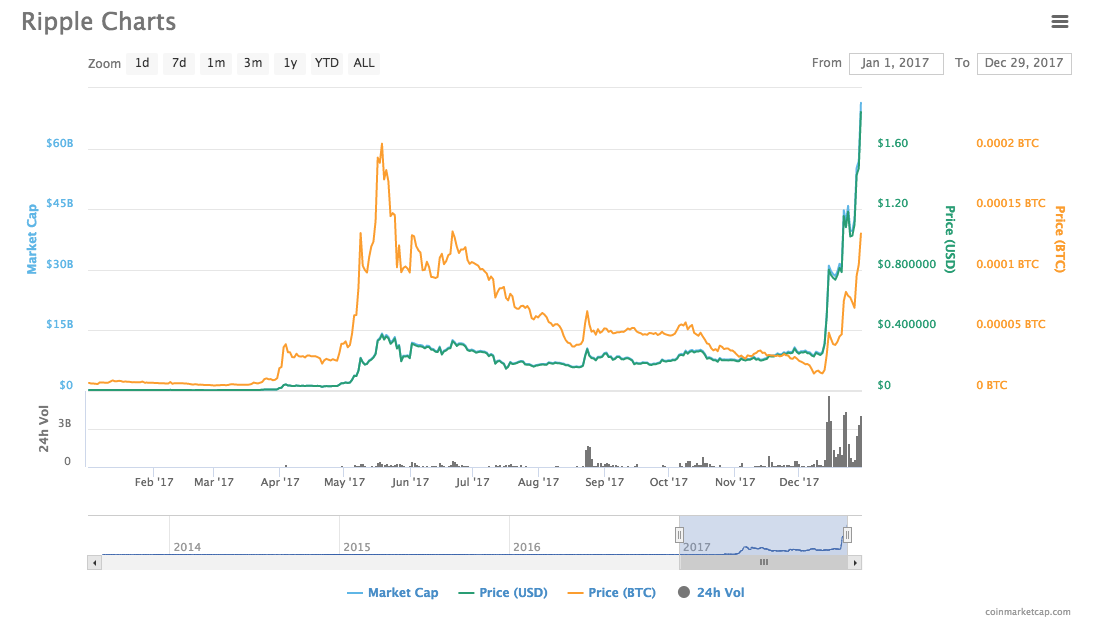 If you're looking to add a little Ripple to your life in 2018, here's everything you should know before diving in. As you'll see in the video below, not even Ripple can explain Ripple in under two minutes, so strap in!
https://www.youtube.com/watch?v=Q2YHhLkOO9g
What is Ripple?
Ripple is actually the name of the company responsible for managing global payments and transfers made using XRP, though most people use the term to refer to the cryptocurrency itself. Ripple's system aims to enable people to break free of the "walled gardens" that financial networks create with fee structures, currency exchanges, and processing delays. Bitcoin also aims to do this with blockchain technology, but Ripple takes it a step further and uses completely different tech.
Instead of working on a public blockchain, like Bitcoin, Ripple works with a network of nodes that are actually participating banks and financial institutions. In doing so, Ripple's blockchain isn't public; it operates on a completely internal ledger called the "Enterprise blockchain."  
This decidedly less-centralized, less-cyberpunk attitude is what has made Ripple so popular with investors and large companies. Early investors included Pantera Capital, Google Ventures, IDG Capital Partners, and Santander InnoVentures.
For a more detailed explanation of how Ripple's technology works, Coindesk has broken it down by comparing the system to an ancient Arabic banking method called "hawala." Without getting in too deep, if I want to send money to my friend Jane, I log into my preferred Ripple gateway or site, deposit money into it, and instruct the site to release funds to Jane via her preferred gateway. Jane collects her funds.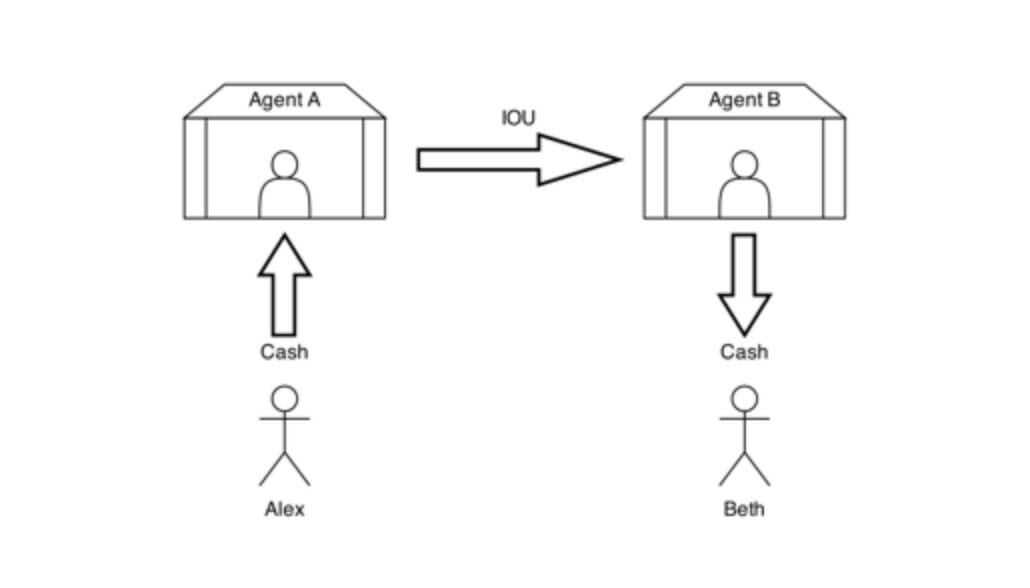 READ MORE: 
How else is Ripple different from other cryptocurrencies?
In order for bitcoins to come into existence, they had to be mined, and there will only be a maximum of 21 million bitcoins (BTC). XRPs, on the other hand, have never been mined; they were simply issued by the founders of Ripple Labs (Jed McCaleb, Arthur Britto, and Chris Larsen). The founders released 100 billion XRP at once, and kept 20 percent for themselves to "incentivize market maker activity to increase XRP liquidity and strengthen the overall health of XRP markets." Retaining the bulk of one's company's shares while going public is a standard business practice, but this naturally polarized the crypto-mining community. As a result, the founders agreed they would be selling their shares at a mediated rate over several years, in hopes that it will help stabilize the currency.
Ripple is also known for its instant payments because of the immediate validation by Ripple nodes. Compared to BTC, XRP is able to perform 1,500 transactions per second, compared to 3 transactions per second when trading Bitcoin. International transactions are confirmed in 10 minutes on average using BTC, but if you use Ripple, international transfers only take 3 seconds.
The Ripple network is designed to work for B2B transactions. It works with most bank's risk and privacy requirements, and Anti-Money Laundering (AML) and Know Your Customer (KYC) compliances are built into every transaction. Ripple also considers itself a full end-to-end payment service by handling foreign currency exchange conversions and calculating the cost of the transaction down to the nearest cent.

The pros and cons of investing in Ripple
Although mostly internal, a substantial number of financial institutions have already begun collaborations with XRP. "We've reached the stage where a significant number of these banks are moving to commercial production," former Ripple CEO and current chairman Chris Larsen told Coindesk in a 2016 interview about the currency. "What's significant here is the space is moving beyond experimentation and moving into actually deploying Ripple's blockchain."
In November, it was announced that American Express and Santander would team up with Ripple Labs to experiment with faster cross-border payments by routing transactions through Ripple's platform. These two institutions represent only a fraction of the companies that have already (publicly) signed on to partner with Ripple. Deloitte, Mitsubishi Financial Group, UBS, Royal Bank of Canada, Western Union, and Accenture have all joined forces with the platform in the last two years.
While XRP's validation by big banks definitely puts it ahead of other alt-currencies, it's also one reason people may be wary to invest in XRP in the first place. Cryptocurrency's utopian roots support decentralization and a removal of big brother. Many existing crypto investors are suspicious of Ripple's attachment to these big institutions and placement of the Ripple platform as the central bank of XRP.
Then there's the fact that researchers at Purdue University found security vulnerabilities in Ripple's platform that could put 50,000 wallets at risk. Still, these system flaws haven't prevented angel investors like Google from getting involved, so it's up to you if you want to take the risk.
READ MORE:
How to invest in Ripple
After an influx of subscribers to the r/Ripple subreddit this month, one moderator commented, "To answer the most frequently asked question in the past couple of days: we don't know of a reputable exchange that verifies immediately or without a SSN that we can recommend. Most exchanges have very stringent Know Your Customer rules in place, requiring various forms of ID and 48hrs+ to verify you."

So, if you're looking to buy XRP totally anonymously, you'll have to wait until technology catches up to your stealth ways.
Bitstamp is a great site for trading EUR, USD, and bitcoins to XRP by using a SEPA deposit (if you're paying in euros) or a wire transfer. After going through a couple rounds of verification, you'll be able to deposit funds into your Bitstamp account. You can then purchase XRP by selecting the correct market for your currency and completing an order. It's that simple!
Correction: Ripple is capable of processing 1,500 transactions per second. This article has been updated for clarity.