What is Litecoin? No, it's not Bitcoin on a diet. It's not the Bing to Litecoin's Google. Litecoin is an alternative cryptocurrency, and its exponential growth has everyone paying attention. Surging from $80 per coin at the end of November to its present $300 price in just two weeks, Litecoin has managed to outperform Bitcoin by the numbers. Here's everything you need to know about Litecoin.
What is Litecoin?
In 2011, Google employee and MIT grad Charles Lee sought to create a cryptocurrency that Bitcoin investors could get on board with to diversify their portfolios. While still working at Google, Lee released the silver to Bitcoin's gold that October on GitHub, an open-source client. Where other cryptocurrencies from that time failed, Lee's succeeded by taking Bitcoin's original technology and tweaking it slightly to appeal to Bitcoin miners and improve upon Satoshi Nakamoto's model. It's also important to note that Charles Lee left Google in 2013 to become the third hire at cryptocurrency site, Coinbase. Today, Coinbase is one of the most widely known and easy-to-use websites for purchasing and storing bitcoins and litecoins.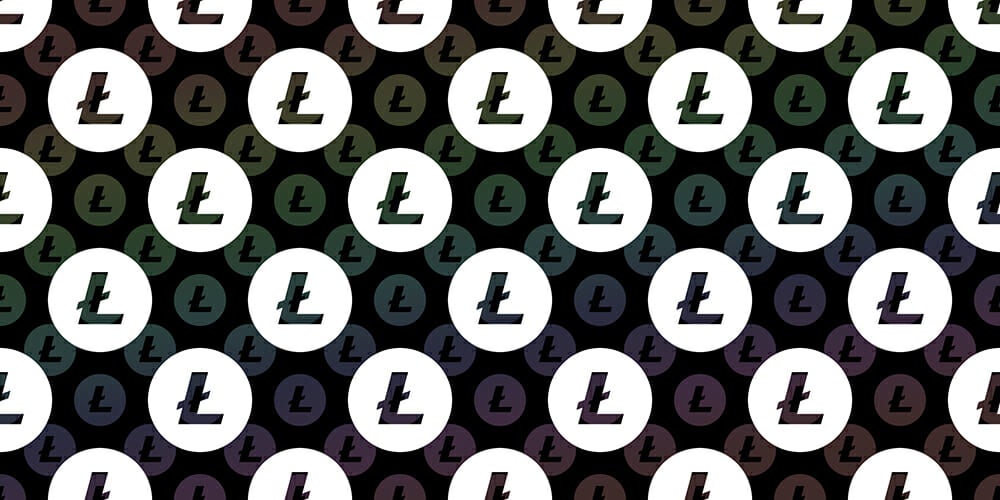 How is Litecoin different from Bitcoin?
The major benefit to investing in Litecoin over Bitcoin is the transaction speed. Litecoin blocks (or transactional histories) can be generated four times faster than Bitcoin blocks, which makes buying and selling Litecoin extremely fast. Because of the improved transaction speed, Litecoin's blocks are also bigger and can handle higher volumes of information.
There's also more litecoins in existence. Where there can only be 21 million bitcoins, 84 million litecoins can be mined.
Then, there's scrypt. In order to mine Litecoin, miners must use a completely different algorithm than Bitcoin, called scrypt. Because large mining conglomerates cannot easily switch between scrypt and SHA256 (Bitcoin mining tech), it makes it difficult for miners to maximize profits by going back and forth between Litecoin and Bitcoin. To cryptopurists, this is important as it allows for a more decentralized experience.
Why has it grown so much this year?
Factors like Bitcoin's media exposure, Charles Lee's recent appearances on money talk shows, and Coinbase's recent influx of 100,000 users, and a recent ad push by the coin, have no doubt contributed to Litecoin's spike.
RT to spread awareness! #Litecoin #LTC $LTC pic.twitter.com/ZoKXG9DsAE

— Litecoin Foundation (@LTCFoundation) December 6, 2017
Why invest in Litecoin?
Charles Lee himself has called investing in his own cryptocurrency "risky." But many proponents of Litecoin have commented that having a creator who is willing to stand behind his technology is already leaps and bounds ahead of Bitcoin. Satoshi Nakamoto is like Shakespeare: It has been speculated that the Bitcoin creator is anywhere from a group of people to Julian Assange.
Litecoin's fixed coin amount of 84 million, its faster transaction speed, and its lesser-known status also make the cryptocurrency attractive to investors who don't want to sink it all just on Bitcoin.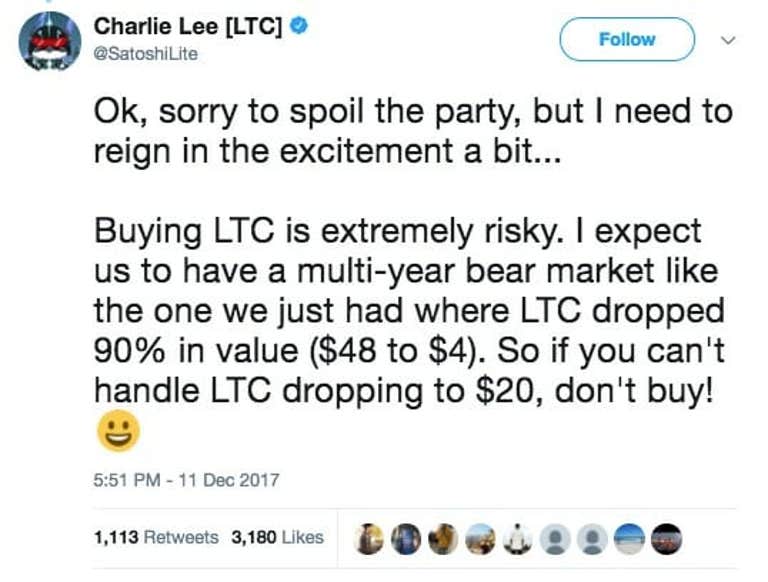 Litecoin news
Creator Charlie Lee caused a stir on Dec. 20, 2017, when he announced in a Reddit post that has "sold and donated" all of his Litecoins, though he did not disclose how many litecoins that entailed or at what price he sold them. Lee said the decision was motivated in part by criticism of his tweets about Litecoin, which have major swaying power in the market.
"Over the past year, I try to stay away from price related tweets, but it's hard because price is such an important aspect of Litecoin growth. And whenever I tweet about Litecoin price or even just good or bads news, I get accused of doing it for personal benefit. Some people even think I short LTC! So in a sense, it is conflict of interest for me to hold LTC and tweet about it because I have so much influence. I have always refrained from buying/selling LTC before or after my major tweets, but this is something only I know. And there will always be a doubt on whether any of my actions were to further my own personal wealth above the success of Litecoin and crypto-currency in general."
Lee said he plans to continue working with Litecoin and that this move will allow him better focus his efforts.
"I will still spend all my time working on Litecoin," Lee said. "When Litecoin succeeds, I will still be rewarded in lots of different ways, just not directly via ownership of coins. I now believe this is the best way for me to continue to oversee Litecoin's growth."
How to buy litecoins
You can buy Litecoin on Coinbase (of course), or excellent Litecoin wallets like Exodus and Jaxx. For more detailed information on how to physically switch your cash to cryptocurrency, check out our explainer on how to invest in Bitcoin. Buying Litecoin is no different and you should get it in a flash!