For anyone following the seven-month-long parade of National Security Agency leaks, tomorrow is a big day. U.S. President Barack Obama is slated to unveil a series of reforms meant to address national and global concerns over the breadth of NSA spying. How much will he actually reform?
There's quite a lot to address. After former intelligence contractor Edward Snowden handed over thousands of classified documents to the Guardian and other news outlets, the world has learned that the NSA taps Internet cables, collects social media content with secret warrants, scoops up text messages, monitors chats and emails, traces location data from cell phones, brokers deals with telecoms for user data, inserts loopholes and backdoors into encryption schemes, and keeps a database of the call logs of millions of Americans.
However you feel about NSA surveillance, it is a monumental achievement of data collection. It's so huge, and so abstracted from many of the laws that produced it, that it may be difficult to tell whether any reforms could actually address the issues at hand. To help you follow along with the president's reforms on Friday, the Electronic Frontier Foundation has produced a "scorecard" of "common-sense fixes that the President could—and should—announce at his briefing." As the EFF points out, the card doesn't address every issue, but it is aimed at articulating the reforms necessary to fix the most egregious problems.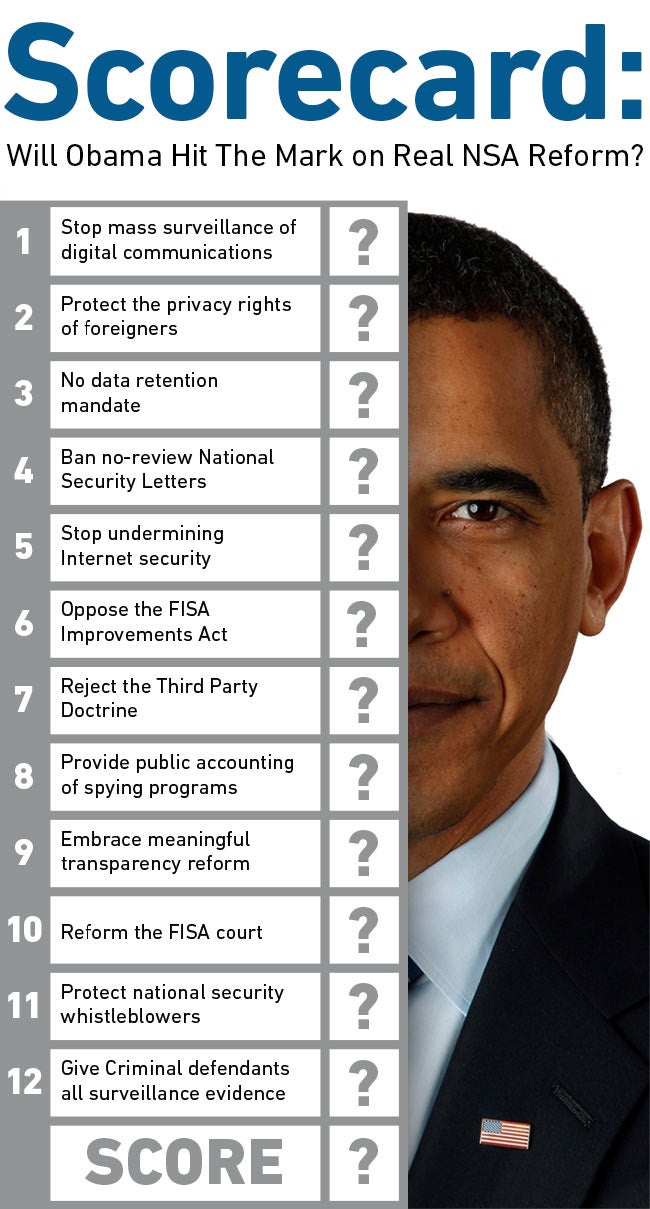 Scorecard via Electronic Frontier Foundation
The president will make his announcement at 5pm ET on Friday. You can watch it live at whitehouse.gov.
Photo by Allison Harger/Flickr